Every Halloween, someone else attending at least one of the parties I go to dresses like a 1960s hippie. It's usually a pretty good costume, but I always want to pull that poor soul aside and show them the other aspects of the fashion from that era, the gorgeous colors, the beautiful details… because once I do, I know they'll want to wear the look themselves! If you agree that there's more to 60s fashion than fringed hippie stuff, then keep reading! Here are 7 ways to incorporate 1960s fashion into your look.
---
1

Just Pollen' around Top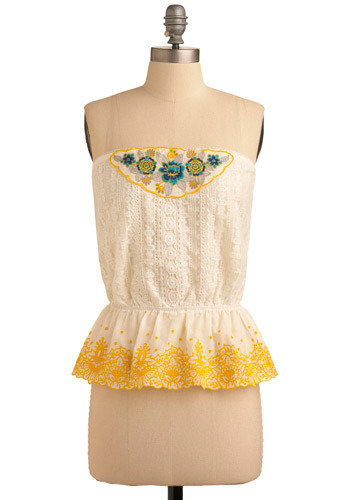 Price: $39.99 at modcloth.com
This super-soft, 100% cotton strapless top is all details, from its all-over lace bodice to the gorgeous yellow and blue embroidery along the top and at the hem. Wear it all summer with a long peasant skirt or in winter with a denim jacket and corduroy skirt with knee boots.
---
2

Dandelion Wishes Dress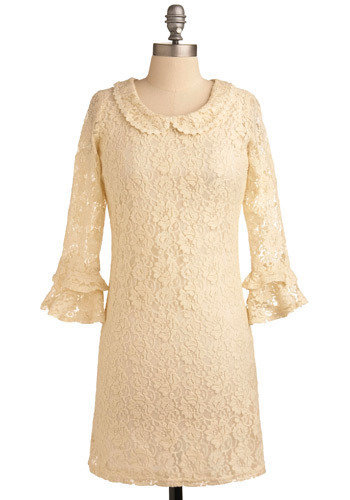 Price: $54.99 at modcloth.com
This lacy mini dress is all 1930s, from its a-line design to its ruffled, lacy sleeves and its rounded Peter Pan collar. Wear it with opaque tights and thick-heeled pumps with a buckle at the toe, and loads of black kohl eyeliner.
3

Craft Market Maven Dress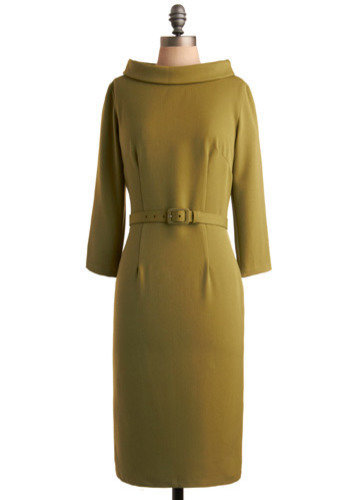 Price: $95.99 at modcloth.com
Three colors dominated late 60s fashion — harvest gold, deep rust, and this color, pea green. It's the highlight of this gorgeous dress, but I also adore the rolled cowl neck, the mid-calf length, and the flattering self belt. Take the trend to the next level with stacked heel pumps, a pill-box hat, and big sunglasses.
---
4

In Vogue Dress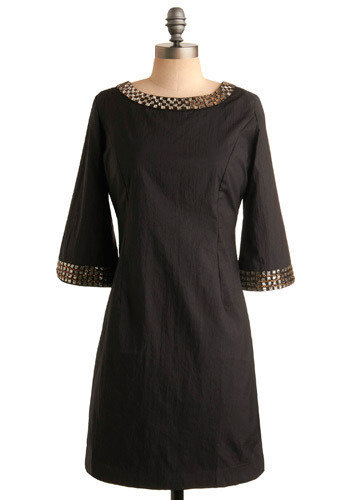 Price: $74.99 at modcloth.com
This LBD would make an ideal addition to your closet, adding 60s mod fashion and a little extra glam at the same time. Note the gold and silver beading at the neck and cuffs, and the flattering fit and above-the-knee length. Pair with knee boots and a retro shoulder bag to complete your 60s look.
---
5

Sharing a Shake Dress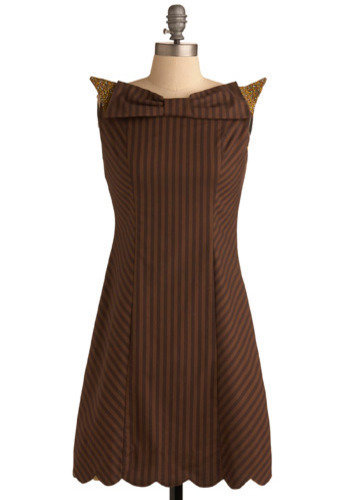 Price: $92.99 at modcloth.com
Designer Dainty June is spot on with 1960s style with this sweet striped dress. Note the oversized and gold-detailed bow at the neckline, the scalloped hem, and cleverly cut stripes. Wear with creamy white opaque tights and chunky brown shoes, or a cropped cardi and pretty red flats.
---
6

Viennese Café Dress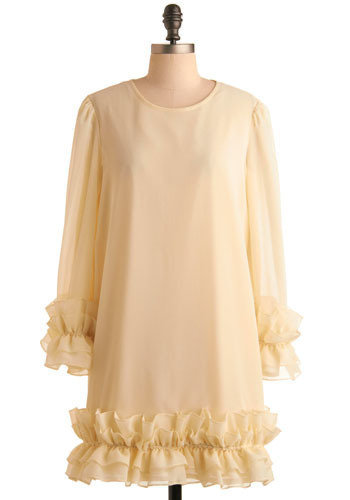 Price: $139.99 at modcloth.com
What a sweet, flirty, but very mod party dress! It features layers of floaty chiffon with rows of fluttery ruffles at the cuffs and hem and an above-the-knee length. Pair with funky shoes and dangle earrings, and a long-line necklace with multiple sparkling strands. Gorgeous!
---
7

Ad Agency Dress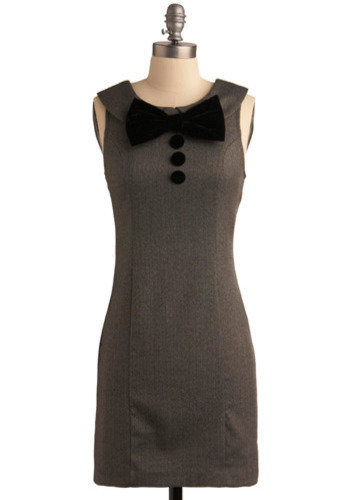 Price: $47.99 at modcloth.com
You, my dear, know the reality behind "Mad Men," for you work at an ad agency yourself. Taking cues from the latest season of the show, you don this darling dress, with its back-pointed collar, pretty velvet bow and buttons, and add your own round-toe pumps, patterned tights, and retro-inspired updo.
With so many ways to add a more realistic, much more flattering 1960s flair to your wardrobe, it's going to be difficult to choose which piece to try first… the brown striped dress? The embroidered top? Or perhaps both… or something else? Which 1960s-inspired piece do you like best, and how would you wear it?
---
Comments
Popular
Related
Recent