Having lived through the 1980s as a high schooler, I've lived the fashion trends once, and am delighted that some of them (leg warmers, bright colors) are back. I'm glad some of the not-so-flattering styles have been neglected (horrendous shoulder pads and Hammer pants), though… what were we thinking? I didn't keep my favorite pieces, sadly, so I'm stocking up on a few updates, and thought I'd share with you! Here are 7 ways to incorporate 1980s fashion into your wardrobe and your look.
---
1

Carry Your Love Bag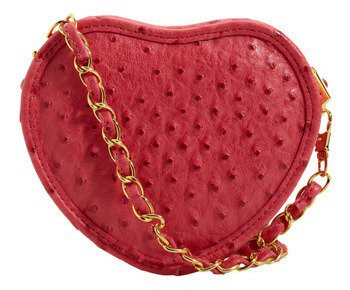 Price: $37.99 at modcloth.com
This adorable red heart-shaped bag by Let Them Eat Cake is all 80s sass, from its faux ostrich exterior to its matching gold-tone chain shoulder strap. Sling it over your shoulder with a boxy blazer and velvet leggings or wear it cross-body with a frilly floral dress.
---
2

C'est Magnifique Sweater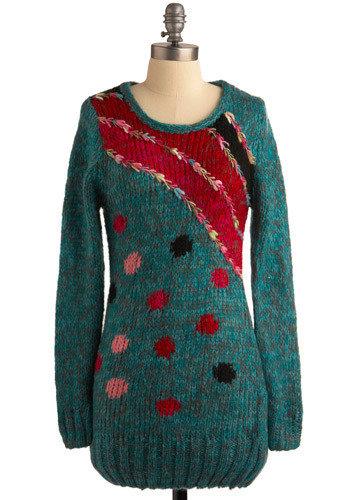 Price: $43.99 at modcloth.com
The 80s were a time of bold fashion, especially our sweaters. Don't believe me? Watch an episode of "The Cosby Show" and check out the sweater collection of any or all of the Huxtable family. This gorgeous sweater is a throwback to that colorful, multi-patterned era, made of a lush mohair blend, ideal for wearing with plain leggings and heeled ankle booties.
3

Winning Qualities Blazer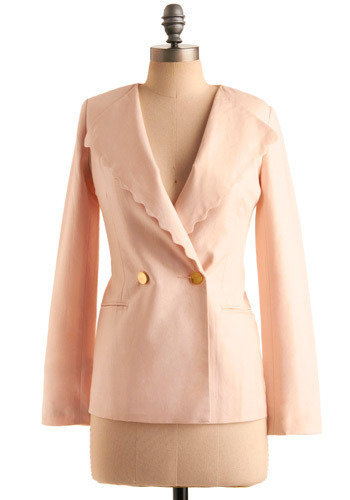 Price: $97.99 at modcloth.com
This pale pink blazer looks like something Molly Ringwald would have worn in one of her teen angst movies, maybe "Pretty in Pink" or "The Breakfast Club." She'd have loved the lapels, with the dainty scalloped edges, and the shiny brass buttons, and you'll love it, too!
---
4

Commanding Presence Dress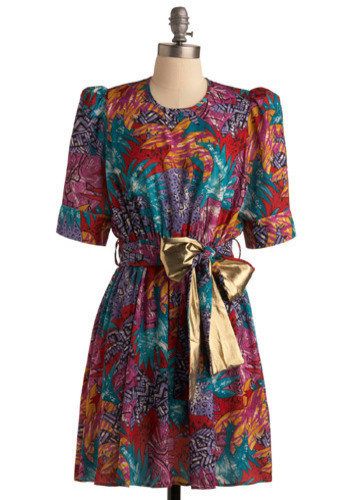 Price: $99.99 at modcloth.com
Oh, what's an 80s-inspired dress without extreme shoulder pads, a brilliant print, and a touch of gold lame thrown in for good measure? This gorgeous dress has all three, so all you need to add is a quilted purse with a gold-tone chain shoulder strap and shiny gold or black shoes.
---
5

Cropping up Cardigan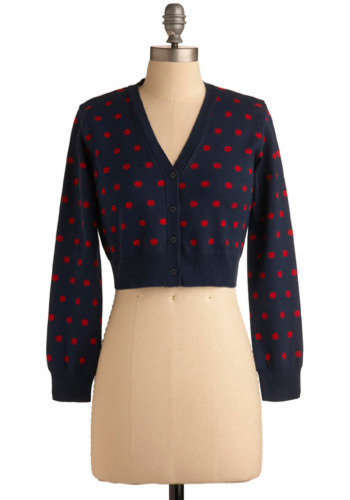 Price: $49.99 at modcloth.com
Back in the 1980s, the best place to buy sweaters was Benetton, and I swear I bought an exact replicae of this cropped cardigan from them in about 1986. It was just as adorable, with the same navy blue background and bright red polka dots. I wore it over a big shirt-dress then, with ankle booties and leggings, and that's exactly how I'd wear it now, too.
---
6

In Great Shapes Top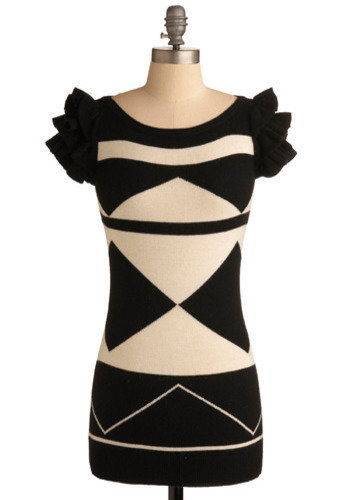 Price: $114.99 at modcloth.com
British designer Warm Pixie has positively nailed 198-s fashion with this great black and white graphic-print sweater! I love the ruffled cap sleeves and the pattern is so eye-catching! I'd wear this with bright leggings or skinny jeans and ankle booties with tall heels.
---
7

Rock Regardless Jumpsuit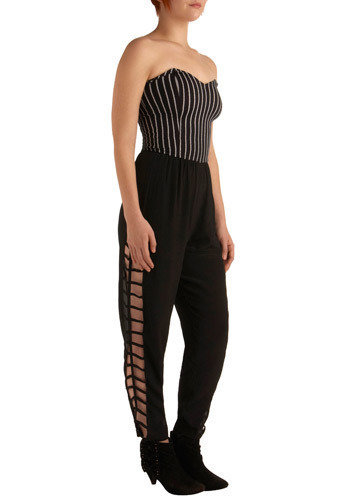 Price: $69.99 at modcloth.com
Remember those big-haired vixens from the hair-band videos in the 1980s? Channel all of their still-relevant fashion prowess with this strapless romper, complete with sexy slashed legs and heart-shaped bodice. Pair with bright red or purple suede ankle boots or heels and a fedora for max 80s impact, or with flats and a long-line silver necklace for a modern indie look.
I know you're disappointed I didn't add a pair of legwarmers to this list, but feel free to wear them and bask in some 1980s glory anyway! Which of these totally radical 1980s fashions do you like best, and which do you think is grody to the max? (Once you've translated, please share!)
---
Comments
Popular
Related
Recent