There's a new trend in town this season, one that's feminine, pretty, versatile… and it's crochet! But wearing the look can be difficult… if you wear too much of it, or the wrong piece, you'll look like a doily, or a granny. If you love the look, and want some ideas of how to add it to your wardrobe, I can help! Here are 8 ways to wear crochet.
---
1

Boho Boutique Top

Price: $49.99 at modcloth.com
This inky, slinky black tunic is all details, from its crocheted yoke and neckline to its fluttery, flattering hem, to its button-cuffed sleeves. Layer over skinny jeans or patterned leggings and add a pair of knee-high boots, and don't forget a slouchy Boho bag and hammered-bronze earrings.
2

Arabian Tights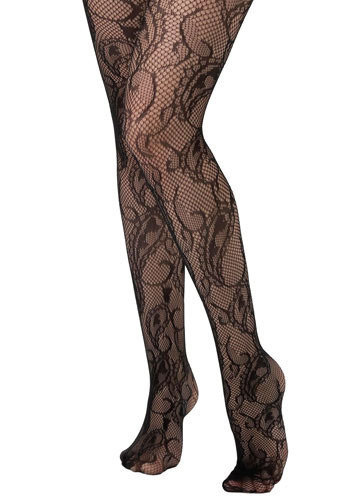 Price: $14.99 at modcloth.com
Crocheted tights and leggings are such an easy way to add the look to an outfit, without running the risk of over-doing it. These ones are gorgeous, with a basic fishnet and an exotic paisley pattern. Pair with a long tunic, or a pencil skirt. Gorgeous!
---
3

Made for You Sweater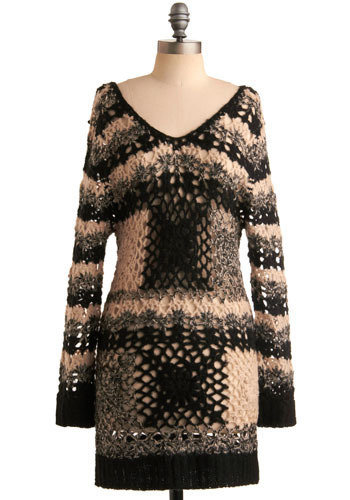 Price: $87.99 at modcloth.com
This sweater is, well, made for you! Wear it over your favorite summer maxi dress and a pair of boots, or add a tank and skinny jeans. Either way, it's a great way to wear crochet! I love the pattern and the gorgeous neutral colors.
---
4

Flawless Taste Heel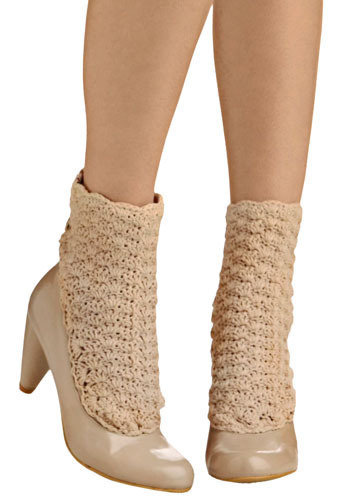 Price: $64.99 at modcloth.com
These winter-white pumps have a detail you won't find anywhere else: a sweet crocheted sock, stitched right in. They're made by Kling, and are so beautiful! Pair with denim shorts, a floral top, or a vintage frock. Lovely! They're available in whole sizes, 36 to 41.
---
5

Soft Spoken Cardigan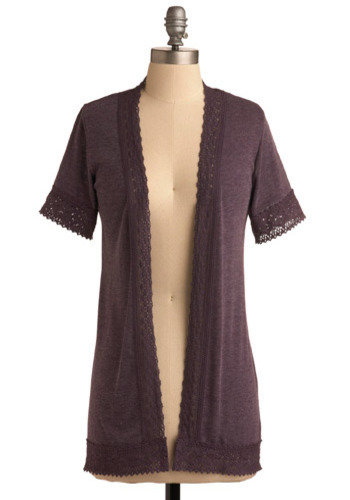 Price: $29.99 at modcloth.com
One needn't raise one's voice to get attention. Don this dusty plum hued cardigan, and draw eyes without saying word. Layer over a grey maxi dress and flats, or wear with a grey tank and patterned leggings. The crocheted details along every edge are beautiful, and can make even the most casual outfit a little dressier.
---
6

Half Moon Top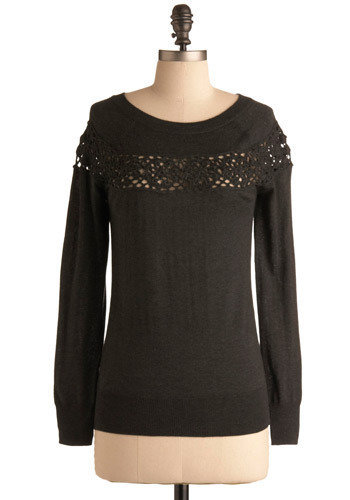 Price: $66.99 at modcloth.com
Aside from one singular, gorgeous detail, this sweater might have faded into obscurity. But the crescent of crochet along the bodice is so pretty, it's now in the spotlight, ready to be worn with a pencil skirt, pretty patterned leggings, and ankle booties.
---
7

Acoustic Ballad Dress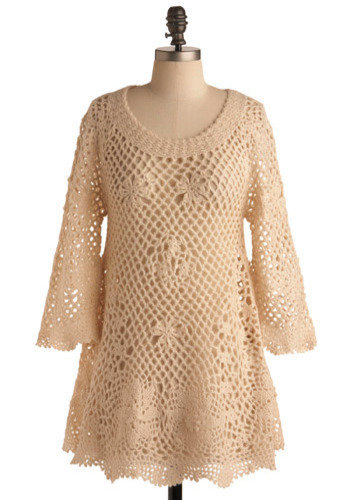 Price: $74.99 at modcloth.com
This isn't truly a dress, more of a long sweater, so beware! It's not lined, so you'll need a tank… isn't it gorgeous, though, as a layering piece? I'd love this with a tank underneath and a pair of knit leggings and boots. I love the color… so creamy!
---
8

Field Canvassing Glovelettes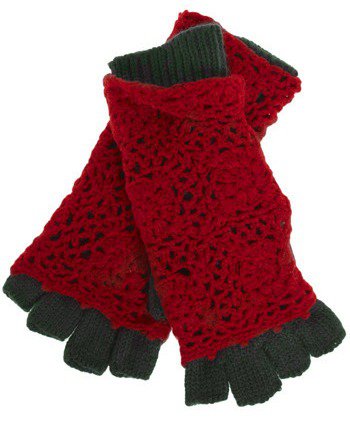 Price: $32.99 at modcloth.com
This is another way to wear crochet — at your fingertips! These fingerless gloves are a dark navy with a bright red knit overlay, eye-catching and festive, ideal for adding a pop of color on the greyest of winter days. They're also available in dark grey with yellow crochet. I love them!
I wonder if it's too late to add a few of these gorgeous crocheted pieces to my holiday wish list? I especially adore the gloves… so pretty! Which of these crocheted pieces do you like best, and how would you wear them? Please share!
---
Comments
Popular
Related
Recent