Denim is a wardrobe staple. It's important then, that you know how to properly look after your denim pieces. That way, you'll be able to get the most wear out of them. Below are just a few tips to help you extend the life of your denim clothes.
---
1

Read the Care Label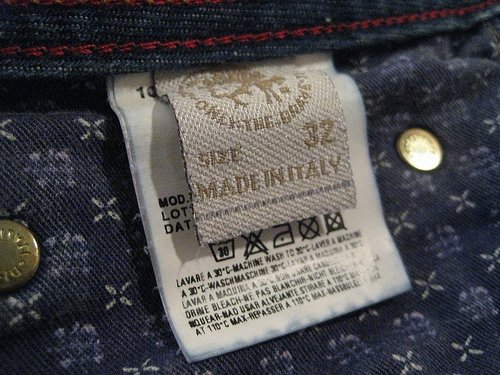 Photo Credit: The Dans
Not all denim is designed the same. Some pieces are designed to fade, while for others washing may not be advisable. It's important to read the care instructions prior to wearing and washing each garment. They will provide the clearest instructions to help you best look after your denim.
---
2

Only Wash when Necessary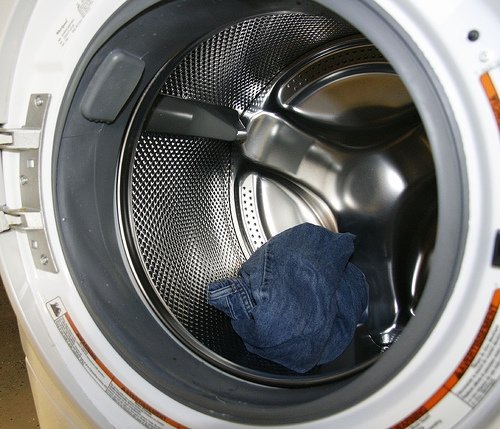 Photo Credit: tonyolm
Avoid washing denim on a daily basis. Constant washing can lead to the denim fading and thinning. So it's advisable to only wash them when necessary. Air your denim out in between wears to keep them smelling fresh.
---
3

Hand Wash, if Possible Photo Credit: sonia_gustafson
If your denim is stretchy, hand washing will help keep the elasticity. A washing machine will only encourage denim to lose elasticity faster. Wash denim in lukewarm soapy water, paying special attention to the hems as this is wear dirt builds up the most. However, if you can't hand wash, using a washing machine on a delicate cycle is fine.
---
4

Treat Them as Delicates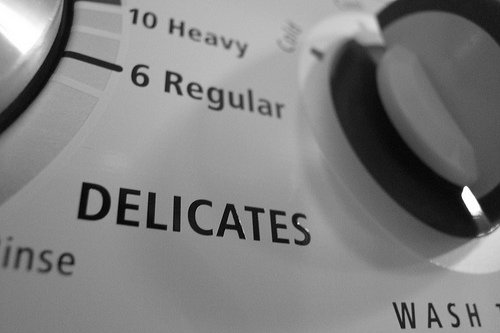 Photo Credit: neilkremer
Even though denim is a sturdy material, it's best that you treat your denim pieces as delicates. If you use a washing machine, wash in cold water and on a delicate cycle. This will help maintain the quality of the fabric. Washing denim inside out will also help keep the blue dye from fading.
---
5

Wash Denims Together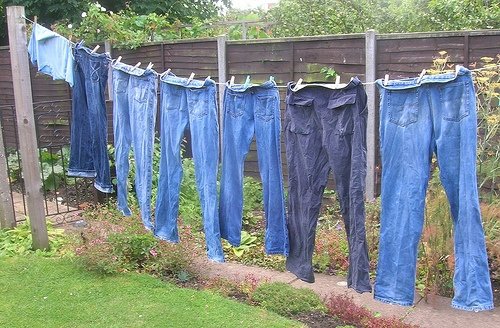 Photo Credit: quisnovus
Wash denims by themselves or with other denims. The dye in denim can bleed onto other items in the wash. Try keeping darker denims together and separate from lighter denims. Washing in cold or tepid water will also prevent the dye from bleeding.
---
6

Dry Your Denim Properly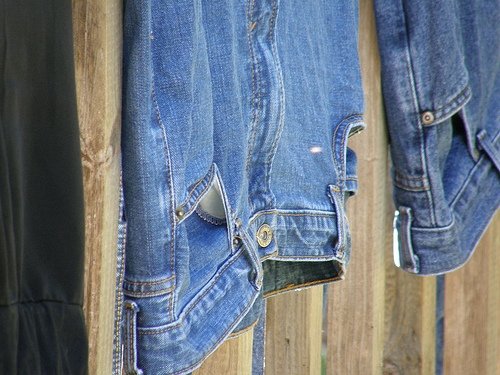 Photo Credit:jpeeden
Avoid using a machine dryer as this can damage the denim. Hang your jeans upside down or lay them flat in the sun. This will minimise creasing and eliminate the need for ironing. If you do need to use a dryer, use the lowest heat setting and remove the denim before it is completely dry.
---
7

Remove Stains and Repair Promptly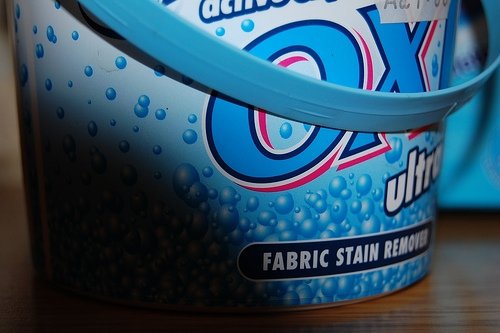 Photo Credit: amwilliams
Over time, stains can compromise the quality of the fabric. Grass stains can be eliminated by rubbing alcohol onto the stain and then washing off with soapy water. Chewing gum can be removed by freezing the area or rubbing ice into it. As a general rule of thumb, warm soapy water will help remove most stains. It's also important to repair any holes or tears to stop them from growing larger.
How often do you wear denim? What are your tried and tested tips for caring for denim?
Top image source: data.whicdn.com
More
---
Comments
Popular
Recent