I'm going to date myself here as hopelessly old, but I was born in 1972, and got to experience first-hand some of the fashion trends of that time. They were so much fun, with lots of colors, textures, and trends that are making a comeback. But it can be tricky to wear the trends… too much, and you look like you're wearing a costume. But I can help! If you love harvest gold, rust, and avocado green, keep reading! Here are 7 ways to incorporate 1970s fashion into your look.
---
1

Sestina at Sunset Top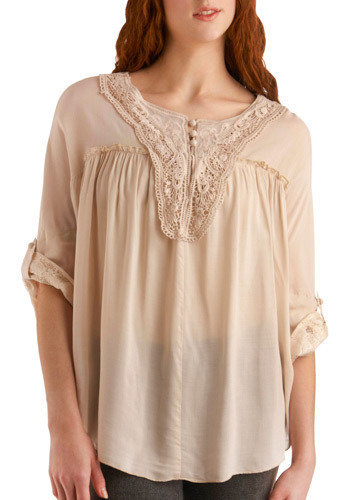 Price: $49.99 at modcloth.com
You've been planning this casual backyard bonfire for weeks, and once you've finished hanging the paper lanterns and chilling the wine, it's time to choose an outfit. This sweet, romantic 70s-inspired poet blouse is just the thing, paired with boot-cut jeans and flat sandals. Its rolled sleeves, creamy white color, and lace detail at the yoke are sure to be admired, and it's so comfortable, you'll be ready to mingle and chat with friends without distraction all evening long.
---
2

Ahead of the Flock Dress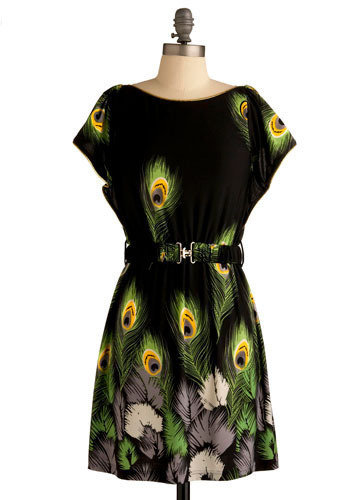 Price: $52.99 at modcloth.com
For this weekend's girls' night out, you're planning a trip to the hottest new nightclub, which just happens to be a disco. You've got the moves, but do you have the dress? Indeed, you do! Note its boastful, brilliant peacock feathers, the gold-trimmed flutter sleeves, and its decidedly disco cut. Pair with gold peep-toe platforms and smoky eyes and get ready to dance!
---
3

Home Canning Top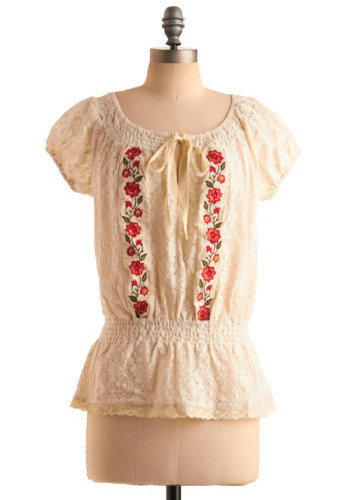 Price: $42.99 at modcloth.com
I swear my mother had this same top when I was little. She'd wear this with her favorite faded jeans and tall lace-up boots, or with her Earth Shoes. It had the same sweet floral embroidery down the front, in the same vivid red, green, and yellow. Now I want to wear it, only I'd layer it with a cropped corduroy jacket and boot-cut jeans.
---
4

Folk Rock Dress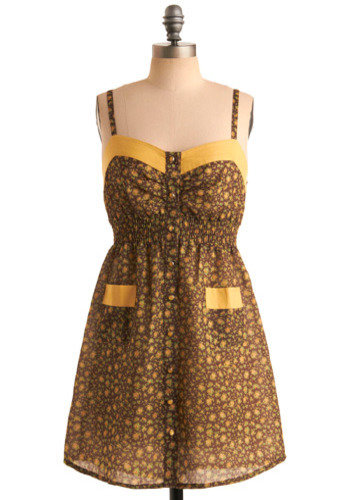 Price: $44.99 at modcloth.com
Spend the day with your sister or your sweetheart, scouring the thrift store for old James Taylor, Cat Stevens, Joni Mitchell, or Carole King albums on vinyl, and to ensure your success, be sure to wear this 70s-inspired dress. It's printed all over with delicate flowers, highlighted by bright yellow trim at the neckline and on the front pockets. Pair with straw edges and a denim jacket, and start looking through the bins…
---
5

Get Wise Necklace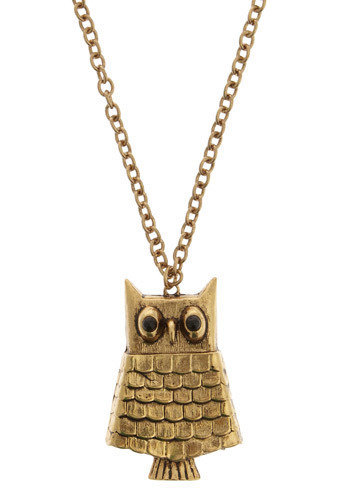 Price: $14.99 at modcloth.com
This clever little owl would be an easy way to add 1970s style to your wardrobe, with this wise little eyes and pretty plumage. He hangs from a 34-inch chain, and has shiny black eyes and a very detailed face. Wear him with a vintage-inspired tee and skinny jeans, or with a shirt-dress and boots.
---
6

Azure Allure Top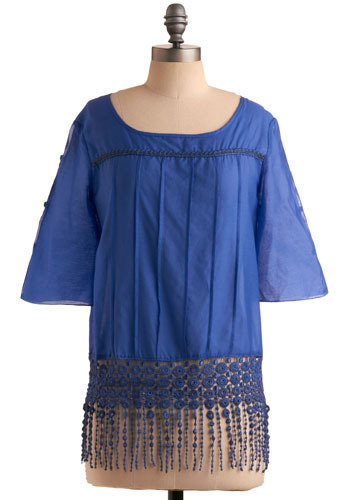 Price: $64.99 at modcloth.com
This delightful blue top is all details, from the beautiful slit-top sleeves to the delicately pleated bodice to the fabulous floral fringe at the hem. Pair it with a calf-length skirt and tall leather boots, or a short denim skirt and flats.
---
7

Daylight Savings Skirt
Price: $54.99 at modcloth.com
I have a thing for long skirts, and this one's definitely caught my eye! It features a 1970s-inspired pattern at the bottom, with one stripe of red, one of purple, and one of blue, topped with red peaks. It would look divine with a fitted tee and floral-print blazer and a fringed scarf, or with a black vee neck blouse and boots.
All of these pieces are so beautiful, and each of them is an accurate depiction of the laid-back, color-rich 1970s style. I adore the long skirt and the charming owl necklace… which piece do you like best, and what would you wear it with?
More
---
Comments
Popular
Recent