Of all of the fashion eras, I have to say the 1950s is my personal favorite. I adore the dresses, with their flattering cuts and designs and their ladylike versatility. I'm always on the lookout for a pretty new dress, the flagship of fifties fashion, and I've found so many I love! If you're looking to add some fifties flair to your wardrobe, keep reading! Adding one or two of these dresses to your closet would accomplish that task nicely, ala June Cleaver, only sexier! Here are 7 ways to incorporate 1950s fashion to your look.
---
1

Destined for Stardom Dress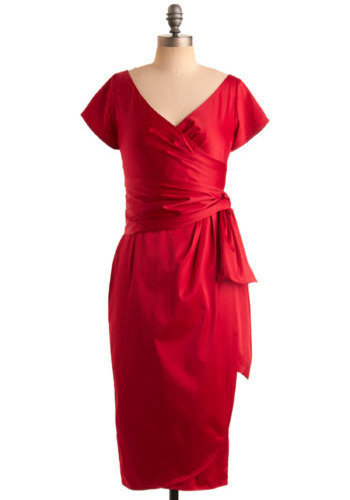 Price: $107.99 at modcloth.com
You, my dear, are indeed destined for stardom, and you know exactly what you'll be wearing when you accept that award. It will be this lush red dress, seemingly designed to flatter every one of your curves, with a side sash, wrap design, vee neck, and calf-skimming length. Pair it with rhinestone chandelier earrings and a matching necklace and bracelet, and start writing your gracious acceptance speech now.
---
2

Sweet Temptation Dress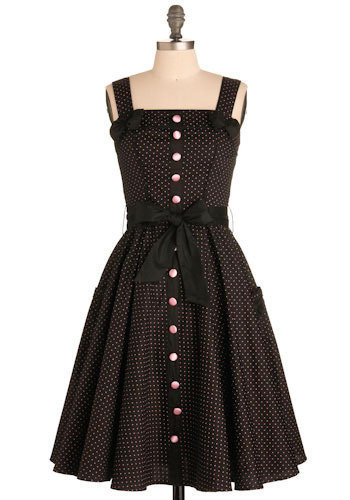 Price: $63.99 at modcloth.com
This charming little dress features oodles of bows (five to be exact), a row of pink satin buttons down the front, and a tulle petticoat to give it a distinctly fifties flair! Wear it with a pink rhinestone necklace (the one from your grandmother) and a cropped cardi, with black flats or patent Mary Janes…
---
3

Angelique Dress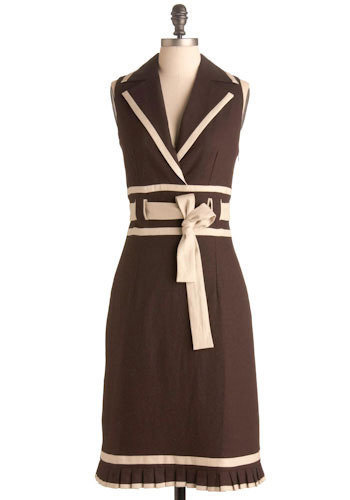 Price: $89.99 at modcloth.com
There are so many things I adore about this pretty 50s-inspired dress, I don't know where to start! How about the notched collar, or the tiny row of pleats at the hem? Or maybe the clever tie belt at the waist, or the cocoa-brown color? I'd wear this with brown and white spectator pumps and a matching clutch, and debate the details each time I wear it…
---
4

Give 'Em Sass Dress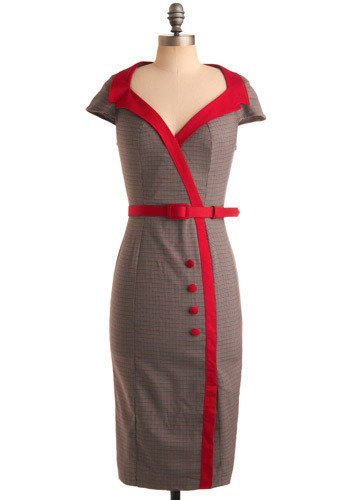 Price: $107.99 at modcloth.com
A girl on the go has to have a dress that's just as ready for anything as she is, and this may well be that dress. Look closely and you'll see the subtle hound's-tooth check pattern, highlighted with four red buttons and a gorgeous red collar and detachable belt. Pair with seamed stockings, sleek round-toe pumps and a matching red lippy… so 50s pin-up glam!
---
5

Parade Your Plumage Dress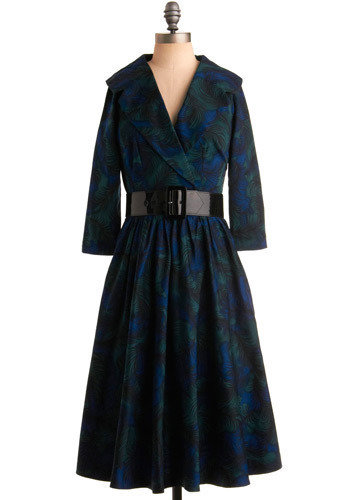 Price: $117.99 at modcloth.com
Imagine your favorite fifties starlet and her handsome leading man, surrounded by the press, cameras flashing, interviewed together on the set. She's wearing something demure but gorgeous, like this peacock-hued frock. It has a wide waist-nipping patent belt and a knee-grazing full skirt. All that's missing is your favorite pair of patent peep-toes or t-straps, and you'll have her look, and then some.
---
6

On the Job Dress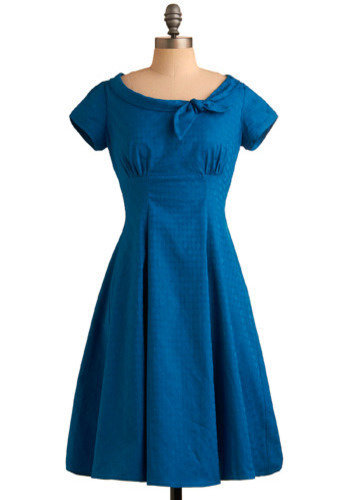 Price: $114.99 at modcloth.com
Oh, sweetie, blue is the color for you! It brings out your eyes and makes your complexion look even more brilliant! So this dress is a must-have, with its fitted empire waist, smart bow at the collar, and figure-flattering full skirt. Pair with absolutely any of your pumps or flats, add pretty button earrings, and you're ready to go!
---
7

Cover Model Dress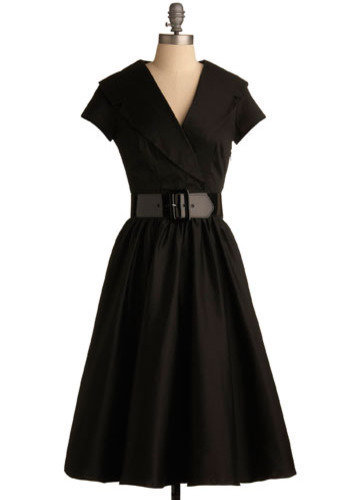 Price: $117.99 at modcloth.com
Regardless of how generous your curves are, this is the 50s-inspired frock for you. Note the inky black color, the wide patent belt, the cross-over bodice, and the sweet cap sleeves. All you need to add is your favorite red lippy, an armful of bangles, and a pair of pumps to match the belt. Gorgeous!
With so many gorgeous dresses to bring a little fifties flair to your wardrobe, the only real question is, which to try first? The polka-dot one? Or the peacock blue? They're all pretty, and all of them would be ideal for incorporating a little 1950s inspiration to your look! But which of these dresses do you like best, and how would you wear it?
More
Comments
Popular
Recent