I'm so glad fringe is trendy right now — it's so pretty, and can add so much style to an outfit. But if you wear too much of it at once, or wear the wrong fringe piece, you'll look ridiculous… so how can you add the right fringe to your wardrobe? Here are 7 ways to wear fringe.
---
1

Windows of Lace Top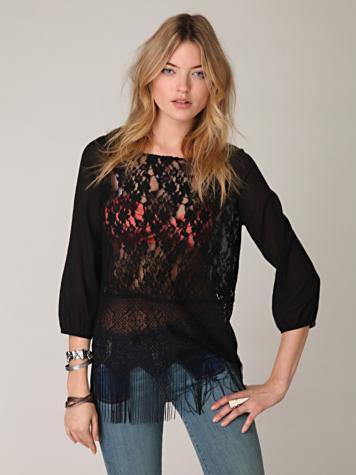 Price: $128.00 at freepeople.com
This tunic is so pretty, with plain sleeves but lace panels in the front and long, delicate fringe along the bottom, all around. Choose from black (which looks best paired with light pants) or white (which looks gorgeous with dark-wash skinny jeans).
---
2

Fringe Crochet Legwarmer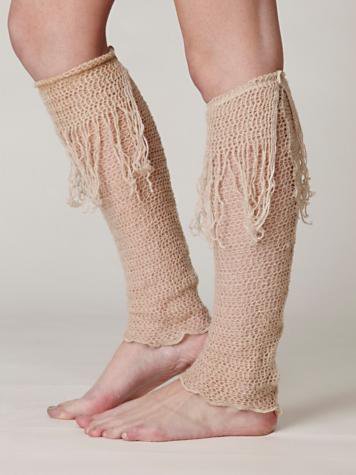 Price: $38.00 at freepeople.com
I live in Michigan, and as much as I adore the look of patterned tights or leggings with a long sweater or tunic, it's just too cold to wear them alone… which is why I love leg warmers. These are as cozy as they are stylish, lightweight, with delicate fringe and elastic at the top, for fit. Layer over leggings or tights and under boots… so pretty!
---
3

Lea Fringe Boot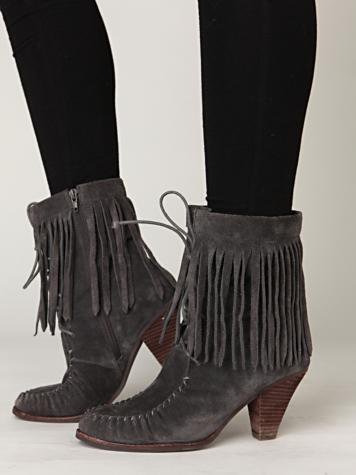 Price: $198.00 at freepeople.com
These aren't your grandmother's vintage fringe boots from her trip to Woodstock. They're updated with in a soft grey suede, with slight ruching at the toes and a wood-look stacked heel. Pair with a long vest or tunic and leggings or skinny jeans and an oversized Boho bag with sparkling chandelier earrings.
---
4

Jersey Fringe Scarf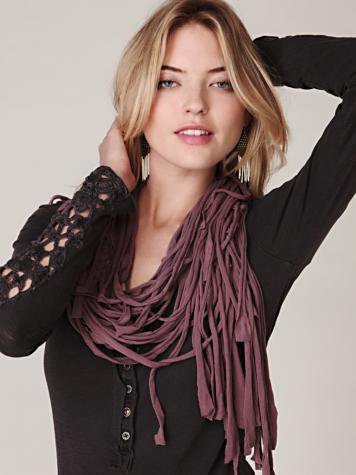 Price: $68.00 at freepeople.com
This neck scarf is made of the same ultra-soft cotton jersey as your favorite tee shirt, as comfortable and worn in with love. It's available in purple or grey, and both feature the same long, pretty loose fringes. Wear with a maxi dress and cropped cardi with lace-up boots, or with that favorite tee and boyfriend fit jeans.
---
5

Fringe Crossbody Bag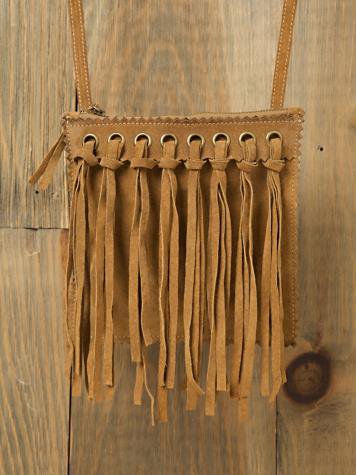 Price: $38.00 at freepeople.com
This soft suede bag combines two hot trends, fringe and cross-body bags. It's available in inky black or neutral tan, and both colors feature the same grommets along the top for attaching the long soft fringe. There's a zipper along the top to keep all your treasures secure, and the bag measures a roomy 7 by 7 inches.
---
6

Leila Fringe Belt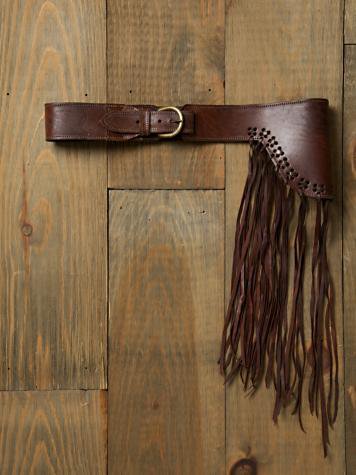 Price: $138.00 at freepeople.com
This gorgeous dark brown leather belt is truly unique, and is an ideal way to add fringe and western flair to an outfit. Wear over a long, soft Henley and super-skinny jeans and flats, or tie it over a chambray shirt-dress. Leave your other accessories minimal, and let the belt do the talking, or you'll look too busy and over-done.
---
7

Bohemia Fringe Earrings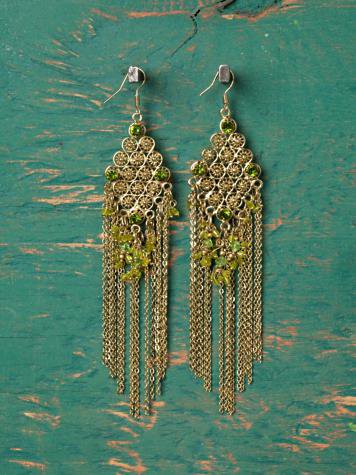 Price: $19.95 at freepeople.com
The gorgeous earrings feature rows and rows of glittering fringe, all done in brass chains with green glass beads scattered throughout. They're the perfect fringe or Boho accessory, measuring about 4 inches long. So pretty!
With so many ways to wear fringe tastefully, there's no reason to fear or avoid the trend — you're going to be fab in fringe! Which of these fringe pieces do you like best, and how will you wear it? Or is there another way to wear fringe you like more?
More
Comments
Popular
Recent