I love 1920s fashion, the flowy dresses, the gorgeous bobs, the beautiful jewelry. But it can be difficult to find the right pieces to add the look to your wardrobe, and genuine vintage pieces can be pricey! But I can help. One of m favorite fashion sites, ModCloth, has lots of lovely pieces you can wear to add a little 20s flair to your fashion. Here are 7 ways to incorporate 1920s fashion into your look, from head to toe!
---
1

Tour the Town Hat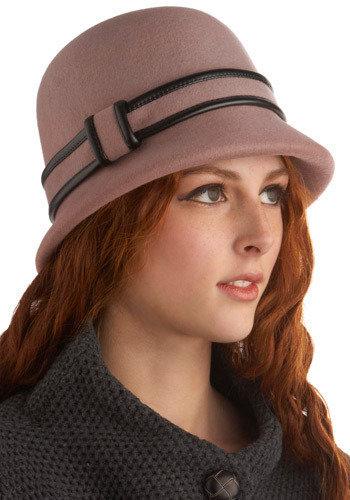 Price: $29.99 at modcloth.com
Choose from soft mauve with black piping or black with white details, either way, this bell-shaped hat is as gorgeous as it is warm. Pair with an oversized poncho and dangle earrings, or with a smart dress and heels to add just a touch of the twenties to your snowiest of days.
---
2

Rue Montagne De La Cour Earrings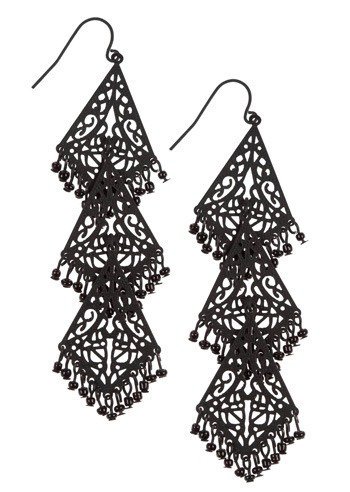 Price: $13.99 at modcloth.com
These darling Art Nouveau dangles look just like the ones your great-grandmother is wearing in the photos from her honeymoon. Wear them with your favorite fringed LBD or a glittery sequined tunic and skinny jeans. They're made of three glittering tiers of black metal and beads, and measure 3-inches long.
---
3

She Sees in Sepia Dress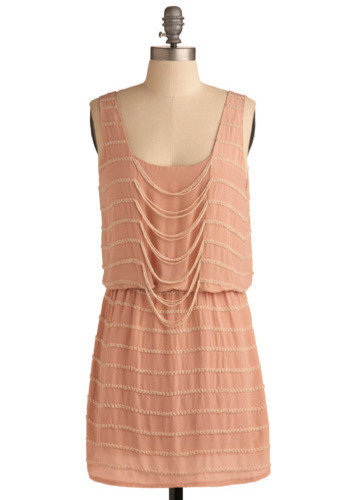 Price: $154.99 at modcloth.com
This peachy-pink sleeveless dress is an ideal way to wear the 1920s style while still looking chic and modern. The bodice features rows of beautiful beads, draped casually over across the front, matching the rows of beads on the skirt. It's made of soft, sweet silk, lined for modesty and comfort, with extra beads included for minor repairs.
---
4

Silent Passageway Dress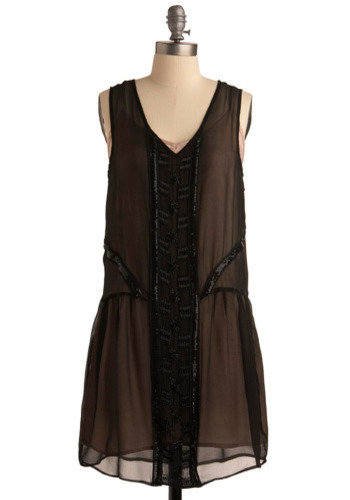 Price: $119.99 at modcloth.com
This delicately beaded black drop-waist dress whispers of a bygone era, another time when women wore soft, drapey wraps, feathered headbands, and sleek high heels. It comes with a pale pink under-slip with adjustable shoulder straps for a perfect fit. Pair with black fishnets or nude hose and black patent t-straps for a night at the speakeasy or a party, whichever.
---
5

Soft Spot for Style Frock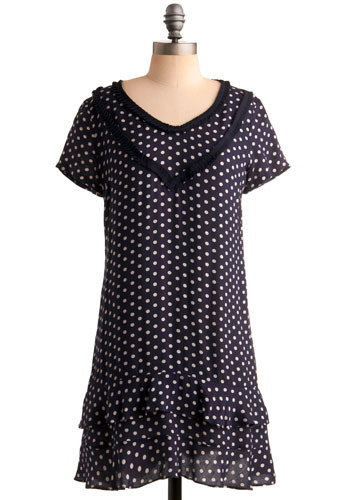 Price: $49.99 at modcloth.com
Wear this soft rayon polka-dot dress loose with white patent Mary Janes for a look right out of a sepia-tone photo, or with a wide brown belt and matching tall boots for a thoroughly modern twist. Either way, this dress is a delight in navy blue, versatile and pretty.
---
6

Novel Tee in Benjamin Button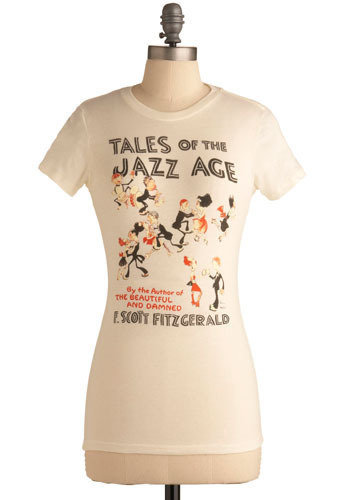 Price: $27.99 at modcloth.com
Celebrate the Roaring 20s without sacrificing your modern edge with this super-soft 100% cotton tee. Pair with denim shorts or a pencil skirt, skinny jeans or a floral print skirt, and be sure to add oxfords, too.
---
7

Reverie Rendezvous Heel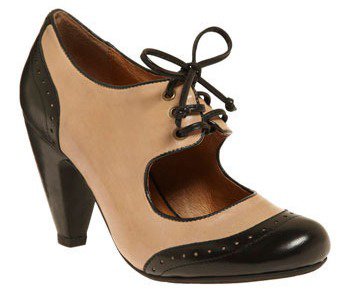 Price: $109.99 at modcloth.com
Finally, the shoes! Wear these lace-up oxford-inspired heels by Miz Mooz with your favorite high-waisted menswear-inspired pinstripe trousers and plain white blouse, so their sweetly rounded black patent toes are barely visible. Or wear them with a below-the-knee skirt and a cropped cardi to reveal the tan uppers and black patent heel caps and cone heel.
Any (or all) of these gorgeous goodies would be such a wonderful way to add the look of the 1920s to your wardrobe, from the pretty bell hat to the sweet dresses to the beautiful brogue heels. Which of these would you prefer to wear, and how would you wear it? Do share!
More
Comments
Popular
Recent