I've recently discovered that wearing the color turquoise makes me almost as happy and warm as wearing yellow, so I've been wearing a lot of it this winter. I've also noticed it makes my eye color really pop, and what girl doesn't want that? It's hard to find goodies to wear in the right color turquoise though, so every time I find something in just the right hue, I have to add it to my wish list… and here are the items that currently reside at the top! Here are 4 ways to wear turquoise…
---
1

Teal Good Time Boot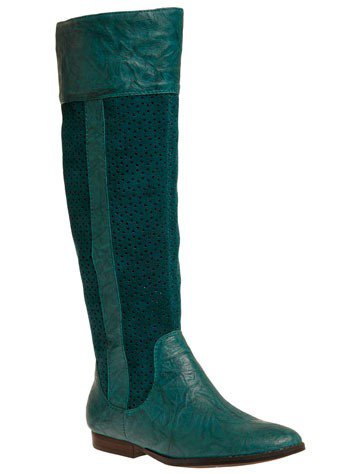 Price: $139.99 at modcloth.com
Oh my gosh, these boots by BC Shoes are cute! I love the western feel and the cut-out pattern, and the texture of the leather uppers… and of course, the color, somewhere between turquoise and teal. I'd wear these with opaque tights (to peep through those cut-outs) and a short skirt or a long tunic…
2

Proudly Posh Heel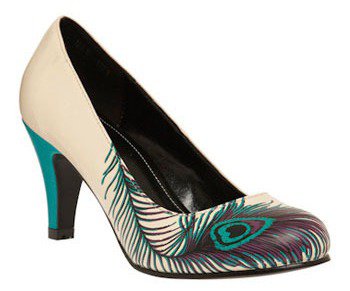 Price: $54.99 at modcloth.com
I must have these heels! They feature a teal heel and a proud peacock feather design swirling across the upper and centered on the toe. They feather is so detailed, and it looks so realistic! The heel measures a walk-able but sexy 2 ½ inches so you'll look as graceful and elegant in them as the peacock feather on them. I'd wear these with my above-the-knee LBD and an armload of sliver bangles.
---
3

Be Teal My Heart Cardigan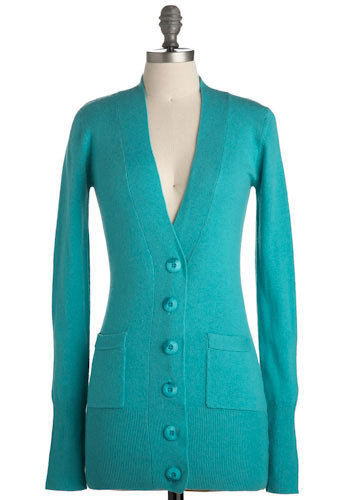 Price: $44.99 at modcloth.com
This is exactly the shade of turquoise that reminds me of the summer sky, cloudless and bright, holding the promise of sunshine and fun! So I'd love wearing this long-line wool-blend cardi, with its button-front closure and front patch pockets all winter long, to brighten even the greyest day and remind me that summer will be here before I know it!
---
4

Beach Banquet Dress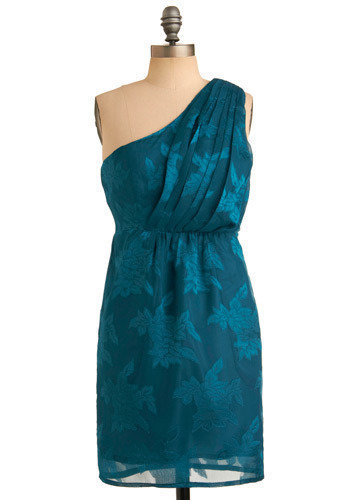 Price: $59.99 at modcloth.com
Add some curves and a little exotic mystique with this shimmery one-shoulder gown. Add curves, you ask? Well, sweetie, not all of us have curvy figures, alas, so we need a row of delicate pleats across our bodices and a flowing empire waistline to create them, as this pretty frock does. It's also a gorgeous turquoise color, ideal for wearing with silver peep-toe pumps and your favorite smokey-eye make-up.
---
5

Ambitious Endeavor Dress

Price: $101.99 at modcloth.com
Doesn't this calf-skimming dress look like something Girl Friday would have worn in a film noir detective film? It's fitted to flaunt your curves, with a skinny black patent belt and a row of cloth-covered buttons on the chest. I love the wide collar, and of course, the vivid hue! Add a black patent clutch and matching peep-toes to complete the look.
---
6

She Wore Blue Velvet Dress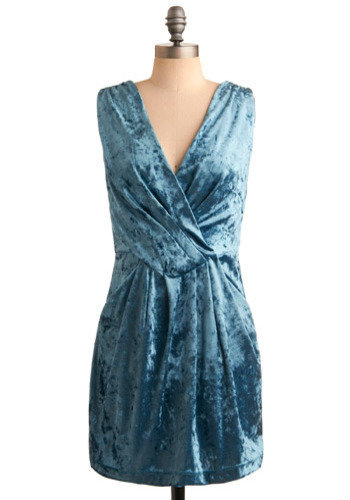 Price: $47.99 at modcloth.com
It's time to update your collection of LBDs with another variation, the Little Blue Dress. This one's made of sleek, lush velvet, with a flattering drape, deep vee neck, and clever side pockets. It's just as versatile and becoming as any of the other LBDs in your closet, and just as ready-to-wear with the simple addition of a pair of patterned tights, the right heels and a pair of chandelier earrings.
---
7

Don't Be Shy Heel

Price: $49.99 at modcloth.com
Embrace your inner 1980's punk rocker with these gloriously curvy, vividly-hued heels. They're made of bright turquoise faux leather with a pointed toe, an electric pink 4-inch heel, and matching pink piping around the cleverly curved foot-bed. I'd wear these with skinny jeans and a subtle tunic… wow! So much fun!

With so many ways to wear turquoise, there's no reason to settle for your usual winter-time rotation of black, grey, and khaki… I adore those boots by BC Shoes, and that one-shoulder dress is gorgeous! Which of these turquoise treats do you like best, and how would you wear it? Do tell!
---
Popular
Related
Recent