I'm going to discuss some tips on how to wear wide leg pants today, ladies, as this style not only back but becoming extremely popular again, too. Some designers have suggested prints, others have decided to keep it simple and elegant and, yet, they've all agreed on one thing- wide leg pants, or Palazzos, if you prefer. So, if you like this popular 70's style, take a look at these 7 tips on how to wear wide leg pants and may you look stylish wearing them just as much as you'd look wearing any other pants!
---
1

Mix Fabrics

Photo Credit: cocastyle.blogspot.com

Pick soft, free-flowing silk for a romantic, feminine look or stiffer fabrics for chic, suit-like styles. I'll leave it on you to decide on the fabrics and focus on the first one of these 7 tips on how to wear wide-leg pants that, amazingly, doesn't have so much to do with the pants but with the tops you choose to wear them with. So, feel free to mix fabrics and complete your glam, breezy look with a formfitting top and a Chanel-style jacket or give that neat, stiff business look some feminine charm with a breezy, free-flowing romantic top.
---
2

Mix Lengths

Photo Credit: stylehive.com

Standard wide leg pants or Palazzos, as some like to call them, aren't exactly low cut, which is, of course, great if you're looking for a style that makes the legs appear longer and belly flatter. Modern versions are low cut so, if that's more of your style, you'll have plenty of them to choose from. Now, what I want to advise you to pay attention on is the length of the waist and the length of your top because high waist pants should be worn with shorter tops (or top/shirt should be tucked in) and vice versa. So, let's brush up on our newly acquired knowledge- if you're accenting your slim waist, you don't want to ruin the effect by covering it up and if you want the accent to be on your hips… well, you must wear a longer top anyways because bare belly is pretty much a no-go unless you're on tropical vacation, still not old enough to drink or buy alcohol or even both.
3

Casual VS. Dressy

Photo Credit: stylesalt.com
Palazzos are a multifunctional piece of wardrobe so here's some more tips on how to wear wide-leg pants everywhere and always look perfect. Feel free to wear them with your favorite tees and espadrilles or ballet flats for a casual but girly look, layer tops and fabrics and get a cool, slouchy bag if you want to go boho and, of course, don't forget heels, elegant shirts/blouses, clutches and chic narrow belts, in case you want to show up looking like a Hollywood superstar.
---
4

Keep Your Makeup Natural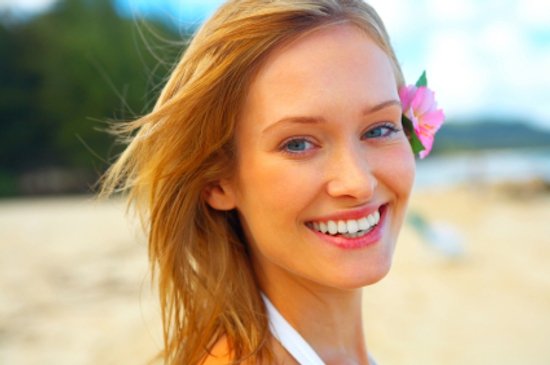 Photo Credit: styletips101.com
Wide leg pants are a stylish, eye-catching, elegant piece and, as such, don't require a lot of strong makeup, so opt for natural, warm shades and focus on creating a natural but elegant, radiant but not too shiny, chic but not crazy, look to match your palazzos.
---
5

Choose a Style That Flatters Your Body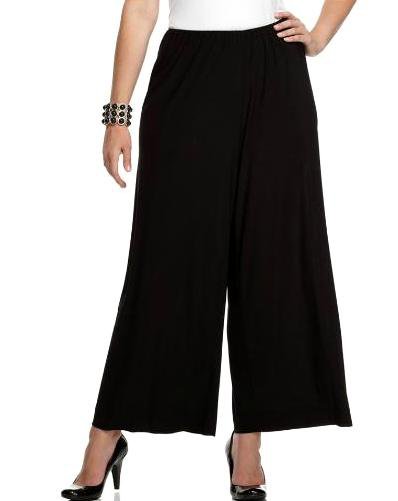 Photo Credit: macys.com
Now, if these tips on how to wear wide leg pants were not useful or even new to you, here's one you definitely want to pay attention to. Don't choose your wide leg pants simply because you like the print or because they look good in a magazine- choose your style because it looks good on you! If you're built like a model you won't have a lot of problems to find a style that fits you perfectly but if you're not, you'd want to choose the cut that will hide all imperfections. If you're petite, you should refrain from wearing big flares but if your body shape can be described as "pear" big flares, especially ones starting from the knee and down, are just what you need for a perfectly balanced, perfectly stylish, perfectly perfect figure.
---
6

Choose Big, Bold Prints or No Prints at All

Photo Credit: lulus.com

No tiny flowers or paisley pajama prints, ladies! Pick glam, abstract motives, classic vertical stripes and even small retro polka dots or, if bold prints are not your style, you can always pick a fool-proof, solid color garment to wear with just anything. White, beige, tan and all other light, natural colors are extremely popular this summer but there are many gorgeous palazzos in black too, in case that's your color of choice.
---
7

Say "Good-Bye" to Oversized Tops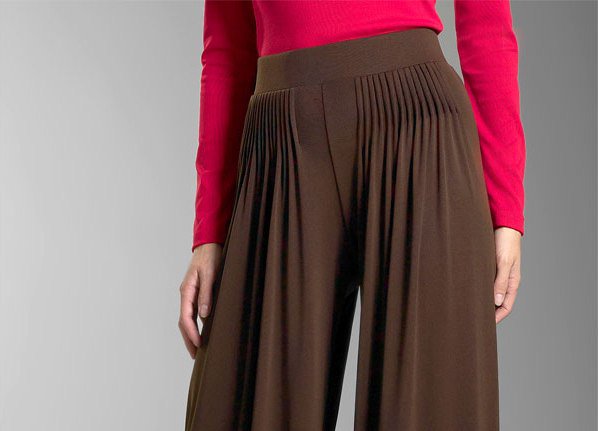 Photo Credit: stylehive.com
Palazzos don't go well with oversized, baggy tops so unless you're going for the "look what the cat dragged in" look, you'd better find something with a defined waistline. That, of course, doesn't mean you have to wear formfitting tops only! Shop for blouses that drape nicely, but make sure they aren't too baggy or too long. Have in mind this – wide leg pants are supposed to make you figure feminine by drawing attention to your waist so having a lot of fabric on both the upper and lower part of your body pretty much undoes this effect.
So, ladies- did you find these tips on how to wear wide leg pants useful? Hope you did and hope you like this style because it's not only totally in but totally flattering too!
Top image source: cdn4.lookbook.nu
---
Popular
Related
Recent