What will you do with your gown after the wedding is over? A few options that have come to my mind are to keep it well preserved, sell it, cut the fabric to make a short dress, or have fun with it during a trash the dress photo shoot. Trash the Dress photo sessions have become very popular and with these 5 hot ways to accomplish the task I can see why!
---
5

Take a Spin on the Rides...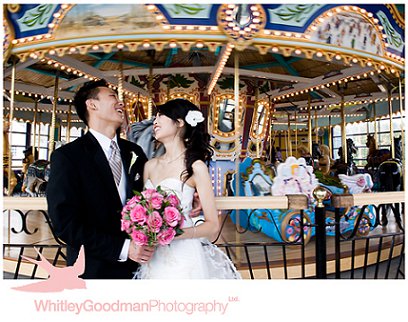 If you love the merry-go-round, ferris wheel, roller coasters, and bumper cars like I do take a trip to Six Flags or your local carnival to take whimsical photos in your wedding gown. Play some games and have your groom win the biggest prize for his new wife. Chow down on your favorite carnival foods like corn dogs, funnel cake, and cotton candy to make a tasty photo! Create sweet memories with each other having fun and feeling like a kid all over again!
---
4

Get Messy with Paint...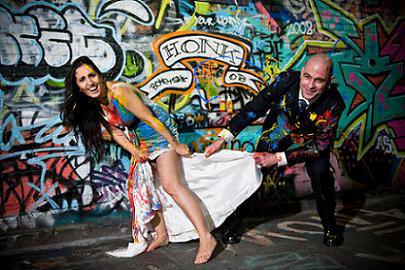 Maybe the dry cleaners can help this bride get the paint out of her gown! But if your not looking to save your dress and just want to have a messy, crazy photo shoot with your groom get wild with paint and a funky setting like the graffiti** **background in this photo. Old or used gowns that can be found on ebay or weddingbee classifieds are great finds for trash the dress photo shoots, especially when you want to preserve your own.
---
3

Walk in a Winter Wonderland...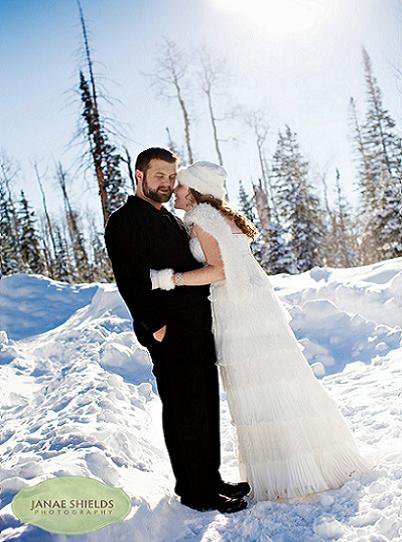 Winter is a beautiful time with snow on the trees and at your feet. This trash the dress photo would be wonderful for a save the date or an engagement photo as well. The bride's gown is glowing in the snow as she cuddles up with her groom to stay warm. When you're finished with the romantic shots start throwing snowballs at each other and build a Mr. and Mrs. snow couple!
---
2

Hop on a Hot Rod...

Cars and women together have always been sexy. So put your wedding gown on, show some leg, and hop on that hot rod! If you don't have a mustanglike the one in this photo see if there are any classic car shows coming to your area or rent one from your local Hertz. A trolley, bus or truck make for great automobile photos too. Hop in the back of your pick-up or horse, put on your cowboy hat and boots and you'll be one sexy cowgirl in her wedding dress.
---
1

Rock the Waves...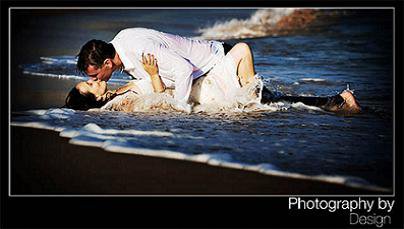 The beach** **has become one of the most popular locations for trash the dress photo shoots. How can it not be with romantic photos like this one. Getting wet, playing in the sand, and kissing on the beach brings scenes from movies and romance novels to life. The ocean and the beach is a favorite spot for my fiance and I; he proposed to me on the beach last year! A trash the dress session at the same location would be perfect for us. Let the sand cool your toes, be silly in love in the water, and kiss each other at sunset as your perfect day becomes a perfect night.
* 5 Top US Honeymoon Locations...
* 8 Beautiful Wedding Dresses for the Summer …
How will you trash your dress?
Photo Credit: Everlastingimages.blogspot.com, Whitley-goodman.blogspot.com, Redbubble.com, blog.janaeshields.com, Trashthedressaustralia.com
---
Comments
Popular
Related
Recent