Engagement photo sessions are a great way to get to know your photographer and feel comfortable with them. Your wedding is stressful enough, so check out these sexy engagement shots to learn five ways to have fun and relax with your photographer before the big day.
---
5

Fall in Love...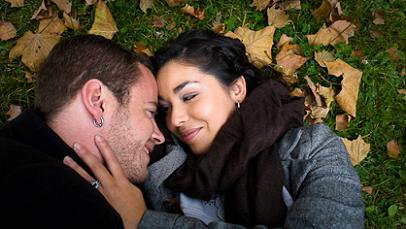 Photo by Artäge Pictures
Fall in love with the season and each other all over again as you lay in the leaves in your cute coats and scarfs. With the photographer getting this close your bound to get comfortable, so remember to be yourself and have a good time with the photo shoot. Throw some leaves around, play football, and capture the landscapes of autumn for your fall wedding save the dates.
4

Puppy Love...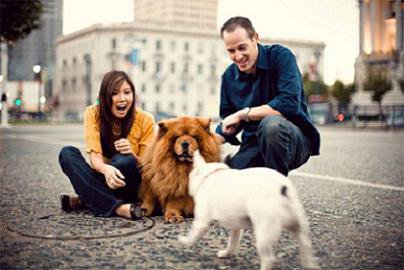 Do you both have pets that you love with all your hearts and would do anything for? Why not include them in your engagement shoot to make for one adorable family portrait! Head over to the dog park with their favorite toys to get the perfect picture. Make it easy on your pets to feel comfortable; don't play dress up if they don't like it.
---
3

Fishy Kiss...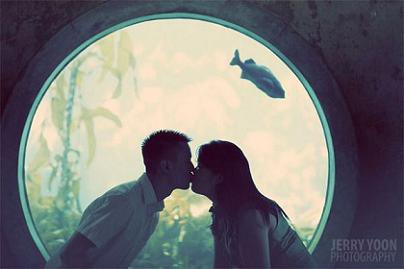 What hobbies do you enjoy, where was your first date? If you like the aquarium like this cute couple, spend the day taking photos among the fish and other aquatic animals. I would love to take an engagement photo session at the polar bear and penguin exhibit.
---
2

Home is Where the Heart is...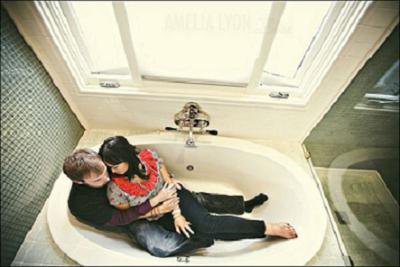 I just love bathtub engagement photos; they're sexy, classy, and romantic, which is everything I want for our engagement pictures. Home is where we feel most comfortable and it's where we built the relationship. Home is the perfect place for any couple.
---
1

Carnival of Love...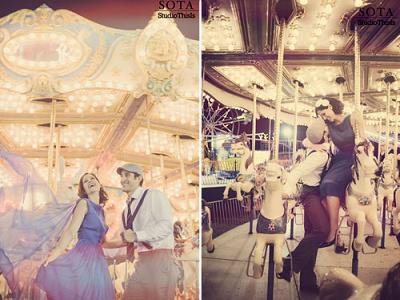 Vintage, carnival rides, love... what more do you need? This vintage look reminds me of the carnival scene in The Notebookwhere Noah first meets Allie and soon after their love begins to grow. Win me a big stuffed teddy bear and let the fun begin. Are you a carnival couple?
*5 Tips for Great Wedding Photography...
Where is the perfect place for your engagement shoot?
Photo Credit: Ruffledblog.com**,** blogjerry.com, Engagmentshoot.com, Furiousphotographersblog.com, Amelialyon.net
---
Comments
Popular
Related
Recent