If you have kids, then you know they need something different to care for their hair than we do. They don't need special shmpoo for color-treated or dry hair, they need something to get out peanut butter, be tear-free, and help with bed-head! Not sure what to try? Here's my list of the eight best hair-care products for kids!
---
1

Suave for Kids 3-in-1 Shampoo, Conditioner, & Bodywash, Wacky Melon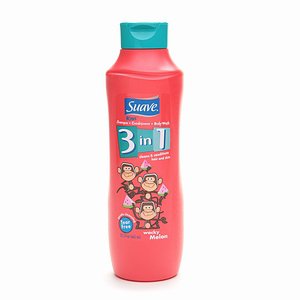 Price: $4.99 at drugstore.com
It's shampoo, it's conditioner, it's body-wash, it's watermelon-scented, and it has monkeys on the bottle! What more could a busy mom ask for? Oh, right — it's also opthamologist tested so it's gentle on the eyes. Use this for head-to-toe cleansing and conditioning... and a little bit really goes a long, long way!
---
2

Suave for Kids Free and Gentle 2-in-1 Conditioning Shampoo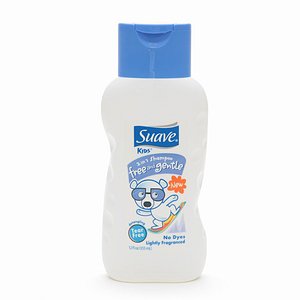 Price: $3.29 at drugstore.com
If your little girl or boy has sensitive skin, then this product was made just for them! It's formulated to be extra gentle, tear-free, and without heavy dyes and perfumes. It also saves mom time, since it's shampoo and conditioner in one!
3

Suave for Kids Detangling Spray, Awesome Apple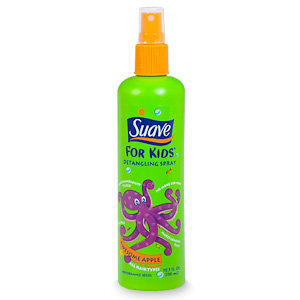 Price: $3.29 at drugstore.com
This is a winter-time staple at our house. We use it on wet hair (after tubby-time) to help get out the stubborn tangles, and on dry hair (in the morning) to get rid of static! My daughter loves the apple scent, and I love that it helps control static!
---
4

L'Oreal Kids Tangle Tamer, Burst of Sweet Pear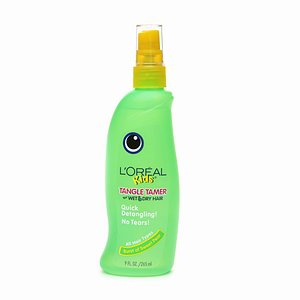 Price: $3.49 at drugstore.com
This is another great tear-free spray detangler you can use on wet or dry hair! It's gentle, effective, and smells fantastic! We use this at the beach on the summer for after swimming, and to tame wind-blown snaggy hair. Sweet!
---
5

L'Oreal Kids Extra Gentle 2-in-1 Shampoo, Burst of Strawberry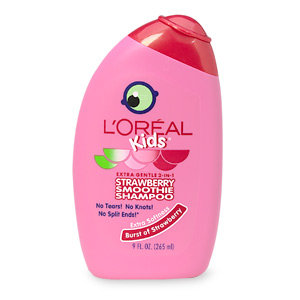 Price: $3.49 at drugstore.com
This two-in-one shampoo and condition is a favorite, too, mostly because of the sweet strawberry scent, great detangling, and easy-grip bottle. It really does smell just like a strawberry smoothie!
---
6

Paul Mitchell Baby Don't Cry Shampoo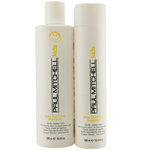 Price: $11.95 at fragrancenet.com
If you're looking for a designer tear-free, gentle shampoo, look no further! This cleanses gently but thoroughly, and leaves hair tangle-free and smelling great! No more bad hair days! If mom likes Paul Mitchell, chances are, kids will too...
---
7

Method Kid Squeaky Green 3-in-1 Apple Shampoo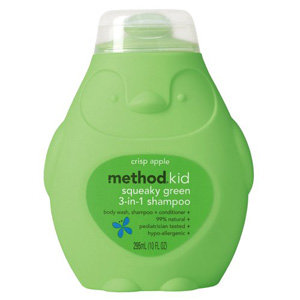 Price: $4.29 at target.com
This cute little gren penguin bottle contains body wash, shampoo, and conditioner all in one! It's 99% natural, hypo-allergenic, tear-free, and the scent really does smell like tart Granny Smith apples!
---
8

TruKid Silly Shampoo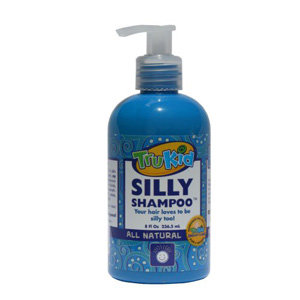 Price: $9.99 at target.com
My daughter loves anything that says "silly" on the label, and I love the convenience of the pump dispenser! This shampoo smells great (citrusy!) and is all natural, too. It's ideal for all kinds of hair, from thin and limp to dry and fly-away!
With so many marvelous shampoos, conditioners, and detangler sprays to choose from, say bye-bye to static and bed-head, and hello to clean, sweet-smelling, shiny hair. Your kids will love them because they're all tear-free, and you'll love them for a hundred other reasons! Which of these do you, or your little ones, use? Which do you like best, and why? Or is there another great product that you use at tubby-time? Please let me know!
---
Comments
Popular
Related
Recent