Its time to give your hair the care it deserves, and with the newest batch of conditioners this will be easier than ever! Here are seven of the best available now.
---
1

Skin an Apothecary French Hair Paste ...

Price: $25 at TheWhiteDoor.net

Description: A unique conditioner for all hair types. Blended without water, this grapeseed cream conditions and softens all hair types without leaving any residue.

My Comment: This smells divine, and it has a gorgeous texture as well. It is easy to apply and leaves hair feeling smooth, soft and sexy, with a hint of grapefruit scent. This will suit all hair types and it comes in a really cute container too! It's my real life-saver, when it comes to hair conditioning.
2

Infusium ...

img.allw.mn Price: $30 at infusium.com

Description: Conditions hair to provide softness, manageability and shine.

My Comment: This is an amazing range, containing frizzology, colourology, repairology, volumology, and moisturology. Each range contains a shampoo, conditioner, leave in treatment and spray treatment, and they all smell divine. Leaving the conditioner on for five minutes is recommended, to allow it to penetrate the hair, but even after just a few minutes hair is left soft, shiny and refreshed.
---
3

Joico K-Pak Deep Penetrating Reconstructor ...

Price: $24 at Amazon.com
Description: This fantastic treatment, specifically designed for dry or damaged hair, reconstructs the whole of the hair shaft, from cuticle to tip. Whilst helping to prevent and reverse damage through a managed protein system, it repairs and balances the moisture levels of the hair.
My Comment: This treatment is brilliant. Easy to apply, it has a neutral smell and it's a quick fix if you feel like your hair desperately needs moisture. I haven't tried this one yet, but my friend with lucius traces swears by it!
---
4

Kerastase Oleo Relax ...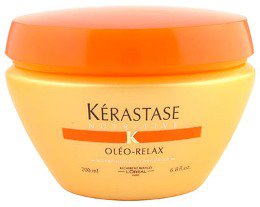 Price: $58 at kerastase.com
Description: Restores vitality, shine and lightness to fine hair that is also very dry and sensitized.
My Comment: This is one of the best moisturizing hair conditioners I've ever tried, it's so great for repairing dry or damaged hair. It smells fresh and lovely, and makes your hair silky soft right after the first application! It says you should leave it on for 3-5 minutes, but I usually leave it for about 10 minutes to get the best results. No matter how dry your hair feels, after this conditioner it will become baby soft and you won't be able to stop touching it! The only downhill of this conditioner is that after about 2 months you should stop using it every time you wash your hair, and instead use it as hair mask once a week. Otherwise, it will start weighting down your hair. That's what my stylist told me. But no worries, once you are through with the jar, you will not need any intensive hair conditioners and you'll be able to switch to something neutral for normal hair. Yay!
---
5

L'Oreal Nature's Therapy Mega Moisture Hair Treatment ...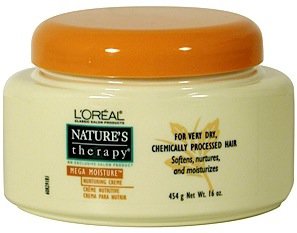 Price: $11.95 at HairCareUSA.com
Description: Mega Moisture - softens and revitalizes very dry, chemically processed hair.
My Comment: This is perfect for people who use harsh chemicals to dye their hair, or straighten it a lot. The formula is made strong, to combat dryness and broken hairs, and you can use shampoo, conditioner and hair treatment to make sure your hair is fully protected. It is quite thick, but it has a nice smell and it works!
6

Terax Original Crema ...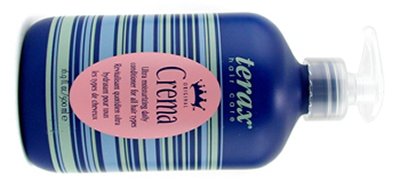 Price: $22 at sephora.com
Description: Crema opens the cuticle to allow moisture to penetrate the hair, leaving it soft and silky. It also restores split ends, breakage, and dryness associated with chemical treatments and environmental damage and combats static electricity and frizziness.
My Comment: An original, but still one of the best. With heavenly herbal scents and a gorgeous texture, this will leave you feeling pampered. It's formula wraps around hair and restores it to its former glory, by wiping out split ends, broken hair and allowing moisture in. It also isn't harsh, so it can be used every day. If you're unsure, go for this one, it's suitable for any hair type and works amazingly.
---
7

Terax Original Lotion Life Drops ...

Price: $30 at strawberrynet.com
Description: A super hair care that reconditions hair.
My Comment: This is another amazing product by Terax. This one can be used with the above conditioner, or on its own to combat harsh chemicals or dryness. It suits every hair type, and has the same divine smell as the rest of the range. It's also particularly effective to use before blow drying hair, as its formula traps moisture in to keep hair looking naturally glossy.
Recommended Posts:
• 6 Hottest Hairstyle Trends for 2009 …
• All Natural Hair Masks to Try at Home ...
• List of Best Professional Products for Beautiful Hair...
• 10 Tips on Creating a Fabulous Updo …
So there you have it, the **Top 7 Hair Conditioners **of the moment, and where you can get them from. Have you found a mind blowing conditioner I haven't mention? Or do you know which ones to avoid? Please do tell!
Photo Credit: ****Models.com
---
Comments
Popular
Related
Recent