Do you think you might be having a hair loss problem? If so, you shouldn't worry, these days there are plenty of treatments that'll help you get your hair full and healthy again in just a few months. You just need to be very persistent in using the right products, and it'll all go back to normal. So, here they are, the best products to treat hair loss:
---
13

Pureology - Nano Works Restorative Treatment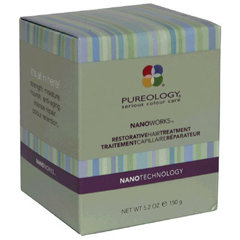 Price: $45.00 at amazon.com
If you are having problems with hair loss, then Pureology-Nano Works Restorative Treatment will help you. It contains certified mushroom botanicals, so you can count on it. It will not only help your hair grow, but it will also make it shiny.
---
12

Toppik Hair Building Fibers, the 30 Second "HAIR TRANSPLANT"

Price: $19.95 at amazon.com
This is one of the best hair loss concealers you will find on the market. When you apply it to your hair, the toppik fibers will merge with your existing hair. It is safe and is a natural way to eliminate the appearance of thinning and baldness.
---
11

DS Laboratories Spectral DNC 60ml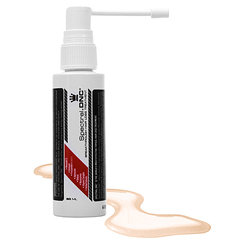 Price: $35.99 at dermstore.com
This hair loss product used powerful hair restoration compounds, Aminexil and Minoxidil 5%. It can be used by both males and females.
---
10

Rene Furterer Triphasic Regenerating Hair Loss Serum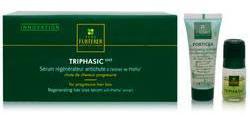 Price: $63.00 at click4beauty.net
This product brings indispensible energizing together with protective and stimulating elements in order to encourage hair growth. It also helps to slow down hair loss.
---
9

Super Million Hair Hair Enhancement Fibers Antibacterial

Price: $49.95 at beautyencounter.com
This formula adds volume to your existing hair. It creates a natural finish and is made of antibacterial natural fibers, so it is safe to use. It will stick to both your hair and scalp by static electricity in order to cover the range of thinning.
---
8

Nioxin Scalp Therapy for Fine Hair System 4, Fine, Chemically Enhanced Hair | Noticeably Thinning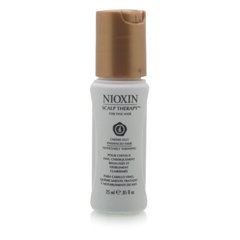 Price: $10.99 at beautyencounter.com
My friend tried this out and really liked it as she said it deep conditions and energizes the scalp. It thickens the head from inside the cuticle. I also like how it strengthens the hair shaft.
---
7

Toppik Hair Building Fibers

Price: 21.95 at beautyencounter.com
This particular link is for light brown hair, but you can find it for other hair colors as well. With this product, you will have a head full of hair in no more than thirty seconds. It comes from the same protein that makes up human hair. It also comes to you at a great price that you cannot turn down.
---
6

Billy Jealousy Hair Raiser Follicle Revitalizer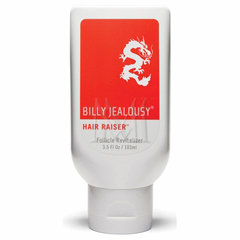 Price: $74.99 at themetroman.com
This will promote hair re-growth by increasing the strength, vigor and thickness of your hair. It will be sure to give your locks the proper nutrients in order to keep it healthy and strong. I also like how it helps avoid that comb-over nightmare.
---
5

Jack Black Body Building Hair Gel

Price: $14.99 at themetroman.com
This product helps add volume and shine to your hair. It is perfect for those individuals that have hair that is starting to thin out. It will give you a long lasting hold and control that you have always wanted. With this product, you will be sure to have a head full of hair.
---
4

Jan Marini Hair Revitalizing Conditioner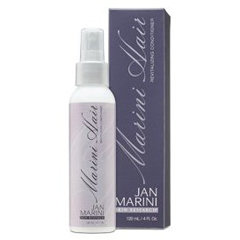 Price: $170.00 at amazon.com
If you would like that fresh new look, then this product is a must have. It will be sure to give your hair that thick look you have always wanted. It is great for those that are aging or have environmentally damaged hair. Your results will be visible from the very first application.
---
3

Bosley Healthy Hair Complex Hair Regrowth Treatment for Men - Extra Strength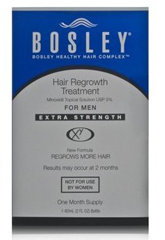 Price: $26.98 at amazon.com
This treatment has been formulated for men. It will regrow hair on top of the scalp. It is not intended for those that have receding hairline or frontal balance. This product has helped many men who have thinning hair.
---
2

Apivita Propoline Tonic Shampoo for Thinning Hair for Men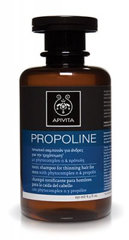 Price: $22.00 at skincarerx-llc.amazonwebstore.com
Losing your hair can cause you to lose your confidence and the makers of this product really understand this. This product has also been designed just for men and helps to regulate the production of oil at the scalp. It also stimulates the circulation for proper growth.
---
1

Sigma Skin Hair Regrowth System: Step - 1 Hair Growth Stimulating Shampoo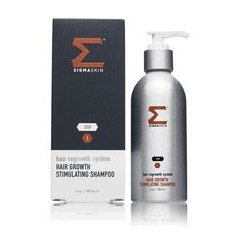 Price: $45.95 at amazon.com
This is a shampoo that has been designed for those individuals that are having a problem with hair loss. It has been formulated with some powerful ingredients and it will not damage your hair. It has Biotin in it in order to control the oil production. Too much oil production damages hair follicles.
Those are 13 fantastic products to help those who are having problems with hair loss. Number one, the shampoo, is my favorite and my friend who used to have severe hair problems, absolutely loves it. Do you have a problem with hair loss? How many hairs do you think you are losing per day? What products do you use? Please tell...
More
Comments
Popular
Recent