When you've slept late and you have to be ready, gorgeous, and out the door in twenty minutes, 2-in-1 shampoo and conditioner can either be your best friend or your bad hair day-inducing worst enemy. What ought to be a time-saving cleansing and beautifying experience can end up leaving your hair greasy, flat, or static-y. I can help you avoid disaster! I've tried dozens of 2-in-1 shampoo and conditioners, so I know which are wonderful and which are worthless. Here's my list of 8 fabulous 2-in-1 shampoos.
---
1

Pantene Pro-V Classic Care Solutions 2-in-1 Shampoo & Conditioner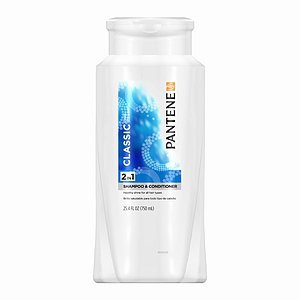 Price: $5.94 at drugstore.com
This is the 2-in-1 that's in my shower now, though I don't know how it ended up there… I didn't buy it, since I'm loyal to another one (Aussi), but I really do like this one. It smells divine, and does leave my hair with lots of volume. If I can't find my favorite, this will be the one I'll buy instead…
---
2

Herbal Essences Hello Hydration 2 in 1 Moisturizing Shampoo + Conditioner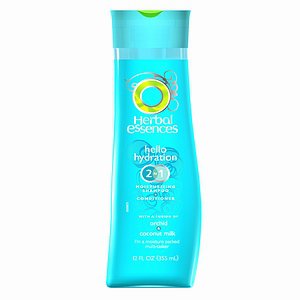 Price: $3.19 at drugstore.com
This 2-in-1 shampoo and conditioner may not clean as well as some of the others, but it smells so good! If you have dry hair, this may be the two in one for you, because it seems to be more gentle than most of the others I've tried; it doesn't clean well enough for my hair, but it would be great for someone who doesn't WANT to completely strip the natural oils from theirs!
3

Finesse 2 in 1 Texture Enhancing Shampoo and Conditioner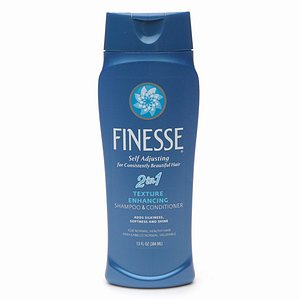 Price: $4.29 at drugstore.com
I like this shampoo because it leaves my hair soft and shiny. There's no heavy conditioner build-up, and the lather is rich and smells kind of sweet. This is the one my little girl likes to use, even better than she likes the L'Oreal Kids 2-in-1 shampoo designed for her!
---
4

Pert plus Deep Conditioning Formula, 2 in 1 Shampoo + Conditioner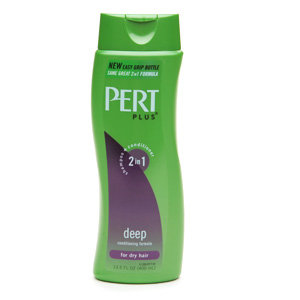 Price: $3.99 at drugstore.com
I'm not sure, but I think Pert Plus might be the original 2-in-1, and I've always liked it. I take this one with me when I travel because I can always find the tiny bottles of it at the drugstore, and even at the airport. It leaves your hair smelling fresh and clean, too!
---
5

Aussie Moist 2 in 1 Shampoo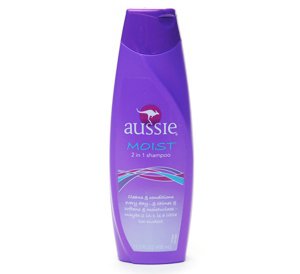 Price: $4.49 at drugstore.com
This is my favorite 2-in-1 shampoo and condition. I love the way it smells (Grapes? Watermelon? Both?) and it works really well, too. It's a little pricey, but when you think about it, you're saving time, and time is money, so… I think it's worth it!
---
6

Garnier Fructis Haircare Fortifying 2-in-1 Shampoo + Conditioner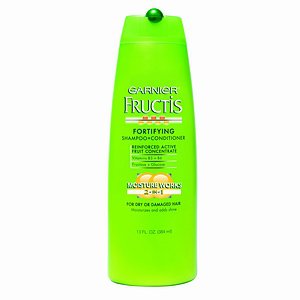 Price: $4.29 at drugstore.com
My only complaint with this shampoo and condition in one is that it smells weird. After I've applied body lotion and perfume, I can't smell it anymore, but out of the bottle it's just a little medicinal-smelling. But it cleans beautifully and conditions well, too, so it's worth a try if you don't mind the scent. In fact, my daughter loves the scent… it's just a matter of opinion.
---
7

Suave Performance Series Smoothing Shampoo plus Conditioner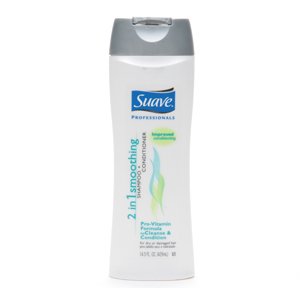 Price: $3.29 at drugstore.com
My hair has a slight wave to it, so I have to use an anti-frizz or smoothing shampoo, but they can be pricey, and a lot of them just don't deliver. This one does deliver beautiful results, and better still, it's a time-saving 2-in-1, combining Suave's sleek smoothing shampoo with a gentle condition that won't weigh your hair down or make it frizz.
---
8

Alberto VO5 2 in 1 Moisturizing Shampoo + Conditioner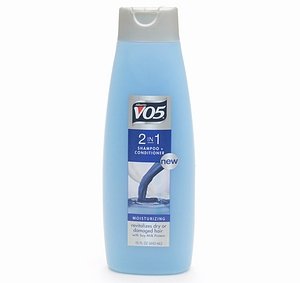 Price: $1.49 at drugstore.com
Believe it or not, this super-cheap 2-in-1 shampoo is actually quite marvelous. It smells good, works well, and won't waste your precious shower time. I've noticed that it doesn't clean as well as others, but it's definitely worth the paltry dollar-fifty you'll spend. I've also used it as an emergency body-wash, too!
Of all of the 2-in-1 shampoos I've tried, those are the ones I like best. I am truly attached to my Aussi, but I'm willing to consider the Pantene in a pinch, and the others are all perfectly nice shampoos, too. Do you like 2-in-1 shampoo and conditioner when you're in a rush? Which one do you like best, and why?
---
Comments
Popular
Related
Recent