In 1992, Prada introduced its Miu Miu line. Miu Miu was created by Miuccia Prada. The Miu Miu line was designed to appeal to a younger audience and appealing it is! I love their intricate, trendy and downright sexy designs! Here is my pick for the 10 Coolest Miu Miu Shoes...
---
1

Miu Miu Forma Cutout Sandals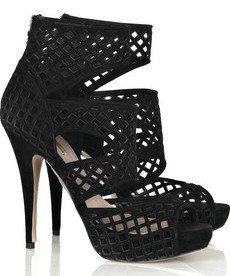 Price: $ 750.00
net-a-porter.com
Cutout sandals scream attitude and this black forma cutout sandal by Miu Miu is delicious! It is made of black suede with a rather new age cut out design. This shoe screams Modern Couture. The tallest strap goes around your ankle. Needless to say, they are too dramatic for regular use but would look great with a pair of jeans and a black top at the club! It's going to be hard to get people's attention away from them. That is if you can take your eyes off of them yourself!
2

Miu Miu Suede Platform Sandals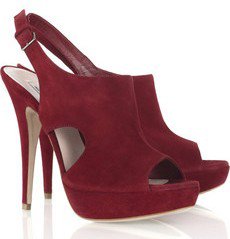 Price: $ 555.00
net-a-porter.com
One of my personal favorites out of the Miu Miu collection this season is the Suede Platform Sandal in lipstick red! You are going to get yourself in trouble with these hot shoes! The heel is 130MM high! These would be perfect with a stunning dress! I love the intense color. I love the easy design. I LOVE these shoes! Period.
---
3

Miu Miu Suede Cutout Sandals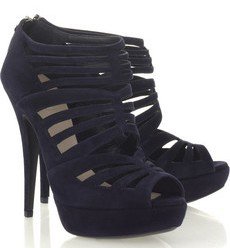 Price: $ 675.00
net-a-porter.com
Another cool Miu Miu shoe is this suede cut out sandal. I love the exaggerated straps on them! It really makes it stand out don't you think? No adjustable straps and no button closures... just the built in straps to the bottom of your ankle. I like this design because it's trendy and I can think of quite a few accessories it would look good with. You could wear these heels with a dress or a pair of your favorite pants!
---
4

Miu Miu Metallic Mule - Gold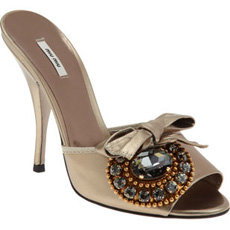 Price: $ 525.00
barneys.com
I see these shoes and I want to go, "Awww". I personally think this one is gorgeous and so so pretty! If I could change one thing it would be the heel length. The toes have a cute little bow and embedded jewels. The design is simple and elegant. Perfect with your favorite summer dresses or a knee high skirt to show off the intricate pattern.
---
5

Miu Miu Glitter Peep Toe Pump – Bronze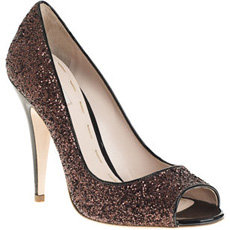 Price: $ 550.00
barneys.com
Not into a plain colored pump? Why not pick this edgy glitter peep toe pump. They're available in bronze or black. Those of you who need pumps for work or a dinner event, try these on for size. The subtle glitter effect in the shoe will give your outfit the extra pizzazz without going over board or being tacky. I think these are super cute and I would wear them with a matching brown dress or a pair of skinny jeans and a dress shirt.
---
6

Miu Miu Floral Embellished Pump - Camel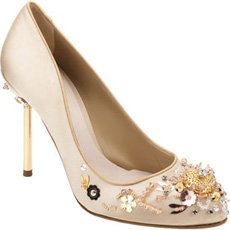 Price: $ 280.73
barneys.com
We're talking cool right? Well, how about this floral embellished camel pump. Why so cool? Well besides the flower embroidery along the toe and side and bottom of the shoe, the heel is made of metal! That's right. A straight metal post! Different from the norm but another reason for us to remember and love Miu Miu. I'm thinking a body hugging gorgeous dress to go with this. What do you think?
---
7

Miu Miu Bow Pump – Light Pink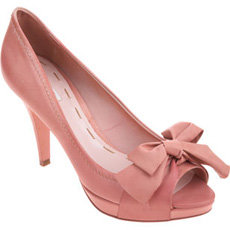 Price: $ 560.00
barneys.com
How cute. What else can you say? Is this not one of the coolest Miu Miu shoes? These peep toe pumps are ultra feminine especially with the light pink color and the whimsical bow at the top of the toe. They are very Leighton Meesterdon't you think? If I had the money I would buy a pair just like this. Wear these shoes with a pink sweater and a pair of jeans. If you don't think that jeans give these shoes the attention they deserve, wear them with your favorite black dress to a party and you're sure to hear what other's think of your pink bowed toes!
---
8

Miu Miu Rivet Sandal – Tan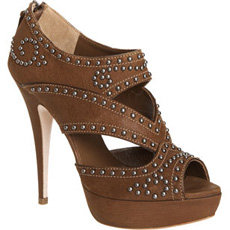 Price: $ 479.00
barneys.com
Probably my third favorite of the Miu Miu collection this season is the Rivet sandal. I think this sandal is just to die for! Made of antique leather, with a bootie cut, and platform bottom these sandals are rather unique as far as the design goes. I love the silver studs that go around it. It's so artsy! I'd wear these shoes with my high waisted jeansand a nice shirt.
---
9

Miu Miu T-Strap Jeweled Sandal – Gold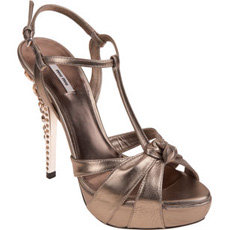 Price: $790.00
barneys.com
If you're going to talk about the coolest Miu Miu shoes you have to include these T-strap jeweled sandals. These shoes are a metallic gold color. What's that on the heels you ask? Those are jewels my darlings. Jewels all over the 125mm high heels! The t-strap goes down to the toes in a knotted design that looks like a little flower on the top of your foot. These shoes would look great with your favorite elegant gown at your next big party or a cute dress on your next date.
---
10

Miu Miu Belted Ankle Boot – Taupe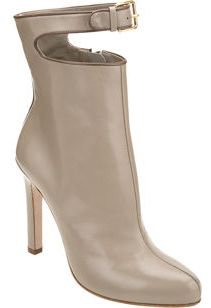 Price: $ 274.03
barneys.com
I can't leave out this Belted Ankle boot by Miu Miu. So the ankle boot is reglar but the belted band gives the shoe a different appeal from your regular boots. This shoe is available in black or taupe. I would wear these with leggings or a dress or my favorite skinny jeans and a sweater. Not only are they super cute but they can be worn for work or pleasure. Add these to your boot collection and fill those around you with envy.
Hopefully you don't feel too bad about your own collection at home after reviewing these 10 Coolest Miu Miu Shoes. I know I am...just a wee bit. Don't see a shoe you like? Check out the links provided for other Miu Miu shoes. This list of Miu Miu shoes was voted on by a group of women ages 16-25. If money was not an issue, which of these shoes would you buy for yourself?
---
Comments
Popular
Related
Recent