I love Kate Moss' clothes. Thewinter collectionwas a huge hit, with plenty of gorgeous key pieces and quirky rarer ones too. However popular the pieces were, they looked great, and fitted amazing too. I'd completely forgotten she was set to do a summer range until I got an email saying it was to be released at midnight, and it's an amazing collection! Here are my top 8 pieces... I can't wait to get my hands on them!
---
1

Tiered Ruffle Maxi Dress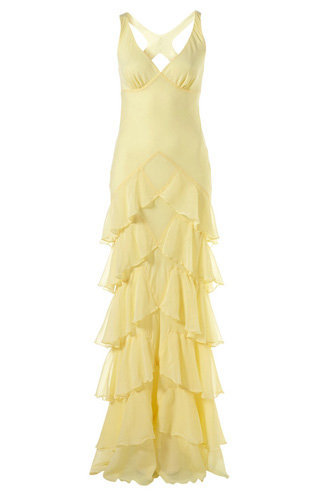 Price: $215 at topshop.com
Maxi dresses are set to be huge throughout summer and this is one of those classic ones that every woman will want. From the gorgeous pastel yellow colour to the flattering bust and ruffles which lengthen legs and flattens tummies, it's a great dress! It doesn't even require much accessorizing, and is designed to be suitable for formal or everyday wear. Try it with a straw hat for relaxing in the garden, and with a drop necklace and high heels for a nighttime look. Divine!
---
2

Poppy Lace Chiffon Dress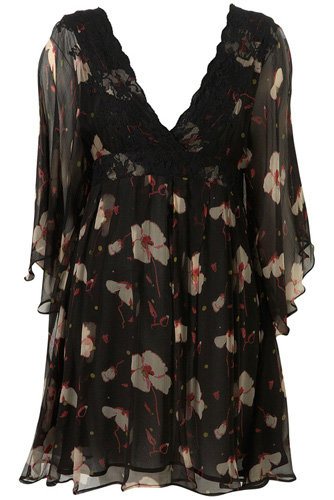 Price: $100 at topshop.com
Yes, floral inspirations are still very much around and this gorgeous chiffon dress is sure to be one of the key pieces of summer! The poppy print is simply divine, and the black chiffon is flattering yet very sexy. It's quite short, with a low cut front, but the chiffon and long sleeves give it a twist which makes it suitable for wearing anywhere. It looks so good teamed with black heels!
---
3

Cotton Halterneck Playsuit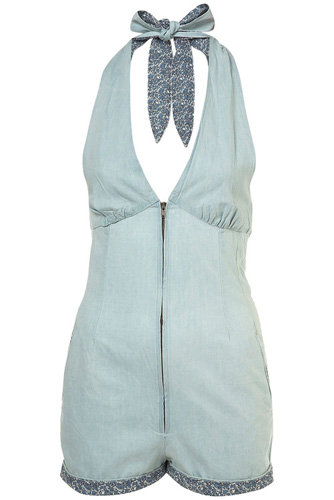 Price: $64 at topshop.com
I love this playsuit. It has all the key essentials of a playsuit, being easy to wear and comfortable and of course it looks great too. It's made of denim, which is very on trend and the slight turn ups give it a quirky look which I love! The lining has a gorgeous floral print, and it feels lovely. It'll make you feel so stylish, and it's really easy to accessorize. Perfect for festivals!
---
4

Lace Bodycon Dress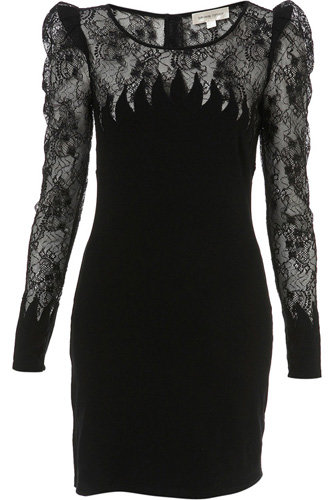 Price: $100 at topshop.com
Bodycon dresses are great for wearing out, as they will make you look and feel amazing instantly! This one looks very classic, in black cotton with a classic cut, but it's been updated with the addition of lace sleeves, and a stunning 'spike' pattern connecting the dress to the lace. The shoulders have been slightly poofed, and the back is low, which gives it a very sexy edge. Wherever you wear this, you'll feel amazing! Wouldn't it be a great addition to your collection of LBD's?
---
5

Lace Turned up Shorts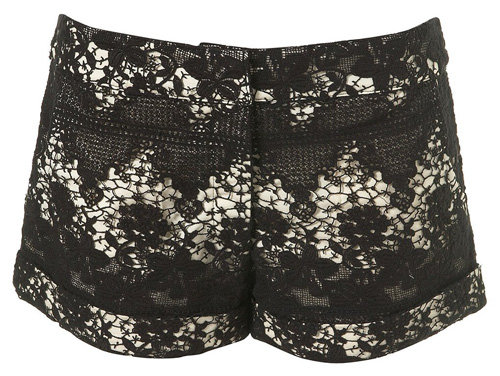 Price: $85 at topshop.com
These shorts are amazing. They have a gorgeous cream lining, which is super soft and comfortable, and the turn up bottoms make them look so cute. That aside, they look amazing, and are the perfect update to any outfit. Just team with black heels, and you'll be irresistible!
---
6

Vintage Bouquet Printed Slip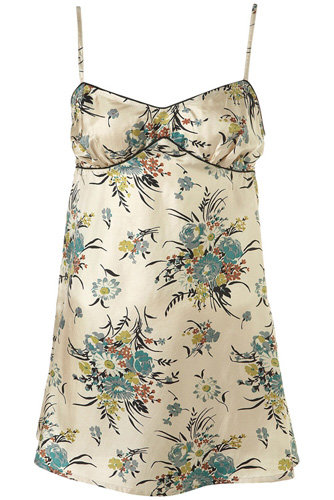 Price: $70 at topshop.com
The collection isn't all outerwear, and there are some STUNNING pieces of lingerie! This is my favorite! It reminds me of old school glamour, and vintage beauty. It's flattering, too and is made of 100% silk, meaning it feels delicious against the skin! It's perfect for making yourself feel amazing!
---
7

Lace Wrap Dress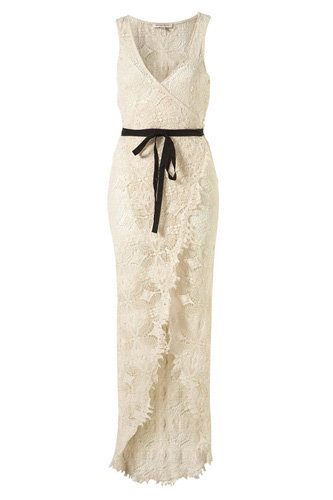 Price: $170 at topshop.com
This is my FAVORITE lace dress ever! The lace is a gorgeous cream colour, and is shaped to look delicate and divine. The bottom has a stunning shape which looks elegant while showing off your legs and shoes, and the black tie is the perfect contrast... If you've got a formal event to go to this year, this is the dress to wear. It takes minimal effort to dress it up, and it'll make you feel like a princess.
---
8

Feather Cape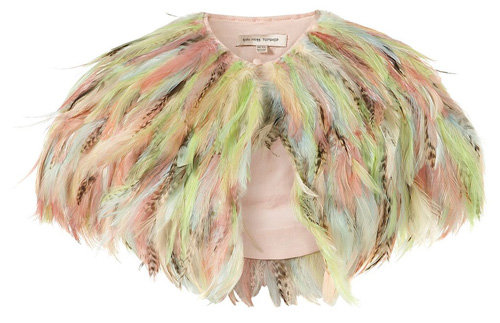 Price: $122 at topshop.com
Want something divine to finish off an outfit? I LOVE this feather cape! The pastel coloured feathers are perfectly placed to compliment each other and the soft pink lining feels luscious against the skin. It's great for wearing with skinny jeans and a t shirt, or over a block colour dress... just make sure you don't wear it with anything too bright, so the cape can do the talking!
I love this collection so much that I've bought almost a whole wardrobe! The pieces are well made, flattering and stylish, and they make me feel great. They are perfect for looking chic all through the summer, and most are versatile enough to wear throughout the year! Have you spotted a piece you love from Kate's collection, or another collection that's completely irresistible? Please let me know!
More
---
Comments
Popular
Recent