You've been dreaming about your honeymoon from the time you were sixteen or even less. Now that you're married, this is where you can make that a reality!
"It's hard, let me tell you, to plan a honeymoon. I mean, planning a wedding is hard, but planning a honeymoon is not much easier. Not for us, anyway. We felt as though we had so many options, and so many places we wanted to go, but none of them felt quite right. A honeymoon, so it goes, is supposed to be some sort of exotic, romantic, sun-drenched escape with bottomless piña coladas, the proverbial trip of a lifetime. It's an exciting proposition to go away like that, with no obligations or agendas. It's also pretty daunting."
Molly, Orangette
Do not waste your chance and make your honeymoon really special. Just pick the right destination!
1

Tahiti ...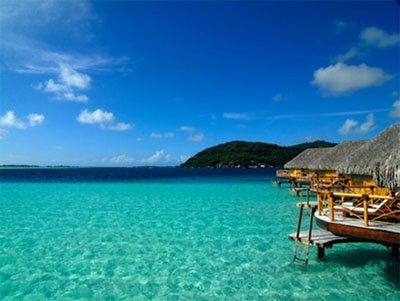 This island paradise beckons you with pristine and sun kissed beaches, peaceful villages and thatch-roofed hideaways. You can relax at the Polynesian spas or go snorkeling or boating with your spouse. The warmth of your Tahitian hosts will linger in your heart as you return home.
"Sooo.....here are some photos from our AMAZING honeymoon in TAHITI! It was the most wonderful trip of our lives! We got PADI certified for SCUBA diving...we saw SO many cool fish, a plane-wreck, and a couple of boat-wrecks. We also swam with dolphins, took a one-man scooter (with both of us on it!) around the entire island of Moorea, ate amazing meals, and much more. More to come..."
N E W L Y W E D * N E W S
2

Rome ...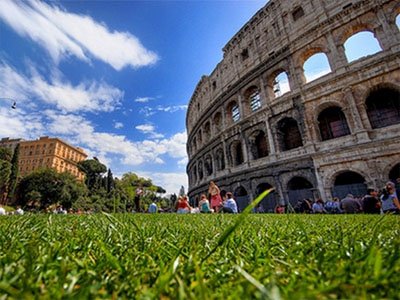 Talk about amore and it lives in Rome. There's always a bit of magic in the air in-spite of the crowds and big city life. Here you will find seductive gardens, festive fountains, classical mythology and lots of lady luck. Don't forget to toss a coin over your shoulder!
Where to stay in Rome?
"Many of travelers mention that being near the spanish steps was a must. and jennifer over at the peak of chic suggested that i stay at the hotel de russie. what a total find. seriously, there couldn't have been a more perfect place to be.
not only is it located near the legendary spanish steps,but it's on a narrow street (babuino), loaded with incredible shops and eating venues stretching from the piazza del popolo all the way to the steps."
Italian honeymoon
Trendinig Stories
More Stories ...
3

Paris ...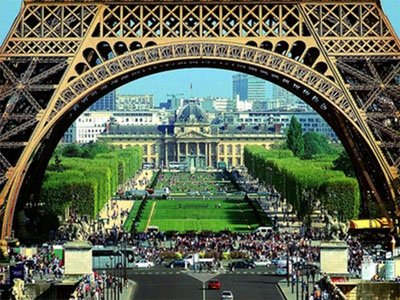 Need we even say it! This city of light overflows with zest and joy. From rustic to refined you can find it all here. Indulge in whatever risotto is offered to you and relish divine dessert after a scrumptious meal. From the Luxembourg gardens to a sunset cruise Paris reeks of romance.
"We went to the Eiffel after dark armed with a bottle of wine and a sandwich. We managed to find a pretty good spot amid the hundreds of other people lounging on the grass, right smack in the middle of the lawn with just enough space between us and the tower to see it without straining our necks. And as we sipped wine and shared the sandwich, we watched the Eiffel tower light up and sparkle like it had huge diamonds all over it. The crowds oohed and ahhed as they watched this brilliant spectacle. To me it was just one romantic night, a perfect view as I cuddled up to my love."
Honeymoon Diaries
---
4

Hawaii ...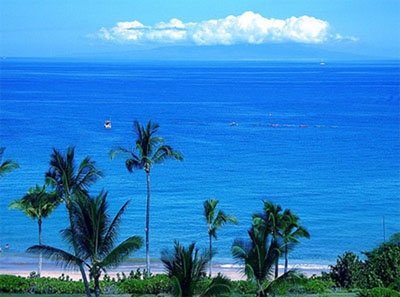 Head to Kohala on the west coast of the island. You will be met by lush landscapes, alpine meadows, a huge sea mountain and rich rain forests. A feast to the eyes, Kohala offers you a tropical extravaganza. For the adventurous, Kīlauea Volcano crater awaits where you can add Hawaiian goddess Madame Pele to bless your marriage.
"Hawaii is a home of some of the most beautiful beaches in the world. It has a brilliant wildlife, perfect temperatures and rare volcanic peaks. For me, there's nothing place in this world can challenge Hawaii especially the sandy beaches and beautiful ocean views. Even this only some part of Hawaii that I know, but it's also an ideal destination for many people. No wonder thousands of tourists came to this beautiful land every year."
Click to Know Blog
---
5

India ...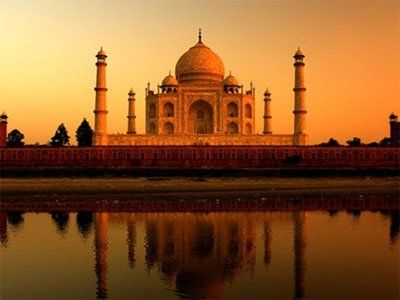 From the Taj Mahal the monument of love to the backwater houseboats in Kerala, India promises you an ethnic honeymoon fit for a queen. Of elephants, history, art and culture this intriguing land will give you memories to cherish for many years to come. You can party on the beaches of Goa or ski the slopes as Manali- the options are all available for you to enjoy.
"I visited India two years ago as part of my honeymoon trip. Initially I wasn't that interested, but my wife persuaded me. It turned out to be one of the richest experiences I've ever had. India is intense, in your face, charming, exhausting, magnificent, and utterly unforgettable."
Fiche Focal Blog
---
6

Bahamas ...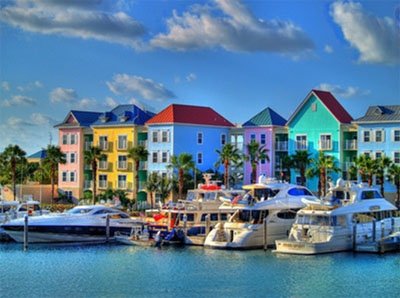 Calypso music, Bahamian Goombay, historical settings, rocking nightlife and coral reefs- what more could you want? Eighteenth century villages and an abundance of culture can all been seen in the Bahamas. You can rent a sea facing cottage on a beautiful beach and treasure the moments as they fly by.
"The secluded beaches of Atlantis Paradise Island are an Places for a Romantic Honeymoon …" ideal place for honeymoon couples. Here you can also go in casinos, or enjoy water slides and spa services. Nassau Paradise Island is another exotic island located in Bahamas."
Top Honeymoon Destinations Blog
---
7

Caribbean Cruise ...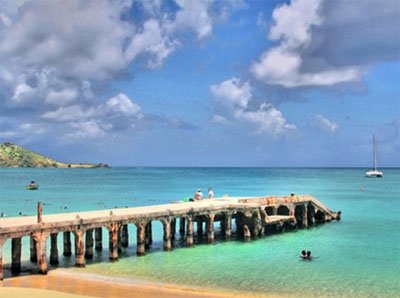 Get away from it all and find time together on a Caribbean cruise. You can experience life on the high seas along with all the comforts of a 5 star hotel. You will sail past some of the most beautiful islands on earth. You can even experience their culture and listen to folklore before you continue with your journey!
"There is nothing more romantic than sailing away together into a golden sunset. Plus secluded island beaches, dining on a balcony overlooking the ocean and spa services for two are just some of the romantic pursuits available. Most cruise lines have special add-on packages to make it an even more romantic honeymoon. Plus, cruises provide the most elegant environment without sacrificing a casual atmosphere."
Caribbean Cruises Blog
---
8

Fiji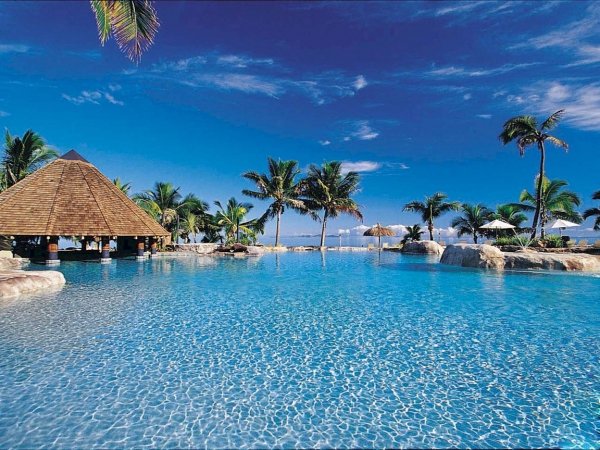 Much like other Caribbean locations, you will be surrounded by sun, beautiful water, and white sand. An amazing thing about Fiji is that if you're looking for adventure or just time to relax and escape the world, you can do both. Want to try surfing for the first time? You can do that here. Why spend all of your time resting on the beach when you can try something different and shake things up.
"The first morning of our stay we were awaken by the sun sneaking into our room, lighting the high ceilings and beckoning us to snorkel in the warm water in front of us. It was the most amazing sunrise over the crystal blue water and we woke up every morning to watch it."
travelersjoy.com
---
9

Bali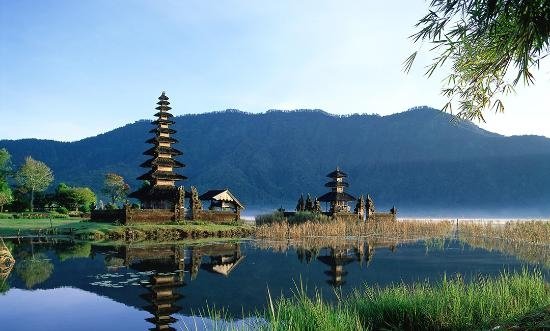 Yes there's sun and surf and all of the relaxation that you've dreamed of having for your honeymoon, but that's not all there is. If you want to experience some different culture, this is an amazing place to do that. In Bali you can visit ancient temples and experience traditional dances, festivals, and cultural performances. What's not to love?
" Bali is such a unique and beautiful place. Everywhere, the foliage in bright shades of green covers the hillsides. The air smells musty and hot infused with sweet scents of flowers. People smile everywhere you go. They are extremely friendly and generous with their dispositions."
travelersjoy.com
---
10

Costa Rica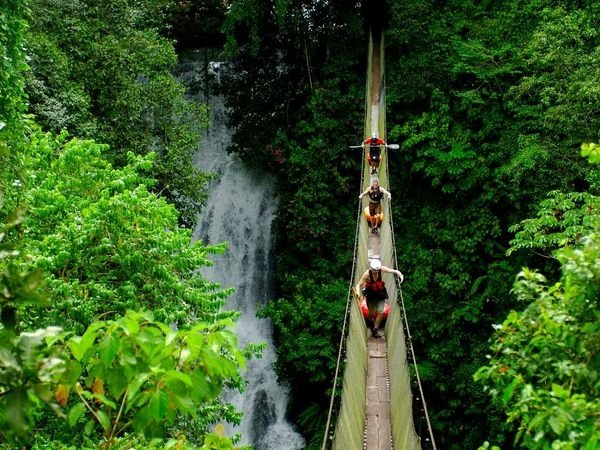 Costa Rica is one of the up and coming honeymoon destinations so why not see what all of the hype is about?! Want a beautiful beach? There is a lot of that there, but if you're looking to do some zip lining and and surfing this is a great place to spend your honeymoon. Connect with nature here where you can hear the monkeys and see the different animals all around you.
"When my husband and I think back to our honeymoon one word comes to mind…blissful. Instantly we are taken back to the bellowing of the Howler Monkeys echoing across the treetops, the smell of the ocean, the remarkable lush beauty, and the peaceful demeanor of those we met." travelersjoy.com
---
11

Greece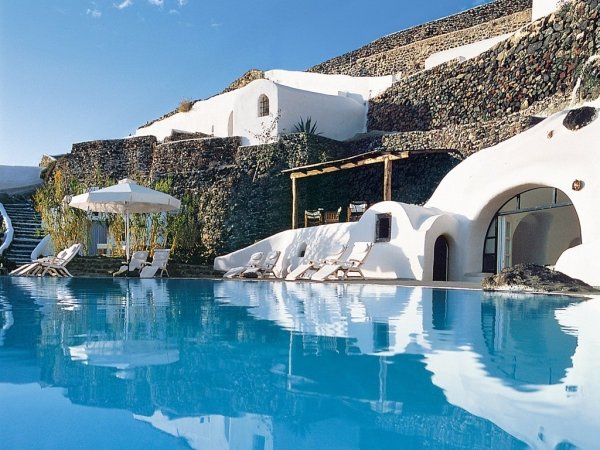 If you want your honeymoon to be a mix of old world culture mixed with modern twist, Greece makes a fine choice. Choose bustling Santorini, relaxing Sifnos or glamorous Mykonos. Not only will you find some of the most romantic resorts, there is also so much to explore so it makes a prime honeymoon destination for adventurous and pleasure-seeking newlyweds alike.
"If you're thinking of Greece for your honeymoon, seriously consider Mystique Resort Santorini. The stylish resort is nestled among the beautiful cliffs and whitewashed stone homes of Santorini island. Pamper yourselves with body massages and wraps in a private suite or on a private terrace." Travel Channel
---
12

St. Barth's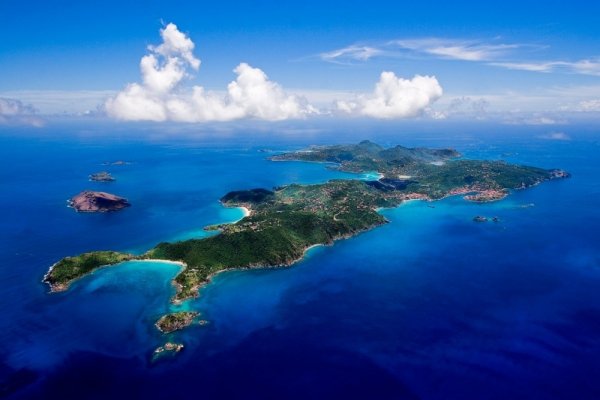 Known for being one of the top celebrity vacation spots, St. Barth's is another fabulous honeymoon destination for island lovers. This serene French Caribbean island boasts free-roaming iguanas and over 20 breathtaking beaches so you can enjoy a super relaxing honeymoon and get away from the bustle of the city life.
"St. Barthlemy blends the respective essences of the Caribbean, France, and Architectural Digest in perfect proportions. A sophisticated but unstudied approach to relaxation and respite prevails: you can spend the day on a beach, try on the latest French fashions, and watch the sunset while nibbling tapas over Gustavia Harbor, then choose from nearly 100 excellent restaurants for an elegant or easy evening meal. You can putter around the island, scuba dive, windsurf on a quiet cove, or just admire the lovely views." Fodors.com
---
13

Cabo San Lucas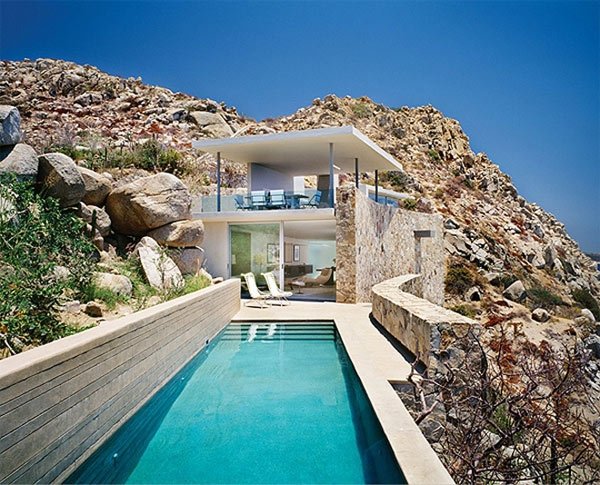 Although there are many romantic honeymoon destinations to be found in Mexico, Cabo San Lucas is a relaxing oasis for newlyweds. Stay at one of the many all-inclusive resorts and witness some of the most stunning views in Mexico, visit the romantic beaches and enjoy a tranquil stay at one of the most popular and romantic honeymoon destinations in the world.
"When it comes to setting the mood, Cabo plays off its natural assets. For honeymoon ideas, find inspiration on Playa Amor (Love Beach). Resorts with private pools, cloud-like beds and silk sheets, and couples spa treatments round out the experience." Orbitz.com
---
14

Alaskan Cruise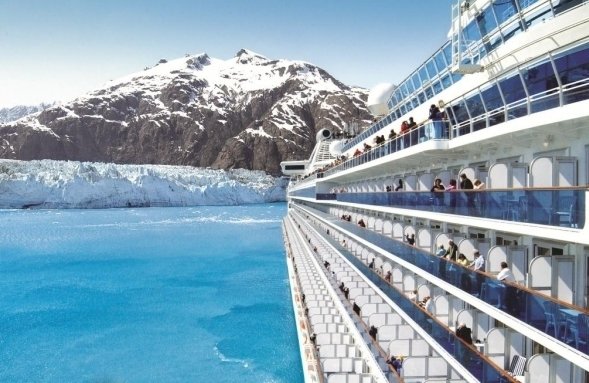 If your ideal honeymoon includes glaciers, mountains and magnificent views all from the comfort of a cruise ship, book an Alaskan cruise! Not everyone wants to go to a beach or island for their honeymoon and an Alaskan cruise has much to offer. From the gorgeous views of the landscape and wildlife from the ship to the many options off the ship, an Alaskan cruise honeymoon offers the best of both worlds.
"The region has pretty much everything you might want: a variety of ship and itinerary options, beautiful scenery, interesting culture and history, adventurous excursions, wildlife you can see from a safe distance, shopping opportunities and convenient homeport options. The only things missing are hot summer temperatures, sandy beaches and a long cruise season." CruiseCritic.com
---
15

Napa Valley, California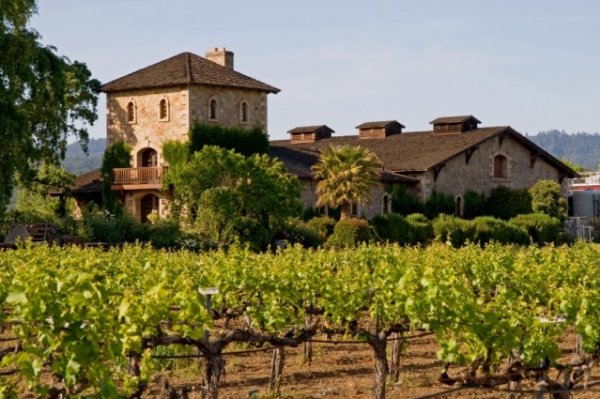 You might be surprised to see Napa Valley as a romantic honeymoon destination, but don't be. Napa Valley which is often recognized for its many wineries has plenty of activities for the newlywed couple. Aside from wine tours, you can enjoy romantic hot springs, spas, charming cottages and the beautiful countryside. Napa Valley is a great honeymoon destination for couples looking to stay in the states.
"America's premier wine-growing region dating back to the 1800s, Napa Valley is now home to more than 400 wineries. However, this breathtaking destination offers much more than just high quality wine. With world-class restaurants, ample outdoor activities, and a handful of delightful towns scattered throughout a scenic landscape, Napa Valley has emerged as one of the country's most beloved honeymoon destinations." Wedding Wire
Recommended by Facebook Users ...
"Anywhere you go is going to be romantic when you are on your honeymoon. But it really depends on what you want. If you want a beach scene I would suggest Barbados or St Lucia in the Caribbean. For some culture I love France, Italy or Greece. Stay away from the big tourist spots though. Places like Paris, Rome and Venice are overridden with tourists. Instead choose a smaller, less known town. If you want somewhere more exotic India or Thailand would be my top choices."
Melissa Redd
"If you are lookign for beach sun and just hangin out. Look at the Sandal's resorts. THEY ARE FABULOUS......"
Shelley Elkas
"Either a cottage somewhere, or somewhere in the Caribbean....or a cottage in the Caribbean..that would be sweet."
Jessica Logan
"Maybe Paris, France? lol I know its cheesy. I just want to go somewhere in Europe for my honeymoon. I want to learn things about culture and just soak it all in. I don't want to spend a week at a resort or a beach...unless it was in Italy or Greece...then okay!"
Laura Alpi
"Overwater Bungalow!!! Near the beach...look at New Caledonia, Hawaii, Tahiti... :)"
Dave Thomas
"Italy and Greece would both be awesome. I love the shots from Attack of the Clones on Naboo that were filmed in Italy. I'd also like to go back to Japan, when I was in Tokyo there were several very tall, slow Farris Wheels that would be a great place to snuggle up together."
Alex Wilson
"The most romantic Honeymoon destination really depends on personal preferences and what you two make of it. Just by using some creativity you can spice up any evening with loads of romance. As for a particular destination, I would say Hawaii, but again it depends on your interests. If you two are really into snow-skiing, you could have a really romantic time at a big ski resort renting out a condo. If you two like travel, you can have a really romantic time touring Europe. If you two like ancient civilizations, you could have a really romantic time visiting the ancient ruins in South America, or seeing any number of the Great Wonders of the world (but be sure to get a good tour guide)."
Michael Hepner
"The most romantic place in the world has to be Aitutaki lagoon in the Cook Islands. You cant´t find a niceer place, and there is hardly any other tourist there. I was there in april, and I could not count more than 8 people at the beach on any time. Its just perfect:)"
Bent Bjune
"I really enjoyed my honeymoon to Mexico. Hubby and I did three nights in Isla Mujeres and ten in Cozumel. I'd recommend the hotel we stayed at on Isla: Playa del Media Luna. The island is tiny and has this really chilled out little town and serene, lovely beach called North Beach (Playa Norte)... I'd also recommend Santorini. We went there this past September and it was amazing."
Francesca Runciman
So just pick a destination and head out with bags packed!
Pictures by mandolin davis, by suesue2, by DieselDan, by valpopando, by gaël@roma, by yuliang11, by 4tunate1, by WisDoc
Other Great Posts:
Affordable Caribbean
Eat Well On Your Honeymoon
Honeymoon at the Sofitel Phokeethra Krabi Resort
Choose the Right Destination Restaurant
The Honeymoon's Over: How To Organize Your New Couple Closet
10 Bizarre Places to Get Married
---
Comments
Popular
Related
Recent