Whether you're looking for a hotel for a boring business conference in St. Louis or a flight to an off-the-beaten-path locale in Thailand, the Internet has made booking travel cheaper and so much easier! Here are the top ten travel booking websites, and what makes them all so wonderful to use!
---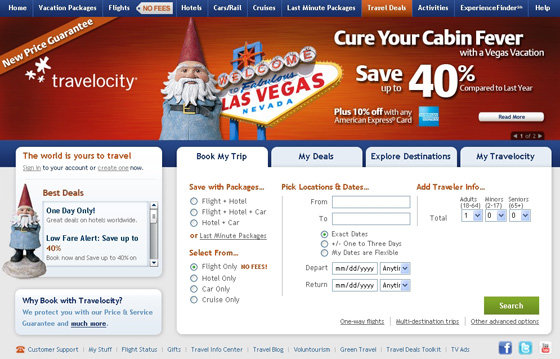 If you booked a hotel, rental car, or flight online, and something goes wrong, what do you do? Who do you call? If you booked online with Travelocity, you can call them, anytime! Their site is easy to use, and I've always been able to find a good deal. And I love their little roaming gnome…
---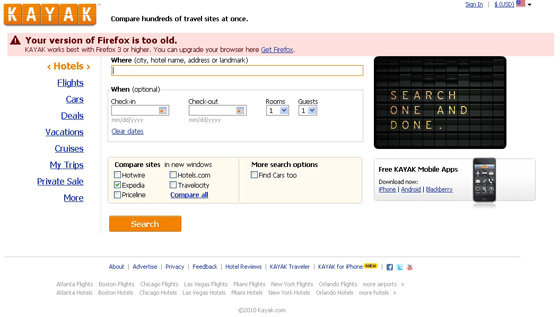 I've spent hours sometimes going back and forth from one travel site to another, trying to find the right flight at the right price. Not anymore! Now I use Kayak and compare all of the top travel sites right there. They even have a free app for your mobile phone (iPhone, Android, and BlackBerry).
---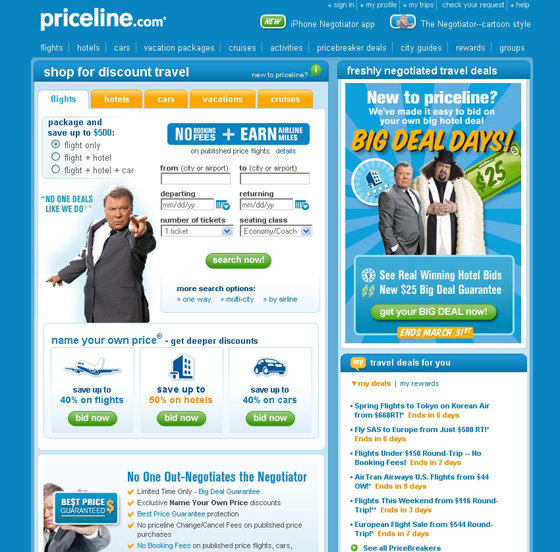 How would you like to choose the price you pay for travel? Choose a flight or a hotel, and name your price. Within minutes, you'll find out whether or not your offer was accepted, and if not, you'll get a counter-offer. And who wouldn't want to use a travel service promoted by William Shatner?
---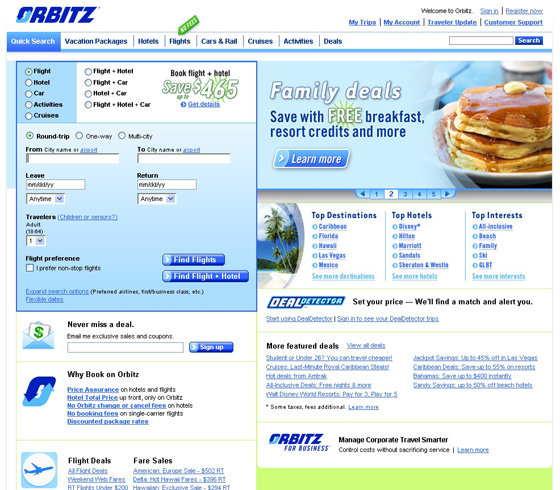 Would you like a price-matching guarantee for your travel? Then book on Orbitz. If anyone else gets the same flight or hotel for a better price, you'll automatically get a rebate check for the difference. They also offer an e-mail subscription service, so you can get access to super last-minute deals.
---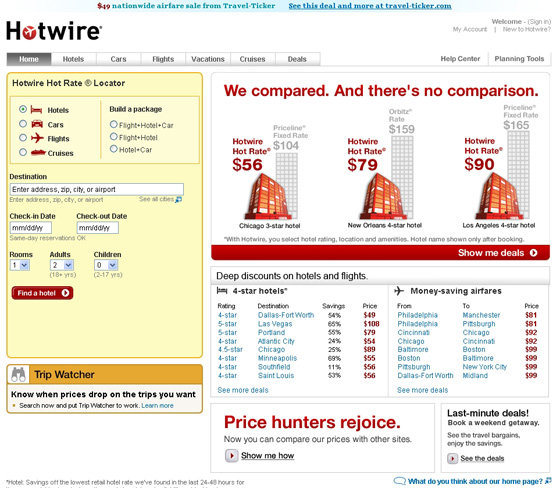 Do you like last-minute travel bargains? Or do you wait until the last minute because you're afraid to commit? Then use hotwire and save a bundle on travel! They also offer a price-comparison feature, and a Trip Watcher, so you can know when the trips you want are on sale.
---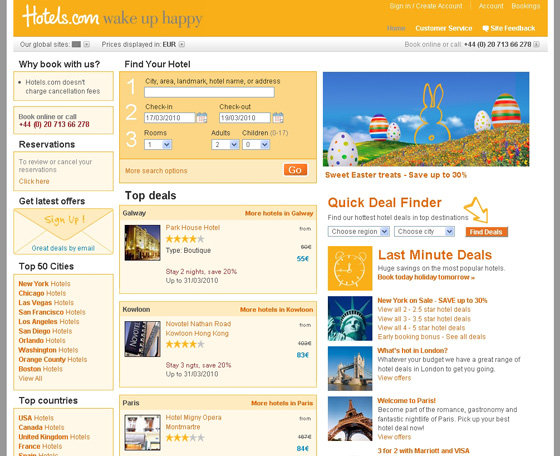 Search rates and availability on 85,000 hotels on one easy-to-use site. Also, book ten nights at hotels.com and get one night free! You can also book flights and rental cars, and even create your own vacation package. You can book online, or call a toll-free number if you prefer to talk to an actual human being.
---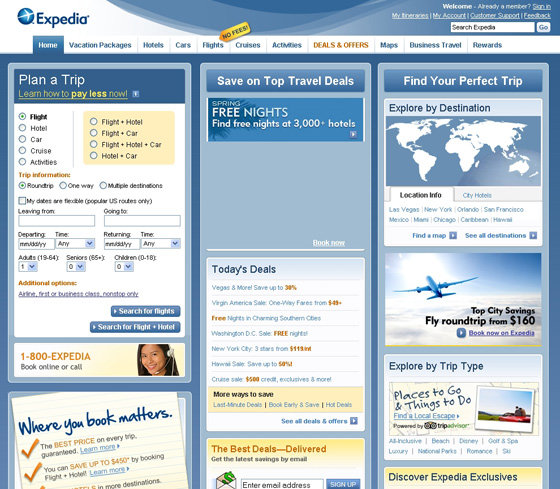 Expedia was one of the first online travel sites, and it's still one of the best places to book a flight or reserve a room. Their prices are also guaranteed, and they also offer an e-mail service that will alert you when destinations you prefer go on sale.
---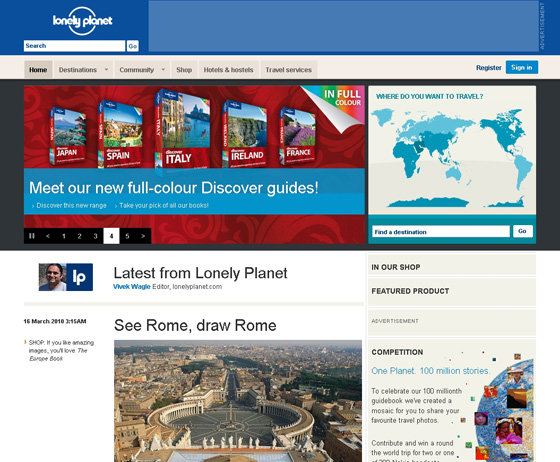 Not sure yet where you want to go? Or are you looking for an unusual, out-of-the-way destination? Then check out Lonely Planet. They offer all kinds of travel advice, and can help you choose the vacation that's perfect for you, from safari in Africa, backpacking in Bangalore, surfing in Oahu, or even high-altitude mountain climbing. Find out where to go and when, off the beaten path.
---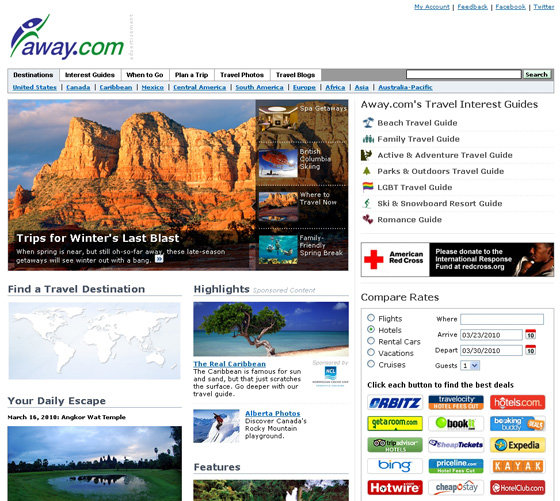 Compare rates on entire vacation destinations with ease. Choose the type of vacation you want (family, active & adventure, breach) and they'll help you choose everything you need to create the perfect getaway package.
---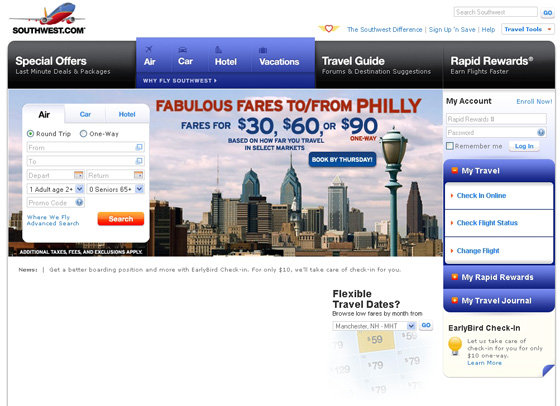 They love your luggage, and won't charge a fee so you can bring a bag with you. Other airlines do charge fees for bags, steep ones, but not Southwest. They'd rather you had that extra cash for fun things, like shopping or dinner at your vacation destination! Book flights online at their website, check in, print boarding passes, and more.
With so many online travel sites to choose from, you may be overwhelmed until you use this list to help you narrow it down. Stick to these sites and you're sure to find the perfect vacation spots and activities, or just the perfect hotel room for that dull conference, for the right price. Which sites do you use, and for which travel services? Please let me know!
Top Photo Credit: Mr Moor
More
Comments
Popular
Recent