Whether you're looking for a new job, or you just want to compare salaries, the Internet is a great way to find employment data and to search for a job. But there are so many sites, how do you know which ones are legit, and which ones have tools you can actually use? No worries! Here's my list of the seven best job-search websites!
---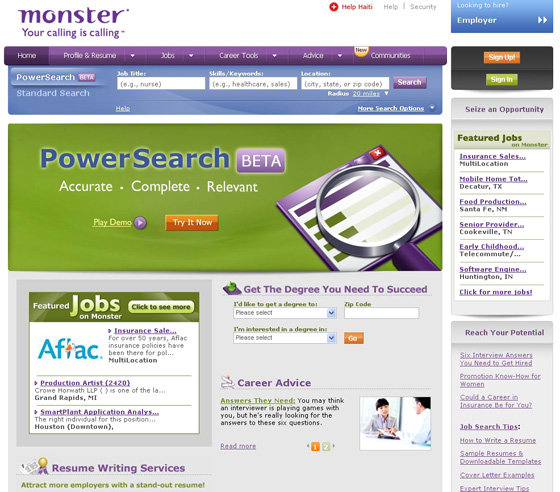 This was the very first job searching website I ever used, and I still love it. You can search for jobs by keyword, location, or industry, and they have a bunch of useful tools, too, like salary calculators. Their TV commercials are very clever, too, if that matters to you. wink
---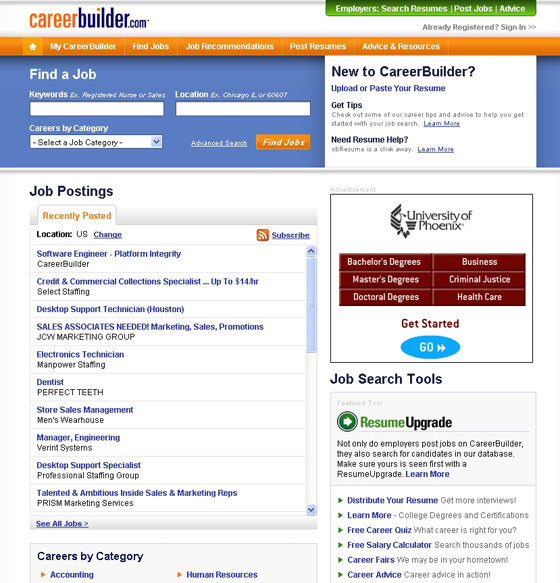 I like CareerBuilder because you can upload a resume and cover letter, and use it to apply for jobs right from the site! You can also track the jobs you've applied for. You can also search jobs by location and by keyword or industry, and sort them however you would like.
---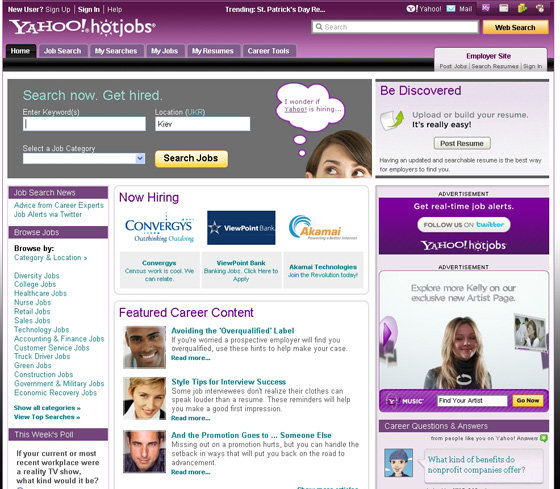 HotJobs is part of Yahoo, and you can tell they've managed this site well. I love the ease of use, and I enjoy reading the helpful articles. This week, one of the topics was "How to avoid the 'over-qualifed' label." That's completely relevant! I also like that HotJobs posts new account right there on the homepage, so you know which companies are hiring!
---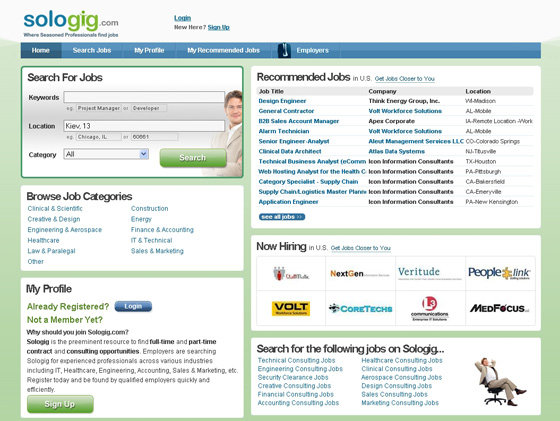 If you're looking for a contract position, you may want to search for one on SoloGig. I love SoloGig because their site is easy to use, and because they offer a helpful weekly e-mail newsletter with tips on landing a gig and working successfully for yourself as an independent contractor.
---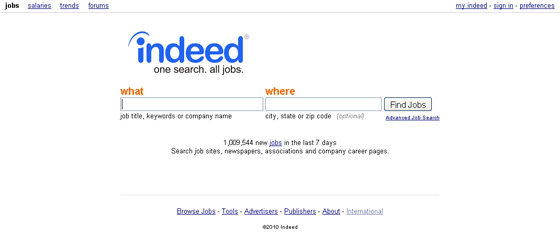 The simplicity of the site is probably its greatest asset. The home page has two boxes, a "what" and "where," so you can type in the job you want and where you want it, and Indeed will provide access to all of the jobs that match those two criteria. Perfect!
---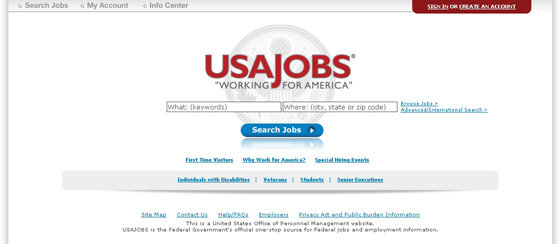 Some people dream of landing secure long-term employment with the United States government, and I can understand why — in this economy, the thought of a job with security, a pension, and great benefits does sound pretty good. Use this site to search for federal jobs in your area, and apply online.
---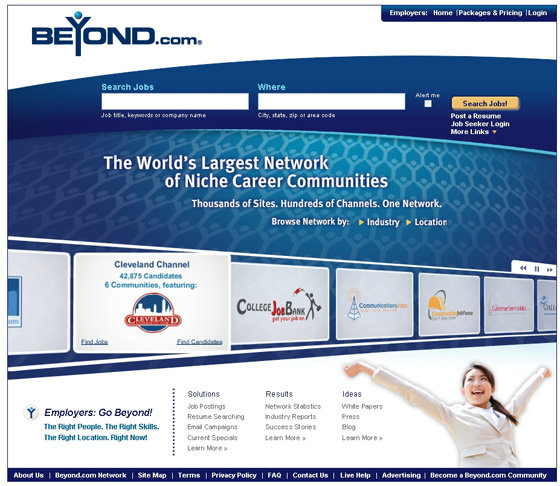 If you're looking for a job in a particular field, maybe one that's out of the mainstream, then you must check out Beyond. They promote themselves as the leader in searching for niche jobs, and it's easy to see why! I also like how easy it is to use the site.
---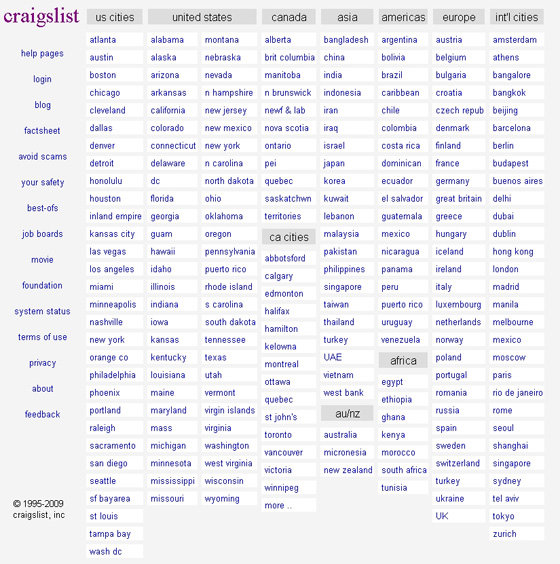 I love craigslist because it's totally local, and there are so many handy categories! And since it's free to post job, and free to search them, too, a lot of employers are getting savvy and are starting to use the site more. And it's global!, so if you're planning a move, you can use craigslist to find an apartment, a house, furniture, a car, and a new job!
---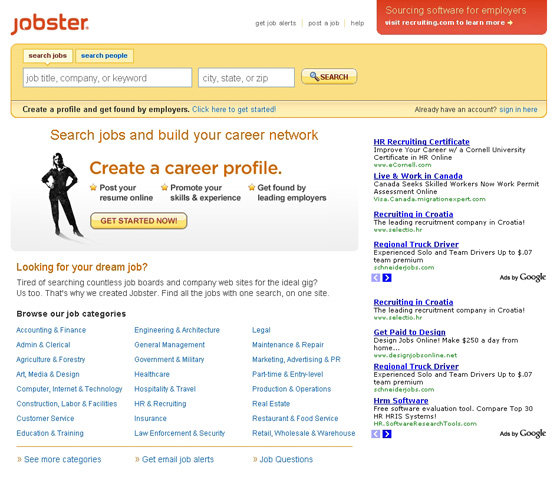 Jobster is a job searching website that's taken a different approach: social networking. Instead of just posting a resume and waiting to be found, you create an employment profile. You can also search for, or just browse, different job categories.
---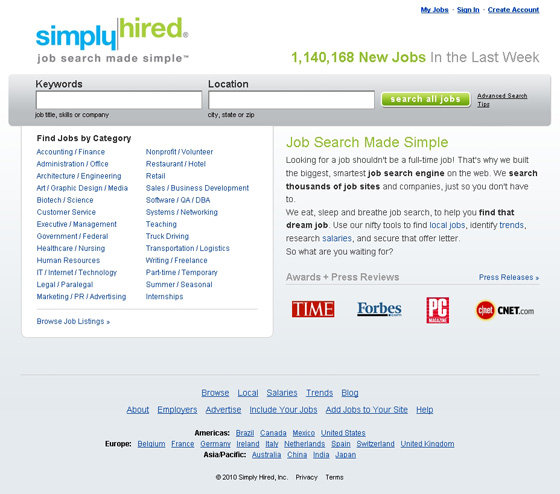 SimplyHired is where I go when I don't want to spend a lot of time looking for a job. Their search tool actually accesses hundreds of other job search websites, returning thousands of hits you may not have found on your own. And it's so easy to use!
Aren't these sites great? I visit them each a few times a week, and I'm always amazed at how well they all work. Have you used any of these sites to land a job? Or have you had luck with another site? Please let me know… thanks!
Top Photo Credit: cleo_singapore
More
Comments
Popular
Recent