Maxi dresses have been one of those crazes that seem to be around forever...it feels like ages ago that they made their debut, and they've got no sign of slowing down! Celebrities are still wearing them everywhere, and shops are full of different colours and patterns...you could probably find enough stunning ones to wear a new one every day! If you haven't got the bank balance for that, though, here are 10 that will look gorgeous whatever the season!
---
1

ASOS Floral Tie-Waist Maxi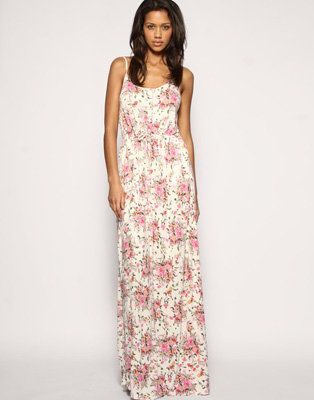 Price: $60 at asos.com
This dress is lightweight enough for the Summer, but is easily dressed up to keep you warm in the Winter, too. The pattern is divine...the cute flowers look oh-so-chic, while the white colouring makes it look effortless and cute. For a casual yet classy Summer look, add a wide tan belt, and some sandals, and in the Winter, dress it up with cute heels and a shrug. It's just so versatile!
---
2

ASOS Boob Tube Maxi
Price: $40 at asos.com
This tube dress is so classy...it's very dressy in black, but the grey version is perfect for dressing up or down. With light curls and sandals, it looks effortless yet glamorous, and it's so easy to dress up too! Adding heels and a sequined jacket makes it perfect for the night time, and the material is so flattering...it's clingy, but it looks great, and the fabric is thick enough to keep you warm yet breathable. It's definitely one of my favourites!
---
3

ASOS Asymmetric Corset Maxi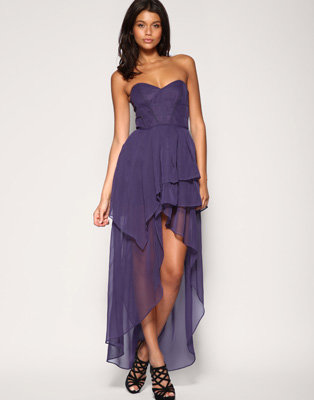 Price: $143 at asos.com
This is the perfect dress if you want something a little extra, whatever the weather. The deep purple colour is right on trend, and the corseted top is amazingly flattering...you'll feel amazing! The skirt is fantastic too, sliding down the hips before floating into different layers, and it perfectly mixes sexiness and glamour.
---
4

Premium Lingerie Maxi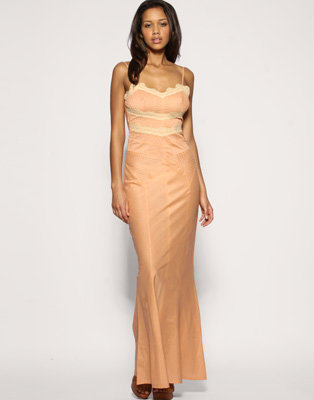 Price: $109 at asos.com
The lingerie trend is huge, and this dress has to be one of my favourite ways to wear it. From the gorgeous vintage-pastel colour to the gentle structuring and lacy detailing, every inch of it is flattering, stylish and sexy, and it really needs no dressing up. Just add tan wedges and loose, effortless hair, and you'll look amazing.
---
5

French Connection Safari Maxi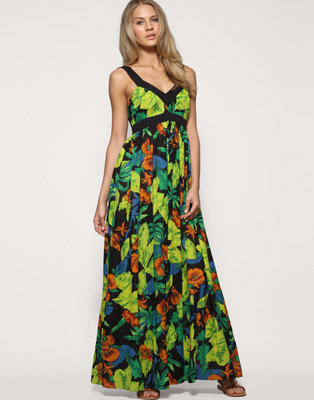 Price: $126 at asos.com
I bought this dress to wear throughout the Summer, but I certainly won't be putting it away in the Winter! The colours are just dark enough to look fantastic even if it isn't hot, and the safari pattern looks so Autumn-y...not to mention the black straps and detailing. It's comfortable, flattering and vibrant, and it's a wardrobe staple!
---
6

Oasis Butterfly Trim Maxi
Print: $134 at asos.com
This dress is stunning...I love the deep blue colour, which shines in the sun but looks just as great when its cooler, and the butterfly print is amazing. The cut is calm enough to wear it everyday, but it's very flattering too...it's structured at the waist and neckline, and the skirt is tiered, meaning it falls beautifully. It's one of those dresses that will make you look and feel amazing...everyone should own this.
---
7

Pepe Jeans Sheered Top Maxi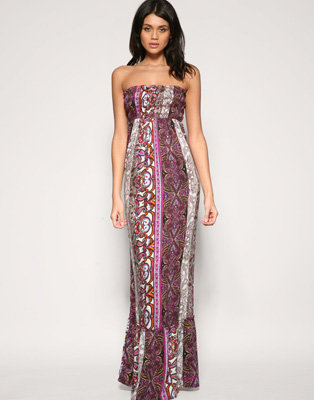 Print: $109 at asos.com
If you are looking for a vintage-y, colourful maxi, then this Pepe Jeans dress is the one for you. The strapless look is right on trend, and I love the fabric...not only is it super soft and comfortable, but the added details like sequins give it a glamorous feel, and the contrast looks amazing. It's a perfect way to wear vintage, and it'll look great whatever the weather!
---
8

Karen Miller Extravagant Ruffle Maxi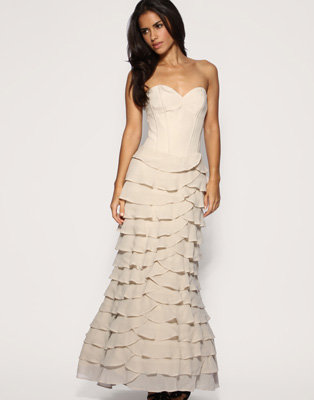 Print: $503 at asos.com
Karen Miller is perfect at designing dresses that look understatedly extravagant, and this is another gorgeous one. The pale colour and sweetheart neckline are stunning, and I love the ruffles...they look glamorous and trendy, without looking over the top. It looks amazing with a little jacket and heels in the winter, or worn as-is in the Summer...
---
9

Firetrap Plait Leather Detail Printed Halter Maxi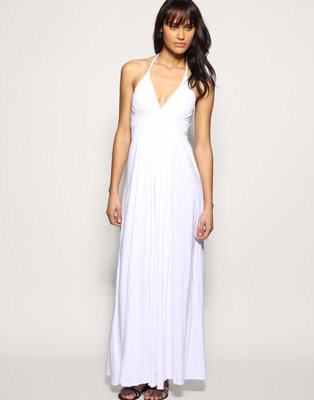 Price: $101 at asos.com
This pure white Firetrap dress looks amazing as it is, but can easily be dressed up with a cropped black jacket and waist belt...it's an amazing way to wear monochrome! Bright accessories look great with it too, and it's even good to wear over a bikini...it's one of those dresses with no end of uses, and it's oh-so-comfortable. I love it!
---
10

ASOS Contrast Cup Maxi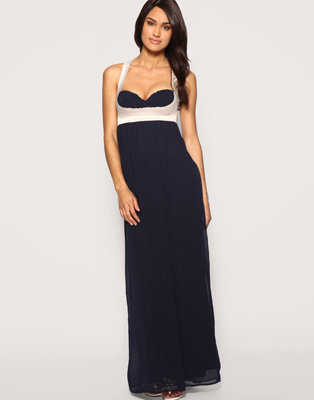 Price: $92 at asos.com
This dress is gorgeous...it's classy and looks perfect to wear out, and it doesn't need much dressing up! It's available in nude/black and navy/cream, both of which look stunning, and the top is designed to flatter your assets, while the skirt gives you a slim, floaty silhouette. The colour contrasts are simple yet effective, and it'll always look amazing...you could wear this dress for years!
These dresses are the perfect way to be on trend and minimise your spending, as you'll be able to wear them throughout the year, and know you are looking amazing. They have so many options and looks that you'll never want to stop wearing them! Have you spotted a maxi that would look great all year round? I'd love to hear about it!
Top Photo Credit: ♥BLUSH♥
More
---
Comments
Popular
Recent