Her style might be zany and difficult to pull off but we you'll have to agree that, before Lady Gaga, no celebrity has ever managed to change the fashion world. She moved the boundaries, laughed in the face of all fashion critics and inspired many designers. If you love her, you probably wish you could spend a day in her shoes, right? Well, I can't give you that but I can certainly give you the next best thing –my list of the top 8 products to spice up your standard wardrobe with some of that Gaga's unique monster dust.
---
1

Thomas Sabo Charm Necklace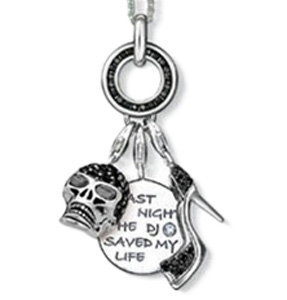 Price: $275.00 at lovemyswag.com
Wake up that "little monster" in you with this cute, silver, glam-punk charm necklace. The best thing about it is that even serious, business ladies could wear it without the risk to look too teeny or unprofessional! I absolutely love it.
---
2

Bottega Veneta Wedge Pumps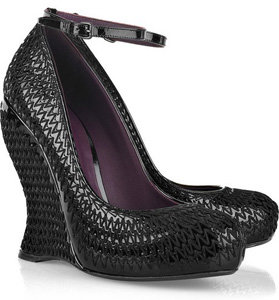 Price: $800.00 at net-a-porter.com
Being different and making bold fashion choices is what made her stand out and I bet she would love these pumps too! Oddly curved wedge heel and stitches scream Lady Gaga, and yet, these pumps are just a trendy variation of the classic black pump you can wear with just anything. Finally! Something unique and eye-catching you can wear anywhere, even work!
---
3

Rachel Gilbert Strapless Dress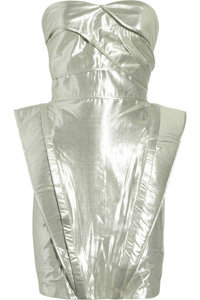 Price: $670.00 at net-a-porter.com
Leave the clear plastic dresses do the Monster Queen herself and opt for this less revealing but equally shocking dress. The underwire that holds these "side wigs" up is removable so once you experience your own Lady Gaga moment, you can just take them out and have a regular, brand name dress to wear in special occasions.
---
4

Feather Cape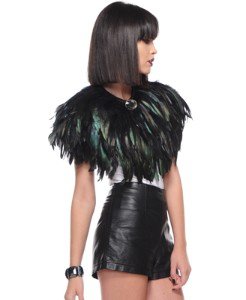 Price: $39.00 at forever21.com
Lady Gaga is probably the only one who could make an oversized, sheer, black & purple feathery dress work. But that doesn't mean you can't pull off the next best thing – a cool, glamorous feathery cape! It won't protect you from the cold but any one of your same ol' outfits will look twice as fabulous with this accessory. The price is very acceptable too so what more could a girl ask for?
---
5

Jeweled Clutch
Price: $26.00 at forever21.com
This stylish black clutch is the perfect match to the jewel on the cape I've mentioned above so the only thing you need to do is wear your favorite little black dress, put your dancing shoes on and you're ready to make the jaw-dropping, Gaga-style entrance!
---
6

Feather Fascinator
Price: $12.80 at forever21.com
Hairpieces have been the IT thing for two seasons now so, if you've managed to resist the mass trend so far, it's time to finally give in. Hairpieces are Gaga's trademark and the easiest way to "steal" a little bit of her style. Now, I don't suggest upgrading your look by attaching a telephone, raw meat or anything that looks like a household appliance or a dead animal on your head. However, a cute, elegant fascinator like this one will definitely do the trick and make all heads turn in your direction.
---
7

Vintage/business Top
Price: $32.00 at forever21.com
If you remember the black business outfit she wore with a huge, straw hat, then I'm sure you know why I picked this gorgeous, retro top! You can wear it over a strapless dress or combine it with matching pants or a skirt. Big, eye-catching hairpiece is a must, of course!
---
8

Lace Gloves

Price: $6.80 at forever21.com
Now if you thought the lace sleeved top is exactly what you need to import a bit of Gaga's brave fashion into your wardrobe, here's a pair of lace gloves to make that picture perfect. I'm leaving the rest to your imagination.

Come on, all of you Lady Gaga fans, tell me how do you like my selection? What is your favorite Gaga style and, if you could pick just one thing, what would it be?
More
Comments
Popular
Recent