I always thought tablecloths were a way to hide an ugly table, or to protect one that was so super-fancy, horrible things would happen if you so much as spilled a glass of water directly onto it. On the other hand, I love the way table runners look, a gorgeous strip of fabric that still shows off the gorgeous wood underneath. And there are so many pretty table runners out there, for every occasion, from everyday to holiday. And with the holidays coming up, maybe it's time to put aside that pretty heirloom lace cloth and try a runner to show off your table instead! Here are 7 gorgeous holiday table runners.
---
1

Crate & Barrel Jubilee Runner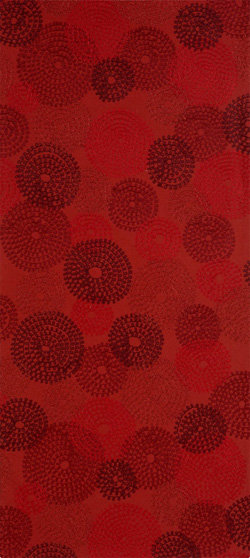 Price: $39.95 at crateandbarrel.com
Just the name of this runner sounds festive, doesn't it? And it's gorgeous for the holidays, featuring a pattern of tonal red on red embroidered circles. Who knew there were so many colors of red? This one measures 14" by 60" but it also comes as a placemat or as a runner that measures 14" by 90" or in shades of green in the Crate & Barrel online outlet.
---
2

Crate & Barrel Jewel Ruby Runner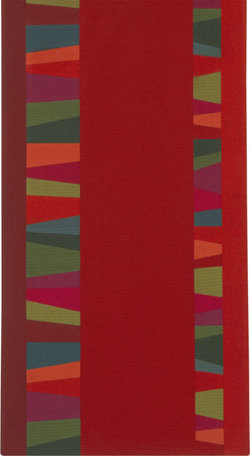 Price: $39.95 at crateandbarrel.com
The entire Crate & Barrel Jewel Ruby line is beautiful, with a deep red background accented by angular bits of coordinating jewel-tone colors, all rich emeralds and amethysts and topaz. Add this to your holiday table and use the other pieces from the collection, like the tree skirt, throw pillow, and stockings, to pull the entire house together.
3

Crate & Barrel Holiday Plaid Runner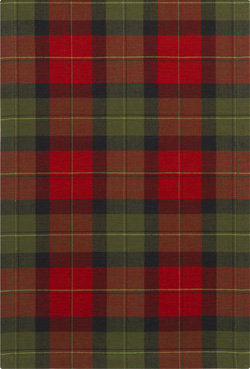 Price: $19.95 at crateandbarrel.com
I bet on the other 364 days of the year, Santa and Mrs. Claus wear plaid, like this one, all festive reds and greens. It's a classic tartan pattern for your table, perfect for darker woods, or a more casual table. I like this runner, too, because it's machine washable, so you can toss it in the washer if a little spill occurs.
---
4

Crate & Barrel Winterberry Runner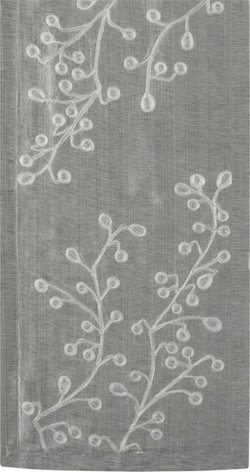 Price: $39.95 at crateandbarrel.com
This table runner is so elegant and beautiful, you'll want to use it all winter long, and why not? It's a demure silver silk/rayon blend embroidered with delicate silver and white berries. It's so gorgeous!
---
5

Crate & Barrel Allure Holiday Runner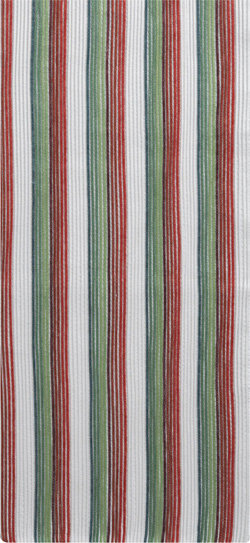 Price: $49.95 at crateandbarrel.com
The name implies careful elegance, but the design is casual, festive, and fun, and reminds me of a peppermint candy cane! The runner features alternating rows of silken threads in green, white, and red, perfect for co-ordinating with any other red or green pieces you already own.
---
6

Crate & Barrel Hyacinth Metallic Runner
Price: $29.95 at crateandbarrel.com
If you're planning a table set with stunning silver and rich gold, then this is the holiday runner for you. It's understated and beautiful, with natural hyacinth fibers woven together with glimmering metallic thread. Pair with gold cloth napkins and rings for a unique, gorgeous look!
---
7

Crate & Barrel Chilewich® Cubic Gunmetal Runner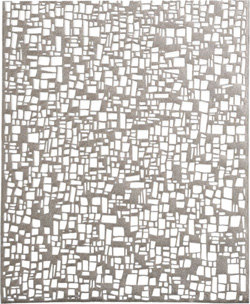 Price: $27.95 at crateandbarrel.com
If your tastes run more modern than traditional, and you love the look of an open-work cloth, consider this. It's an open-work metal-inspired "cloth," perfect for a light birch table, especially for Hanukkah. It's made of vinyl, so clean-ups a breeze, and it's so unique!
Those are just a few of the beautiful table runners I found at just one of my favorite stores… and there are so many more! Which of these holiday table runners do you like best, and what sort of table would you set with it? Please let me know!
More
---
Popular
Recent