The beautiful thing about the Internet is that it can be accessed right from home. Who doesn't enjoy sitting in their comfy chair wearing pajamas and sipping coffee? I absolutely love shopping online. I find it fascinating how I can surf thousands of stores within an hour, locate anything I want, and then have it shipped right to my house. I've devised a list below of 8 places to shop online and not just for clothes, but a variety of goods.
---
8

CNET.com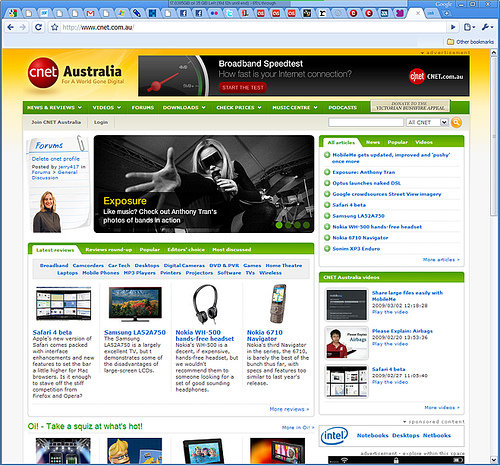 Photo Credit: antzpantz
While this isn't directly a shopping site, it does point you in the right direction. If you're looking for a new cell phone, desktop, laptop, audio equipment, or any other type of electronic device, then this is the place to go. This site has tons of reviews on the latest products, gives each a rating, and then points you towards the site with the item you are interested in buying. I like knowing what other people have to say about specific products before I spend my own money on something.
---
7

SmartBargains.com

Finding men's and women's clothing, shoes, and jewelry online that are top of the line, but not extremely expensive are possible, with this site. They have a group of buyers that searches for great deals on clothes, shoes, household products, and jewelry and then puts all these items in a single place online. Buying up the merchandise of an entire store isn't uncommon with this site. They negotiate a fantastic price and put all the items they just bought on their web page for all customers to benefit from.
6

EToys.com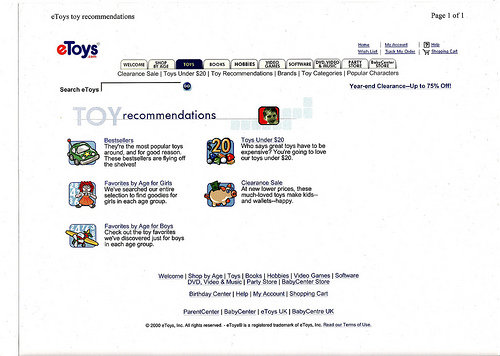 Photo Credit: thelittlepurse
I've never been able to shop for toys so easily and quickly. This site allows you to shop by choosing the age of child, brand name, theme, or through a specific category. For instance, if I scroll across the bottom for the ages 3 to 4 and click on this section, then pictures of toys will appear. Along the left side of the page, there are still additional categories to choose from that narrow my search even further. Plus, beside each category, the number of toys in that listing is also shown.
---
5

Gardeningsuppliesguide.com

I love gardening and I'm always looking for information on sites that will lead me right to what I need. This site offers helpful links and detailed descriptions for web pages that sell just what I've been searching for. It doesn't matter if I'm looking for indoor gardening supplies, tools, bulbs and seeds, or gifts with a gardening theme to them. I simply click on my desired category, get directed to the page with links and their descriptions, and then choose which page I want to visit. This usually quickly connects me to the right site I need for purchasing the gardening products of my choice.
---
4

Gap.com

I found this to be an excellent site for finding kids' clothes and stuff for the baby. They even have a fantastic maternity section. It's hard to find something that includes the entire family. This site definitely does. The fashions are current and prices are excellent. I always find tons of stuff on sale, which always makes my day. I'm all about saving a few bucks when I can.
---
3

Alice.com

There are plenty of sites that sell clothes, electronics, garden supplies, and shoes, but it's hard to find places that carry basic necessities. Sure, some people think a new pair of sunglasses is a necessity, but I'm talking about toilet paper, trash bags, deodorant, shampoo, etc. This site carries the home supplies you need and allows you to search through their inventory for the cheapest type or by brand name. Your products will then be combined into a single box and shipped right to you. Shopping just seems to get easier all the time!
---
2

EBay.com

When people have stuff they are more than willing to get rid of, they tend to sell it for super low prices. There are items on eBay that I thought went out of existence. This site is perfect for finding that special gift during the holidays. I've found so many unique items on here and useful products that I would have had to spend just as much in gas to drive to the next town to get. I may have had to wait a few days for it to arrive in the mail, but it saves me both money and time.
---
1

Amazon.com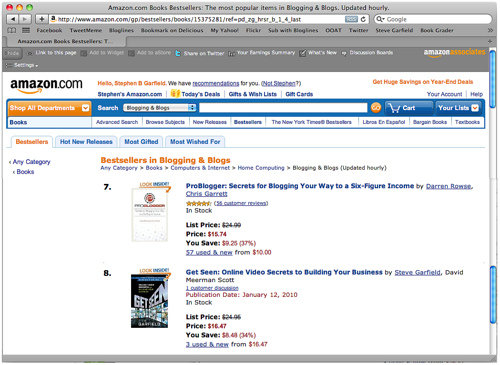 Photo Credit: stevegarfield
I like that this site has items that change on a daily basis. There are clothes for the entire family, products for the home, and most items are greatly discounted. Some items found can be purchased brand new or used. I've found some excellent buys on this site. They also carry shoes, jewelry, baby stuff, pet supplies, and just about anything you can possibly think of.
I'm always amazed at how much technology has changed since I was a little kid. I hope some of these 8 places to shop online are useful ones to you as well. Have you used any of them for your personal purchases? Do you have another that you use the majority of the time? Please feel free to share some of the shopping sites you prefer to use.
Top Photo Credit: stevegarfield
---
Popular
Related
Recent