I love candles for so many reasons — the romantic glow, the gorgeous colors, and of course, the exotic scents! But I don't want to burn or display the same candles as everyone else, so I avoid buying them from Yankee Candle and the like. I prefer to buy candles from somewhere a little different… and you can too! Here's my list of 8 gorgeous candles, all from somewhere other than Target or Yankee Candle!
---
1

Naturalist's Notebook Candle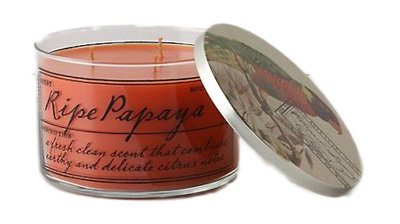 Price: $36 at anthropologie.com
I love candles in glass jars because they're usually so gorgeous, and this one is no exception! I love the rich, deep red color, exactly how I imagine a ripe papaya would look. If you don't fancy red, try the green lily petals (green), lilac dandelion (purple), or white tea and thyme (blue)versions. All four are beautiful, exotic, and smells so good!
---
2

Skeem Tropical Escape Candle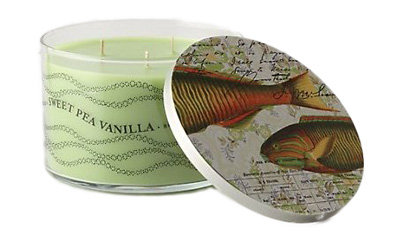 Price: $36 at anthropologie.com
This is another pretty candle in a clear glass jar, perfect for display and for burning for scent! Choose from three colors/scents: sweet pea vanilla (green), dune sage (blue) or blood orange (orange). All come in a vintage-inspired nautical theme jar and burn for 80 hours.
3

Half-Shell Candle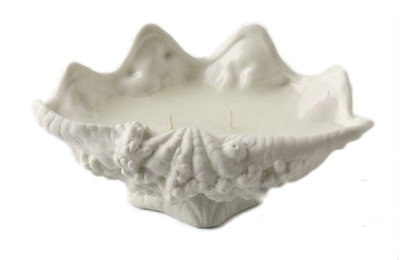 Price: $32 at anthropologie.com
This pretty little candle and holder would look at home perched atop a bookcase or mantel in a room with a maritime theme, perhaps mermaids of sea-shells? This candle is made of paraffin and has a 15 hour burn time. Once you're done burning the candle, the dish makes a pretty holder for trinkets and treasures.
---
4

Grove New York Signature Candle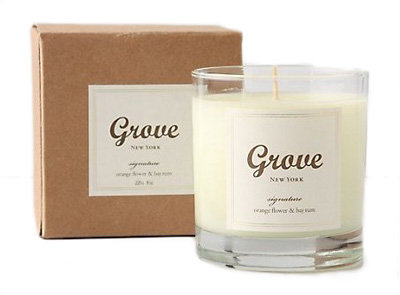 Price: $32 at anthropologie.com
I love burning this candle just before spring comes, when I feel like it will never be warm and sunny again… the scent is lush, almost tropical, with a hint of citrus and spicy rum. The candle is made of soy, and burns for 50 hours.
---
5

Backyard Bouquet Candle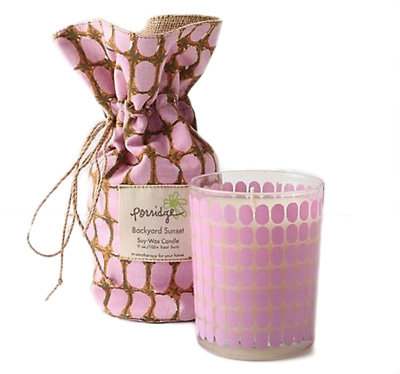 Price: $28 at anthropologie.com
Each of these kitschy candles comes in its own whimsical jar, and feature an amazing 100 hour burn time in a smallish 11 ounce candle! Choose from four scents and colors — Backyard Sunset (lavender), Basmati (brown), St. Augustine Grass (green, of course!), and Lush Garden (yellow). The best part? These are ready for gift-giving for housewarmings and birthdays in a cute little bag!
---
6

Tall Illume Anemone Jar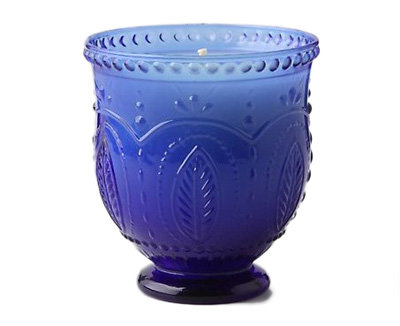 Price: $24 at anthropologie.com
I love the cobalt blue candle holder, but the other sea-glass inspired colors are pretty, too, and would look smashing displayed together as a trio… They all measure a graceful 4¼" tall, and burn for 60 hours. The scents are lush, too — Island Palm, Red Hibiscus and Acai, and Seaweed Wrap.
---
7

Capri Blue Mercury Glass Candle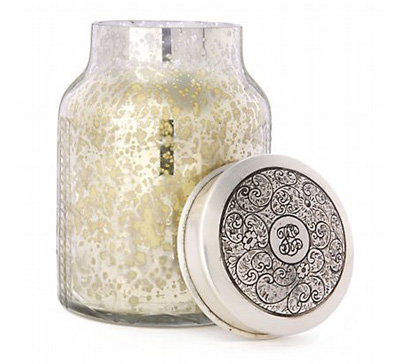 Price: $25 at anthropologie.com
So pretty, so elegant! I love the mercury-tinted glass on this jar, and the scent is so spring-time, so refreshing! The jar measures 5" tall, and the candle burns for 70 hours, so you'll have plenty of time to enjoy the fragrance… and wouldn't this be a thoughtful, gorgeous wedding gift?
---
8

Bali Basket Candle Tins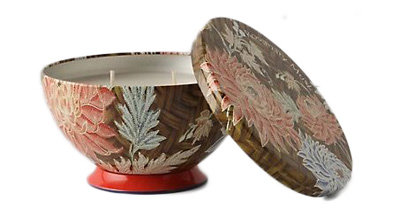 Price: $20 at anthropologie.com
I've never been to Bali (yet!) but I imagine this trio of beautiful candles have captured the scents and colors of the island. There's Jasmine Dew, in a deep violet color, like a sunset. There's Rosemary Musk, in the color of midnight. And don't forget Sun-Kissed Bamboo, the ruddy, rich color of henna.
Aren't these candles all gorgeous? My favorite is the one in the blue glass jar, but I love the Naturalist's Notebook one, too! It smells so good! Which of these candles do you like best, and why? Or have you found another one you like better? Please let me know!
Top Photo Credit: Ghhoit
---
Popular
Related
Recent