I love writing, and always have a notebook handy to scribble my thoughts and ideas down. Keeping a journal is quite popular these days, and it's nice to write in a beautiful notebook. Here are some great examples from the fabulous ranges out there.
---
1

Pinstripe Notebook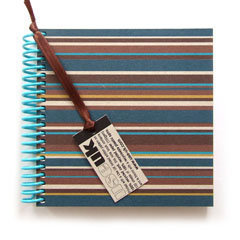 £10 at love-eco.co.uk
This is the ideal notebook to satisfy my interest in being environmentally friendly. Even the plastic binding is recyclable! Both the paper and cover are made from recycled materials, so every part of this notebook is totally green. I love the striped brown and blue cover as well.
2

Dots and Jots Mini Journal Set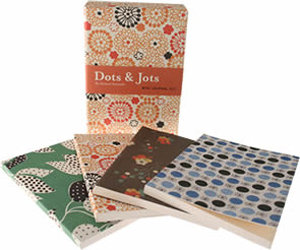 £9.99 at papernation.co.uk
Not one, but four journals are in this set, so if you like to keep your writing separated by theme, this would be perfect for you. You could use each one for different subjects if you're studying, or one for lists, one for thoughts, one for ….? The journals also come in a slip case to keep them tidy.
---
3

Cat Notebook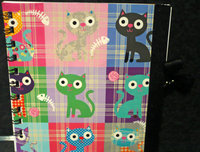 £8 at designsbyelle.co.uk
It's no secret that I adore cats, and this cheeky little handmade notebook would be a perfect present for someone like me … hint hint! £8 is a great price for a handmade journal, and it's just such a cute design.
---
4

Cavallini City Guide Notebook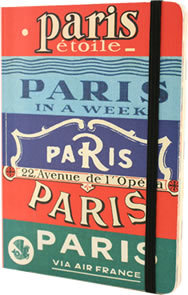 Paris, £10.99 at papernation.co.uk
Off on a trip to the beautiful city of Paris, my favorite city in the world? Take this City Guide notebook to keep a record of your trip. The retro style cover is like a book from the 60s, the pages are colored - cute! – and there is a handy Metro map in the back. A good little design addition is the elastic band to keep the notebook closed and protect the pages.
---
5

Tribal Embroidery

£9.99 at beautifulnotebooks.co.uk

I love fabric and embroidered notebooks. This Indian style journal is another notebook that would make a gorgeous present, with its beautiful fabric and sequined cover. It also has a practical ribbon marker – always handy to help you keep your page – and a memento holder.
---
6

Mini Notebooks

£0.99 at spiralsofabundance.com

Aren't these mini notebooks just the cutest? At just 99p, they would make a fantastic stocking filler, and would also be great to carry in your handbag. The colored pages have an animal stamped on, and almost look too beautiful to write on.
---
7

Charming She Exercise Book

£2.50 at papernation.co.uk

A teenage or tweenage girl would love this small but perfectly formed exercise book, with 48 pages to scribble in. The cover has a cute cartoon of a girl with an amazing beehive-style haircut... I love it!
---
8

Peacock Notebook

£2.99 at spiralsofabundance.com

Nature knew what she was doing when she created the peacock feather – a thing of beauty indeed. Now you can buy this peacock notebook and add a touch of that beauty to your writing. It is also recommended for sketching.

Do you always carry a notebook? What's your favorite notebook, and why? Please share with me!
---
Comments
Popular
Related
Recent