Do you have an old piece of furniture that has seen better days? If you do, don't think about throwing it to the trash just yet. If its still functional and you hate it simply because of its hideous appearance, you might just be able to give it a new life. A fresh coat of paint or a new covering can give even the ugliest chair or table a wonderful face lift. The following are amazing makeovers that can help you get creative and give old furniture a new life.
---
1

Trolley by Monica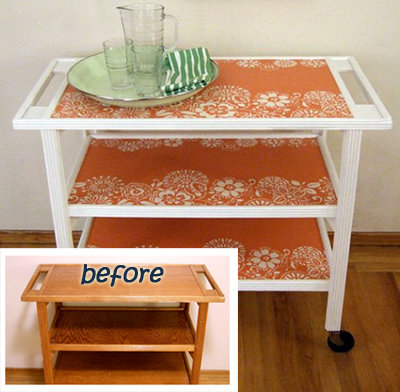 Monica of Craftynest bought a cheap trolley from Craiglist but it was plain and a little rickety. After a friend fixed the trolley, she got herself some paint, glue, and wallpaper. When she was done with the trolley, it looked as cheerful as any trolley ready for good service in a great party. The white pattern on the orange wallpaper is beautiful. It matches the white paint Monica used perfectly.Check out the post for a tutorial on her makeover.
---
2

Office Chair by Joanie and James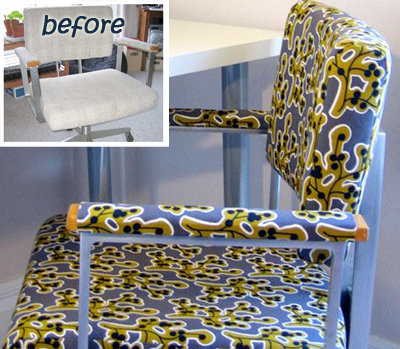 This makeover is simply awesome. This chair is a spot of sunshine in a sea of boring office chairs. The people responsible for this makeover are Joanie and James. They bought the chair for only $10 at a thrift store. They replaced the cushions and reupholstered them using fabric with a lively pattern. This chair is enough to make you ready for a grueling day at the office.
3

Dresser by Adam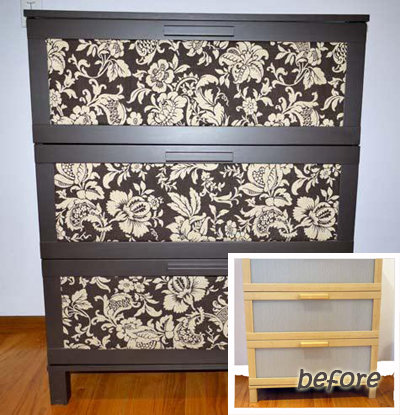 This dresser was an Ikea piece that looked okay but not good enough. At least, that was what the owner, Adam, and his wife thought. The great thing about this dresser dress-up is the ingenious way that Adam affixed the fabric to the front parts of the drawer. He wrapped some cardboard with the fabric and then attached them using glue. The result is one elegant dresser.
---
4

Dining Chairs by Bethany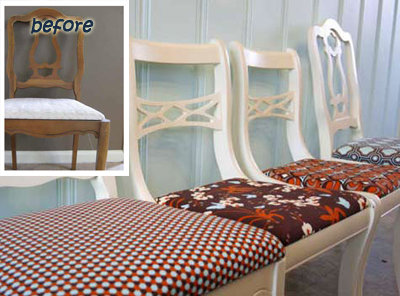 I found this great makeover via design*sponge as well. Only one chair was photographed for the BEFORE picture but I am guessing that the other chairs were just as ugly. Post-makeover, the chairs look as good as new with their new paint and upholstery. Isn't it amazing how paint can drastically improve the look of an old furniture?
---
5

Ottoman by Liz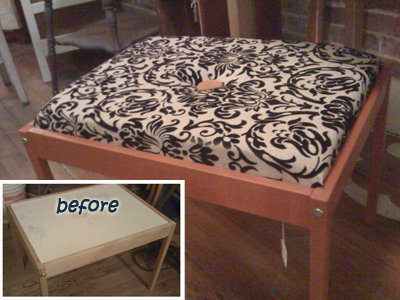 Liz is a carpenter with an expertise on creative furniture redesign. She does absolutely amazing work. This particular makeover is fantastic because the old furniture was meant for another purpose. After adding upholstered cushion, an old kiddie table became a chic ottoman.
---
6

Chair by Molly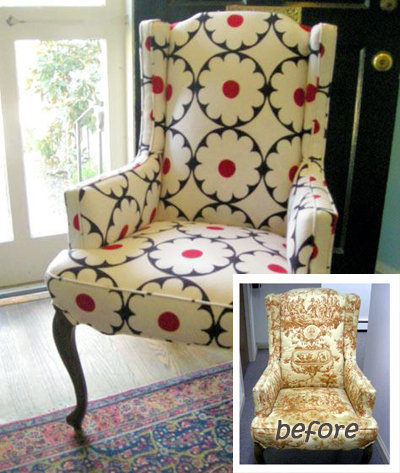 Molly is the owner of Chairloom. She especializes on chair makeovers. She does absolutely amazing work. This particular chair makeover is incredible. The difference between the BEFORE and AFTER photos is astounding! I cannot imagine that she transformed that ugly chair into something completely feminine, romantic, and whimsical.
More
---
Comments
Popular
Recent