Not dreaming of the white ball gown with the cathedral train or the big church wedding? That's OK, especially today with all the alternative ways to make your big day the way you want it. Don't let weddings scare you; here are 5 tips for making this day the way you truly pictured it.
---
5

Weddings Are Not Just for Churches...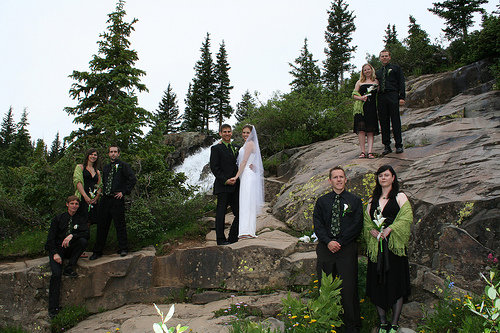 If you and your fiancé aren't religious, or you just don't want your ceremony held in a church then listen up! Backyards, historical mansions, wineries, country clubs, beaches, hotels, and even museums are great alternatives for ceremony locations. The Franklin Institute in Philadelphia, The American Museum of Natural History in New York City, and Walt Disney World in Orlandocan all make your non religious ceremony dreams come true. Most places that hold receptions can make arrangements for a beautiful ceremony as well. My fiancé and I are having our ceremony and reception at a historical mansion located right off the Delaware River.
4

The Wedding Officiant...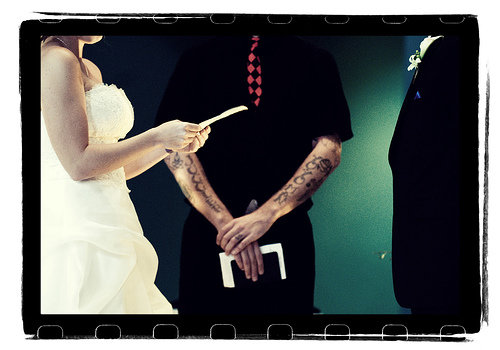 Maybe you grew up in the church and would like to have your favorite priest or pastor preside over your wedding. However, there are some of us who don't have a priest and would like to know who else to turn to. That's when you find **non-denominational officiants who will preside over any type of wedding be it non religious or even more than one religion. In Philadelphia you can find Journeys of the Heart, who are a group of officiants who perform many alternative weddings for any culture, spiritual, or religious **background.
---
3

When Floral Arrangements Cost Too Much...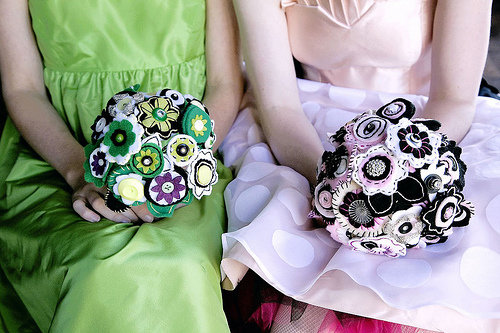 You have seen tons of wedding shows on TV and have seen how beautiful those extravagant bouquets and centerpieces are and thought about the idea for your wedding. But then it hit you when you saw the price for a bouquet that will** end of dying a week** later. But fear not, arts and craft stores like Michaels and A.C. Moorecarry beautiful silk-like flowers that look just like the real thing. Fans, feathers,button bouquets, paper flowers, and parasols are other unique ideas for a budget friendly bouquet. For centerpieces we're using floating candles to help keep the cost within our budget.
---
2

You Don't Want Your Bridesmaids to Look like Twins...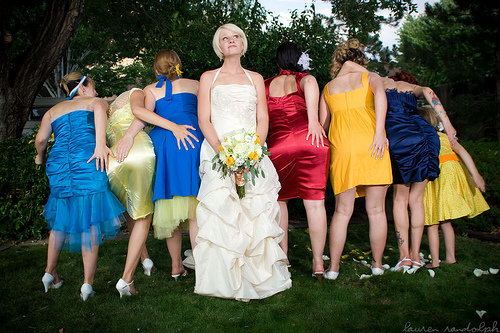 Each bridesmaid has their own unique personality and you want them to showcase that on your special day. What better way then to let them pick their own dress and even give them each a different, fun color. How hot will your wedding look with bridesmaids in hot pink, yellow, cobalt blue, purple, and green! However, if you want the same colored dresses but still want them to be unique you can allow them to choose their own style and cut of the same color. My maid of honor and bridesmaids are all different ages and different sizes and though I want the same color they will probably have different cuts matched with their own unique style.
---
1

No White Wedding Dress for You...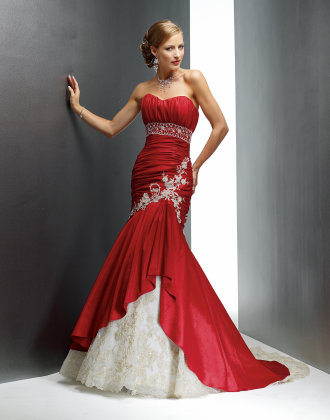 So maybe you have decided that the** big white ball gown** is not your style. And it doesn't have to be. A wedding is still a wedding and it will still be a happy marriage for the two of you with or without the white wedding dress. Alfred Angelohas a line of "Dream in Color" gowns that have a lot or a little drop of color added to them to fit your style. Many designers have also made entire dresses in** colors of red or pink** like Maggie Sottero who has designed this beautiful red corset gown for the creative bride in you. I cannot wait to try on wedding gowns that have teal blue ribbons wrapped around the waist to show off my spunky personality!
Source Credit: Offbeatbride.com
Photo Credit: Myweddingplace.blogspot.com, MaggieSottero.com
---
Comments
Popular
Related
Recent