20 Greatest 🙌 Valentine's Day 💘 Gifts 🎁 for Women 👩 ...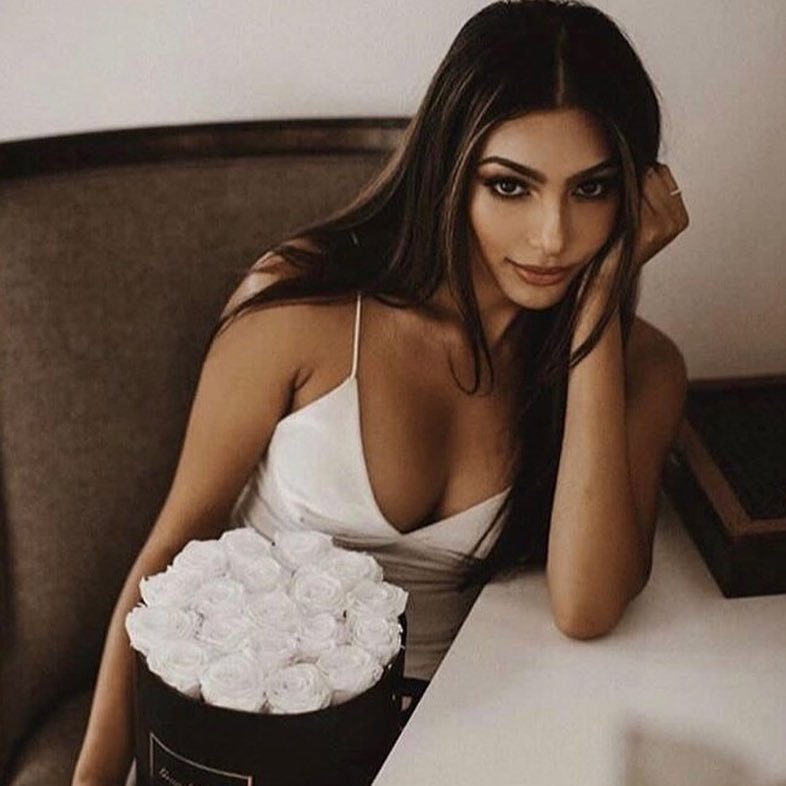 Pleasing the lady in your life isn't as hard as you might thing because there are loads of great Valentine's Day gifts for women that will bring a smile to her face. From edible gifts to those she wears, there are tons of great ideas out there, no matter what she loves. Maybe you want to give her more than one thing on this list. You can't go wrong with any of these Valentine's Day gifts for women.
Give her something lacy and seductive, and you'll both be totally happy. When you give a woman a gift of lingerie, you're telling that she's the most gorgeous creature on Earth and you can't wait to see her wearing this little outfit - what's more romantic than that? Check out sexy babydolls at Victoria's Secret or find something even more special at Net-a-Porter.com.
If thongs and tights aren't her thing, you can still get her some gorgeous sleepwear. If your girl prefers to sleep in more comfort, check out Pajama Gram for cute little ruffled nightgowns. Just go with something a little more tame, and you'll still the romance going. If on the other hand, your lady IS into lace, you'll surely find something amazing at Net-a-porter.com.
Of course, flowers are the ultimate romantic gift for Valentine's Day. They're exotic, smell delicious, and look great. But they've got a bad rap as being corny and cliche. Why? Because every guy goes with the same old thing - red roses. Branch out and pick something different, like the Cupid's Kiss bouquet from FTD. Also, definitely have them delivered to her at work... half of the fun of getting flowers is getting to gloat over them in front of all your co-workers!
4.

Decadent Chocolates ...
Give her something sweet to eat, and she'll love you forever. Don't bore her with drugstore boxes of chocolate - get her a box of gourmet, unusual treats that she can't find in any store near you. Pick up something like a dozen hand-dipped strawberries from Secret Spoon or Valentines for Dark Chocolate Lovers from Lake Champlain Chocolates.
We all know the nickname for these "sexy" boots... wouldn't she look totally hot in a knee-high pair of these! There's nothing more romantic than dressing your lady up for a big night out, and you could definitely get a sexy outfit started with a pair of tall, high-heeled boots. Try sexy heels by Steve Madden from ShoeMall.com.
What's more romantic than getting her to pamper herself? Women don't take the time to take care of themselves, and she'll love you forever if you insist on taking care of her. Get her a spa gift certificate (like ones from Spa Finder), and she can use it for a great massage, facial, manicure or pedicure to make herself feel great.
Sexy sandals are always on point for trendy women. Is your love a fashionista? Does she have sexy feet? Then treat her to some hot little sandals that all the stars are wearing. She'll love wearing them to some amazing restaurant for a Valentine's dinner, and then she'll think of you every time she's wearing them. A Christian Louboutin pair would be perfect, of course, but feel free to get any pair you think she'll love!
Want her to feel totally pampered and look amazing at the same time? Get her some fun new beauty products. There's nothing sexier than watching a woman get ready for a big night out, and she'll love getting all fixed up for a night out with you when she's got fun new tools and products to try. Take a look at this cute little Juicy Couture kit from Sephora.
They are a girl's best friend after all! Every woman loves diamonds - they're so romantic and thoughtful, and the best thing is they look great on everybody and match everything. Get her something from Tiffany - she'll be delighted, I promise!
Women are always looking for the next trend in handbags, and right now the trend is big, big bags. She'll love the thoughtfulness of your gift if you get her something that's totally stylish and current. Check out this cute Love Story Clutch by Marc Jacobs... she'll definitely love it!
If you can't afford a giant diamond this year, another really romantic option that's completely in style right now is a giant cocktail ring. You can get a big bang for your buck in a cocktail ring - a lot of flash for your cash! Pick something that's really unique and that reminds you of her... she'll think of you fondly every time she's wearing it. Try this gorgeous amethyst one from Tiffany.com ($800) or choose something more budget-friendly from Vivre.com...
12.

A Hot New Cell Phone ...
What's more romantic than being able to stay in touch with your sweetie? Every girl loves a new little technological accessory, and you'll make her life easier by keeping her organized and connected to you. Try an iPhone, if she hasn't got one yet!
13.

A New Perfume Set ...
If you want her to smell fabulous and appreciate your thoughtfulness, go with a new perfume set for her this Valentine's Day. A new scent is always a romantic choice... it is so personal and unique for each person. Pick something that smells wonderful and reminds you of her. I thought this Daisy Gift Set by Marc Jacobs was adorable! But you can check out Sephora for even more Gift Set Ideas!
Does your woman find bouquets of roses so last year? Is she too unique or non-conformist for all the traditional Valentine's chocolates? Give the best of both worlds with a cookie bouquet. I got one of these a few months ago, and I was totally charmed by it. It was so cute and so tasty, too! Check out corsoscookies.com
Women love to surround themselves with photos of their favorite people, and getting framed ones to hang on the wall or display in the office are always great gifts. If you amp it up by making it a romantic little frame, you can totally make her day! Check out the Lucky in Love Frame from Personal Creations... I think this frame is totally cute. I'd love to get it this year!
Is strip poker too much for you lovely lady? How about a challenging game of Strip Checkers? This hilarious little game, complete with chocolates, will be an instant hit.
Lockets are always romantic gifts - not only does she get a new piece of jewelry, she also gets to carry a little picture of you right there next to her heart! Isn't that totally sweet? Check out Tiffany's Valentine Gifts under $150 or their Hearts Collection if you were looking to spend more on your gift.
For a steamy night in, give your love some romantic love stories. Cuddling up and watching a great movie with a moving ending will set the stage for your own tale of star-crossed lovers! Some romantic ideas include The Notebook or The Bridges of Madison County.
If you want her soft, silky, and smelling great tonight, give her a gift of bath products. She'll feel pretty and pampered as she tries these new lotions, soaps, and sprays out. When she gets compliments on how great she looks and smells, she'll have you to thank! Try The Cocktail Party from Philosophy - I would love to get this little set from myself because I love anything Philsophy makes.
I had a friend who named a star for his girlfriend, and it totally melted her heart. What could be more romantic than a piece of outer space that's permanently marked as yours? If you use
star-registration.com, you'll have an official certificate and directions for finding your star in the sky. What a romantic night... the two of you, in a starlight meadow, sharing a telescope, looking at the stars together... how wonderful!
I'm hoping I get something romantic like these gift ideas this year! Guys out there - what do you think of our suggestions? Do you have other great ideas for the lady in your life? And girls... what are you wishing for that we forgot?
{{#comments_count}} Show Commnents ({{comments_count}}) {{/comments_count}}