I watched Valentine's Day with a girl friend just this after noon. The boyfriend was working (boo!) so my girl and I decided to soak in the loveliness that is Valentine's Day all by our lonesome. It was cute and the ladies were beautiful! The things we paid great attention to were the clothes and shoes, of course. Let me tell you that Jessica Biel and Anne Hathaway's shoes in this film were to-die-for. With that said, I thought I'd collect photos of the gorgeous ladies as they did the promo rounds for the movie. Here are my favorites:
---
1

Anne Hathaway (LA Premiere)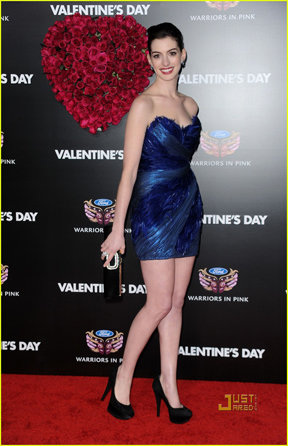 She always looks absolutely stunning in blue. In fact, one of my favorite looks in the movie was the one of her in a Valentine's date with Topher Grace's character. She wore a dress this shade of blue with simple black pumps. She topped it off with a black clutch. Back to this look: let me just say that I may be drooling on my keyboard because those shoes are the epitome of sexy.
---
2

Jennifer Garner (LA Premiere)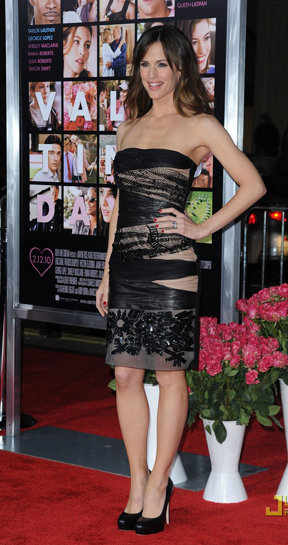 Jennifer Garner is a chameleon. Her everyday photos show her as a typical mom who does not have time to get all dolled up because she has errands to do and a kid to pick up from school. She's always in baggy jeans, comfortable shirts, running shoes, and sometimes, a cardigan or topper. And then she attends an event and wow the living daylights out of me. Does't she look hot? Oh, her character in the movie was fun.
---
3

Jennifer Garner and Jessica Biel (for Marie Claire)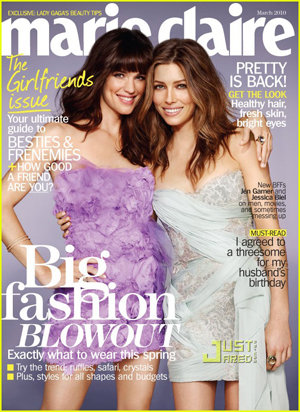 Apparently, these girls are BFFs now. But look at that cover and tell me if you don't feel like inviting yourself into their little girly world. Or at least be able to touch those pretty dresses. Don't they look like pretty cupcakes? I know that when I associate a dress with food, it's an indication that it is gorgeous.
---
4

Emma Roberts (UK Premiere)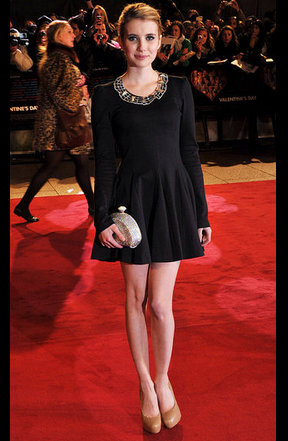 Hers was a look in the movie that I can relate to the most. I know, I know, she played a high school senior but I have to admit that I am your typical skinny jeans and ballet flats girl. And it turns out that Emma's red carpet look has that accessible flair as well. However, it is an undeniable head-turner. This particular look is just a total sweetheart.
---
5

Emma Roberts (LA Premiere)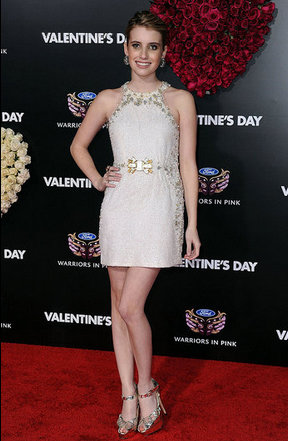 I guess this is officially the start of my Emma Roberts style-watch. She looks totally adorable and chic lately. Look at them shoes! I admit that I have not been liking all the white gowns I've seen celebrities don these past few weeks but this particular dress is refreshingly interesting. Cannot wait to see more red carpet looks from this little lady. Please excuse my growing girl crush on Ms. Roberts.
Top Images by Marie Claire
More
---
Comments
Popular
Recent