10 Ways Your Dog Can Help You Meet Men ...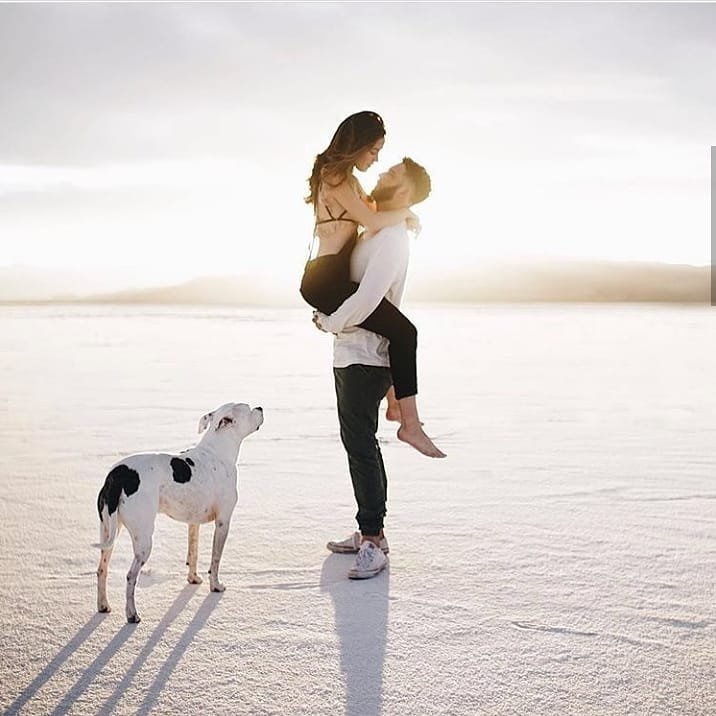 Make a date with your dog and you just might wind up with a date of the human variety. Anywhere you take your dog, is a place you might be able to meet that someone special. Whether it's at the dog park or the vet, you have a conversation starter right at the end of your leash.
One important thing before you read on is to make sure your dog is well-behaved and you can take `your furry friend anywhere. If not you can always brush up with some online dog training classes and practice at home.
Too simple? You would be surprised what taking a walk around your neighborhood with your dog can do. A simple walk to get lunch with your cute companion could lead to a pleasant conversation with a fellow dog lover who just happens to be single. Dogs are natural barrier breakers. So when that attractive man stops to ask you what kind of dog that is, instead of staying a few feet away, he's probably going to get closer to pet your friend. Be open to the conversation and you never know where it could lead.
2.

Go to the Dog Park Rocks
While some might view a dog park as intimidating, they are not only beneficial to training your dog to be social with other people and dogs alike, it's a ready made environment for you to meet men with a common love - Dogs.
There's nothing like a beautiful park on a spring day. Get your dog out for some exercise and play ball in a park. Make sure that your dog is either well trained off leash or there is a fenced in area you can secure yourself in and bring his favorite ball along and play fetch. It's not only a great way to exercise yourself and your dog, but it's a great way to meet men who like being active and love ball fetching pooches!
While you can't take your dog to a stadium or arena, you can bring them to an outdoor softball game or volleyball match. Seek out neighborhood teams and find their schedule. Once you find a time you can go, get your dog and find a nice, visible spot on the bleachers and seek out prospects. When your eye lands on someone, well then, let your dog do the talking for you!
5.

The Right Kind of Flea
Weaving up and down booths at an outdoor market can be a fun way to spend the day for you and your dog. Make sure ahead of time however, the flea market allows animals. If it doesn't, window shopping can be just as much fun and can lead to just as many numbers!
img.allw.mn
Is there a cute boutique or pet store in your neighborhood? If there is, be sure to bring your pup every time you go. Most pet owners do and conversation starts in aisles over food, toys, and even at the checkout over your dog!
There are a host of outdoor feasts and fares at any given time of the year. You can search on the web or go to your city's web site to see if they have a listings by date of fares that are in your area.
8.

Join an Activity Such as Agility, Flyball, Tracking or Herding
Do some extra training with your dog and meet like minded guies. Meeting someone through a common activity is not only fun but a more natural way to strike conversation and make new friends. Nothing wrong with being friends first and see where it leads
9.

Take Your Dog with You when You do Your Errands
Anywhere and everywhere, dogs are natural ice breaker. You will be amaze at the amount of people approaching you and your dog and start a conversation.
In the spring and summer, restaurants tend to set up tables on the sidewalks so that patrons can enjoy the breeze and their food. Most of these sidewalk cafes allow well-behaved dogs. If your dog is able to sit or lie beside you, take your pooch along to the coffee shop or restaurant and as people pass, he's sure to garner attention. When that tall, dark and handsome stranger stops to give your dog some love, the conversation starter is right in front of you!
Meeting men when you have a dog gives you a leg up on the situation (pun intended!). With your pooch, you can attract men who are also dog lovers and start on a common ground with them. But like meeting men any other time, you have to be open and willing to have a conversation to take it from "nice to meet you" to "how is Saturday night?"
More Fabulous Post:
• 10 Ways Your Dog Can Help You Lose Weight …
• 30 Pictures of The Cutest Dogs Ever …
• 10 Cutest Animal Videos from YouTube …
• 15 Adorable Celebrity Dogs …
• 38+ Pictures of Cutest Pets Ever …
About Author:
** img.allw.mn **
Catherine Potin is the editor of HappyDogConnections.com and offers tips for dog training and resources from various experts so you too can understand and train your pooch better. From the basics to solving behavior issues or learning how to massage your dog for better health, you will find solutions to get better result and create a deeper bond with you dog.
{{#comments_count}} Show Commnents ({{comments_count}}) {{/comments_count}}