Animal graphics are everywhere right now, but pulling out your leopard print coat won't be good enough…This time, the catwalks are featuring detailed pictures of animals, with tigers being a particular favorite! I can't wait to wear this trend, and here are my top ten ways to wear it…
---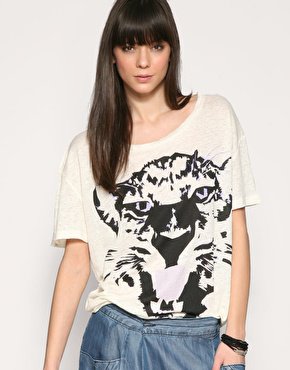 Price: $54 at asos.com
One of my favorite trends is teaming a relatively plain tee shirt such as this one, but featuring a gorgeous animal image, with a black mini skirt and high heels. It's a look which is effortless to put together, but mixes casual and formal so well you can wear it anywhere! It'll be huge this Summer.
---
2

Mango Plait Back Tiger Print Tee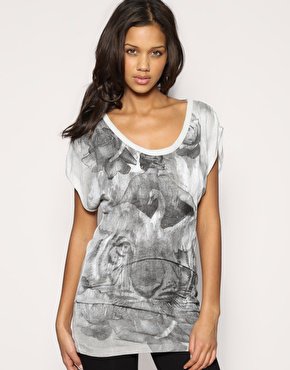 Price: $42 at asos.com
I love this style of tee shirt, which flatters every body shape and always makes me feel gorgeous! This one is right on trend, teaming a gorgeous print of a tiger on the front with a plaited back, which fits right in with the fringe trend! The fit of the shirt means it doesn't need a belt, and looks great with leggings or skinny jeans and heels.
---
3

Asos Tiger Print Vest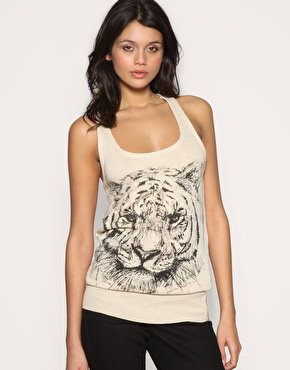 Price: $37 at asos.com
Tigers are huge, and this vest is the perfect way to bring the look into your wardrobe without spending too much money. It's easy to dress up with a mini skirt, or a monochrome look, but looks just as great teamed with jeans and trainers for a casual look!
---
4

Lee Batwing Cat Print Tee Shirt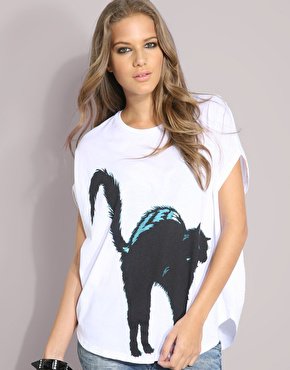 Price: $30 at asos.com
This tee shirt is super comfortable, and an amazing mix between slouchy and tight fit tee shirt. It clings enough to show that you do have a figure, but is loose enough to be comfortable… and teamed with turn-up jeans and boots, it makes a simple but absolutely gorgeous outfit! And who doesn't love the cute cat image?!
---
5

N2 Cat Bracelet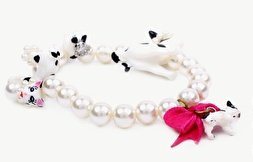 Price: $37 at asos.com
If you want to wear the trend but aren't keen on animal print clothing, there is some dead on trend jewellery too, such as this super cute cat bracelet! The pearls and ribbons give it a very girly, cute look, and the cat charms play this down to make it perfect for injecting an extra edge to any outfit.
---
6

Giraffe Print Oversize Tee Shirt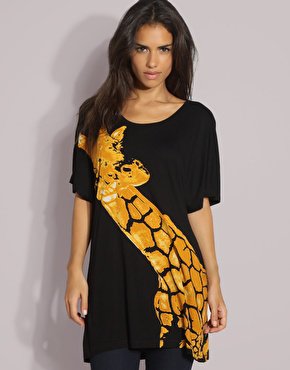 Price: $25 at asos.com
This gorgeous black tee shirt features a gold giraffe, and is so unusual and pretty! It's longline, and quite slouchy, but if you are short like me it makes a brilliant dress, or team it with leggings or jeans. Then add some chunky gold bracelets, and a messy-chic hair do!
---
7

Lauren Moshi round Giraffe Tee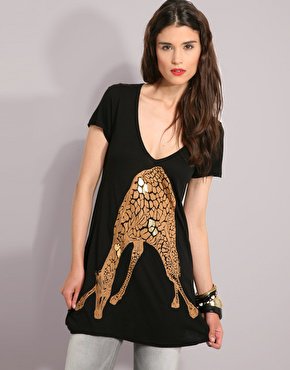 Price: $82 at asos.com
I love giraffes, and it appears that I'm not the only one! This tee was worn by Halle Berry, and it's not hard to see why she loved it! From the round neck to the slouchy but sexy styling, the tee itself is comfy, and the print is gorgeous. It makes a great casual look teamed with jeans, but looks super chic worn with a mini skirt and blazer too!
---
8

Numph Owl Knit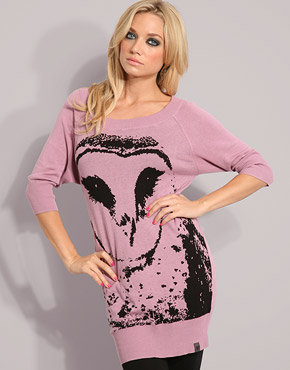 Price: $59 at asos.com
I hate being cold, so this jumper is top of my wishlist for those colder Summer days! The pastel colouring and cute image are worlds away from winter's dreary style, but the knit is thick enough to keep you warm and snuggly without needing to layer several jumpers. And if it warms up, just add some leggings and it makes a super cute outfit! It even looks glam with a black belt round the middle.
---
9

Asos Owl Pendant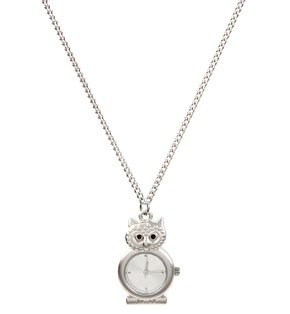 Price: $27 at asos.com
I am in love with this gorgeous pendant! The cute owl outline is divine, and the watch is the perfect way to tell the time… it'll look stunning worn with a slouchy loose fit top, and some skinny jeans. And it makes you feel a million dollars too!
---
10

Slowmotion Organic Cotton Horse Vest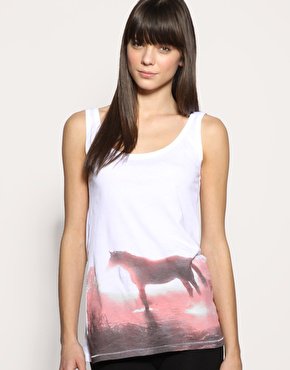 Price: $76 at asos.com
This scoop neck top is specially shaped to balance out your body shape and make you feel confident, despite looking low key and on trend. I love the detail on the picture, too! It looks great with leggings or jeans, but team with black jeans, a black belt and a white vest and black heels for the perfect take on animal graphics and monochrome!
I can't wait to wear this trend, and I'm already stocking up on these essentials and keeping my eye out for rarer outfits…I'd love to see a panda print top! I'm also in love with this super cute dress, but I don't think it'd fit me… it's my little sister's birthday present sorted! Have you spotted a super cute way to wear the animal trend? Please share it with me!
More
Comments
Popular
Recent