Spring is here and so is the color green. After long drab winters of white and grey I'm always excited to start wearing the color of nature. Green means grass and flowers and trees and warm sunshine, bike rides andpicnics. At least it does to me! These are 10 ways you can go green by adding it to your wardrobe.
---
1

Striped Riverdale Dress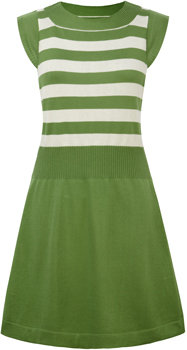 Price: $48.00 at fredflare.com
This adorable dress makes me want to go on a boat ride. Light weight knit makes it comfortable even when those spring nights get a little chilly. Don't forget your pretty spring shoes.
---
2

Virginia T Strap Sandals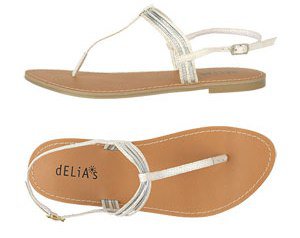 Price: $34.50 at store.delias.com
Simple t-strap thong sandals perfect for those summer dresses we all love to wear so much. Not sure you love the green? Well, they do come in a rainbow of other colors, too!
3

Bicycle Socks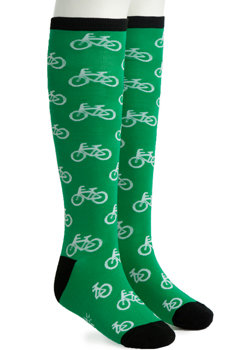 Price: $12.00 at fredflare.com
If these don't inspire you to pull out that old bike you've got in the garage I don't know what will. They're just so cute! I'm thinking you should throw everyone off and wear them with a pair of oxfords.
---
4

Mademoiselle Trench Coat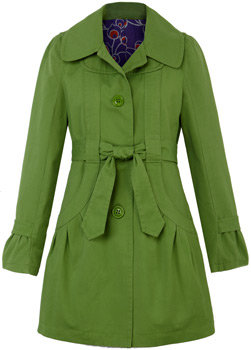 Price: $84.00 at fredflare.com
It's the details of this fabulous coat that make it such a great find. It has a cute lining, gathered pintuck details, and a flirty bow. It's just the right weight to keep you warm on those chilly spring days and nights!
---
5

Green Stella Watch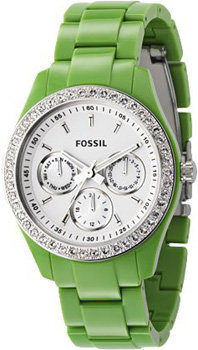 Price: $95 at fossil.com
I have three different versions of this same watch. I can't rave about it enough! The color is vibrant and the bling is a plus. Plus it's got one of the best warranties you can get.
---
6

Chinese Laundry Sweet Caroline Shoes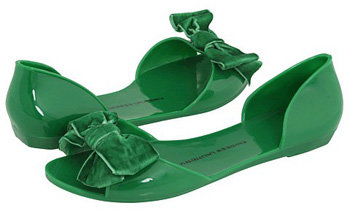 Price: $38.95 at zappos.com
These feature a super cute bow and would look great with something pretty and flowy. Then again they'd pop against a pair of dark denim skinny jeans. Either way, you can't go wrong!
---
7

6thJune "Perfect Match" Necklace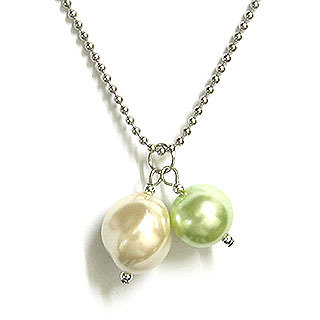 Price: $28.00 at yesstyle.com
Pearls are simple and classic. You can wear this pretty pearl neckalce with something formal, or you can add it to something casual to help dress it up. It doesn't matter. It'll go with anything you put on!
---
8

Old Navy Origami Appliqué Cardigan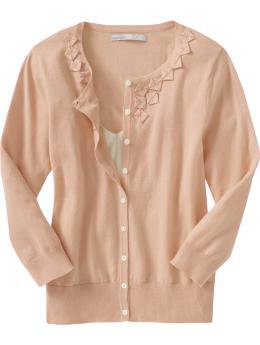 Price: $26.50 at oldnavy.gap.com
I can think of a million things to wear underneath this fabulous cardigan. Okay, maybe not a million, but I'm not seeing a down side here. Camis, tanks, tees, v necks, sundresses… just toss this sweater over your shoulders to keep you warm and add a pop of color! The "melon ball" green color is only available in the tall sizes... drat!
---
9

Old Navy Women's Linen Blend Boyfriend Shirts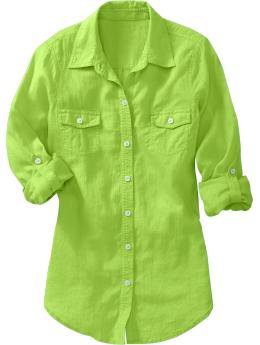 Price: $24.50 at oldnavy.gap.com
You don't have to steal your boyfriend's shirts anymore. Just get one of these ones from Old Navy. Sure, it won't smell like him, but you'll have a cut that shapes your body better and you can get it in fun bright colors like this! Pair with cute shorts or fashionable leggings and you're set.
---
10

Green Satin Rosette Flapper Headband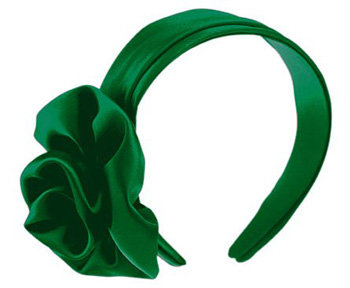 Price: $22.00 at shopplasticland.com
Those ladies in the 1920's sure did have some style, didn't they? I don't know about walking around in a flapper dress all of the time, but you can still pull off the same idea with a cute bow like this. Afterall, headbands are always flirty and cute.
With all of these great items there isn't a reason you can't try a little green in your style. Is there anything green and gorgeous you're thinking about adding to your wardrobe?
Do tell!
---
Popular
Related
Recent