10 Very Useful Eye-shadow Palettes ...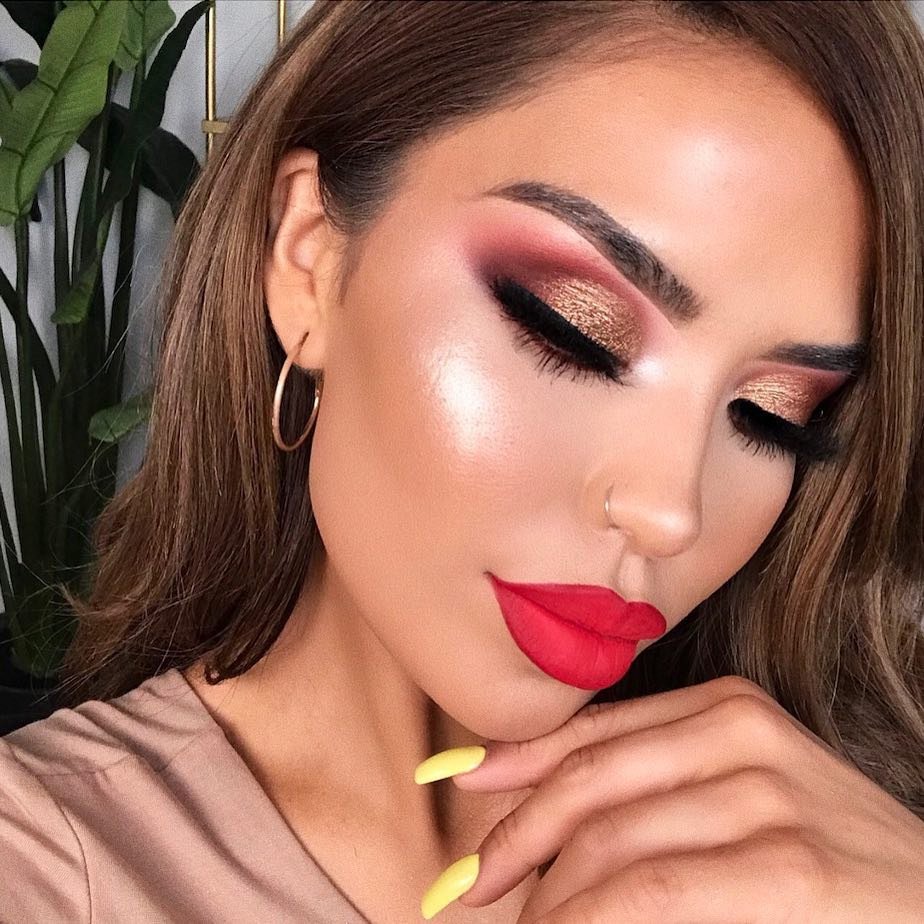 Ah, all those beautiful eye-shadows! I swear to you, every time I see a cute-looking eyeshadow set, I just can't restrain myself. It's like being possessed – one moment I'm looking at it, the next moment I see the cashier returning my credit card, stuffing the receipt into a bag and handing it to me with the cutest "thank you" I've ever heard! Now, the biggest problem in every palette is the fact that 40% of the colors could come handy only for Halloween, so I've decided to have a different tactics from now on – make a list of the useful eyeshadow palettes and stick to it! And my list goes something like this:
1.

Urban Decay –the Black Palette
Price: $36 at sephora.com
Fans of darker colors will definitely love this smoky eye-friendly palette. It does look a bit "gloomy" but, believe me, every color from it is absolutely usable and some even for day wear too (learning how to dose properly is the key to that)!
2.

Kat Von D –True Romance
Price: $34 at sephora.com
Delicate shimmer, rich velvety colors and a perfect balance between light and darkness – that's the best description for this practical set of eye-shadows by Kat Von D. Definitely a keeper!
3.

Clinique– Color Surge Eyeshadow Trio
Price: $22 at sephora.com
If you're looking for a neutral eyeshadow palette, these soft, pastel trios from Clinique lab are something you just can't go wrong with. They are allergy tested and fragrance free so, sweetie, they don't just look good, they ARE good.
4.

Tarte Ten Limited Edition Palette
Price: $44 at sephora.com
Smoky look, neutral look, glam look – there are no limits when it comes to the looks you can create using this practical palette. Now, that's the least I have to say in the looks department. When it comes to lab tests and the list of harmful chemicals these eye-shadows DO NOT contain, the story goes even further…
5.

Too Faced – Smoky Eye Palette
Price: $35 at sephora.com
Is there a more perfect gift for any of your BFFs, cousins or other important females in your life? Every color a girl could possibly want for a smoky-eye look is contained in this wonderful palette, which, of course, makes it a smoky-eye essential along with a XXXL volume mascara and a good eyeliner.
6.

Urban Decay – Naked Palette
Price: $44 at sephora.com
Here it is– the key to a perfect business look, sporty look, romantic look! The 12 shadows, black and brown eye pencil and a tiny primer contained in this set will make your eyes look gorgeous and yet so natural. Like you were born with it! (Hope Maybelline won't sue me for using this line...)
7.

Sephora Collection – Color Diary
Price: $34 at sephora.com
If compiling a thesaurus had been my job, the picture of this set from Sephora is what I would have put next to the words "practical" and "useful." Just imagine that – five different palettes you can just change as you wish. Just one click and the palette is in the compact and ready to go! And you get all of those colors for just $34!
8.

Sephora Collection – Colorful Artist Palette
Price: $30 at sephora.com
Here it is, the starter kit for every make-up artist-to-be. Matte colors, shimmery colors and shiny, metallic colors you can use both wet and dry to create the looks you wish. I totally love it and, since it's on my shopping list, get ready for a review soon!
9.

YSL – Ombres Duolumieres
Price: $41 at sephora.com
If makeup could be compared to cars, YSL would definitely be a Porsche. Some people would say it's expensive, some would even go into questioning its effectiveness and arguing about how smart that investment was, but the owner would just smile knowing that he made a good choice. And like a Porsche, these silky smooth, luxurious shadows are worth every penny.
10.

Urban Decay – Book of Shadows Vol. III
Price: $54 at sephora.com
Not really a book fan? Well, I'm guessing you won't have any problems with this one! Feel free to judge it by its covers, use it wise and I'm sure it will help you bring your "covers" to a whole different level.
Any of these palettes would be a great refreshment to any girl's makeup collection. What do you think? I have tried some of these but some are still on the shopping list so, if you have used any of them, do share your experience.
{{#comments_count}} Show Commnents ({{comments_count}}) {{/comments_count}}