I'm well aware that not everybody can be a fan of Sephora but I must say that I am. In fact, Sephora is the first place I go to whenever I need to restock my beauty supplies. Who can blame me, after all, Sephoras grow like mushrooms here and we literally have one on every corner. However, there are some things you can't buy in Sephora shops but, don't worry my Sephora fans – whatever is unavailable at Sephora's regular shop can be found in their online shop. Furthermore, this way of shopping does have its pros and I'm not talking about the fact that you don't have to go out. Behold, for I shall reveal some of my favorite deals and offers:
---
1

Free Paco Rabanne Urban Bag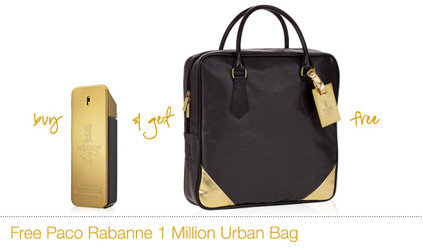 Price: $70.00 at sephora.com
If you are thinking of buying a perfume for him, this deal is something you should definitely consider. He'll get a big pack of Paco Rabanne's ultra popular One Million and you'll get this gorgeous bag in black and gold. Now isn't that something that would make both of you happy? I bet this price is a little bit higher than the one you were expecting to pay for a perfume but he will appreciate a big pack – we all know men bathe themselves in perfumes like they were holy water.
---
2

Free Gucci Flora Solid Perfume Compact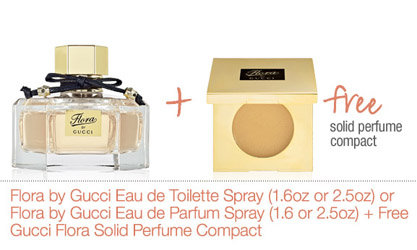 Price: $70.00 -$90.00 at sephora.com
Your bottle of Gucci Flora is getting empty? Well, rush and get the new one while they have them in stock and you'll get a solid version of your favorite fragrance for free! A true Flora fan can recognize a good bargain, I'm sure of that! So, would it be great to have your fav perfume in its solid form, packed inside a glam compact easy to take along and whip out in any occasion?
3

Free Harajuku Lovers Bento Beauty Wicked Style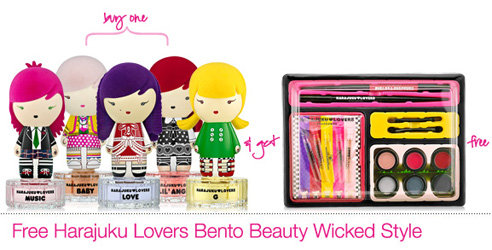 Price: $45.00 at sephora.com
This would sure make a great gift for a fan of Harajuku Lovers fragrances. All you have to do to get this cool set of makeup is add the Harajuku Lovers fragrance of your choice and enter the BENTO promo code at the checkout. Nice, huh?
---
4

The Jewelry Box by Tarte
Price: $52.00 at sephora.com
This luxurious makeup box contains every single eye shadow color you will ever need! But, the story doesn't end there! Now, I won't tell you anything about these eyeliners, lip glosses, bronzers and blushes, because you know a cool set like this one must contain a good number of those, too. What I especially like is the chain on the top because you can actually detach it and wear it as a necklace. Nice touch!
---
5

Phenomenal Lashes by Givenchy
Price: $59.00 at sephora.com
I totally love these special offers – you pay less for the actual products and get a cool accessory for free. This value set from Givenchy includes mini versions of everything you will ever need on the go and they even come packed in a cool purple pouch I could definitely match with some shoes. So, we have a mini package of foundation and moisturizer to keep you looking your best anywhere, a mini version of the Very Irresistible perfume to make sure you always smell great and, oh yeah, let's not forget the lip gloss, mascara and lash booster either! Now, that's something every girl needs.
---
6

Brightening & anti-Aging Rose Collection by Korres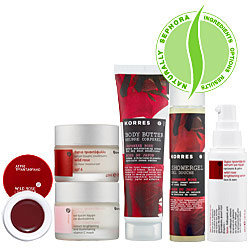 Price: $54.00 at sephora.com
Now, this is a brand I, personally, love very much so, if you haven't tried it yet, I'm suggesting you definitely do so. For a set like this, this price is actually quite a bargain so there you have it , all your skin needs to stay young and energized - bagged, tagged, combined in a great limited edition set available in Sephora's online store only. Pay close attention to the green label and do read the list of harmful chemicals these products are formulated WITHOUT – that should give you a sneak preview of all the health and beauty benefits this goodie bag contains.
---
7

Free Ralph Lauren Polo Duffle Bag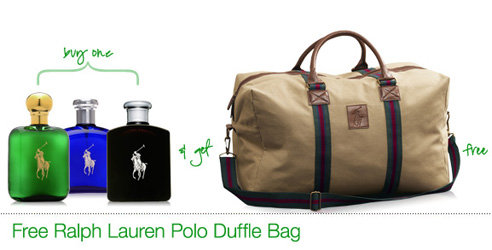 Price: $72.00 -$82.00 at sephora.com
Here's another cool offer you can take an advantage of if you're planning to surprise your man by getting him a perfume. I know that buying perfumes became quite cheesy these days, but men always need perfumes. Not because they stink or anything, but because they don't make those impulse purchases we often do. Women collect perfumes and have their daytime favorites and evening favorites, summer hot picks and winter hot picks… Men just don't look at perfumes like that, at least most of the men I know. They use the one they have until it's gone and their shopping impulse is evoked only by a sight of an empty bottle. So, to cut the philosophy short, you get him a perfume, a perfume comes with a free duffle bag and a man smells great without having to navigate through the complex maze we call Sephora and spend a half an hour sniffing various samples. That alone is enough to make him happy, the duffle bag is just a stylish, practical bonus he would sure find very useful.
---
8

Deluxe Antibacterial Brush Set
Price: $60.00 at sephora.com
I know this set isn't exactly free but come on ladies, we're not here to discuss itsy bitsy thingies – you can get a good deal on a single lip gloss or mascara anywhere so there's definitely no need to order it off the internet and pay shipping costs. Now, back to the set and it's amazing antibacterial properties. You, of course, understand the importance of keeping your brushes crispy clean and I've picked this set to help make that process a bit easier. Each and every one of these brushes is coated with a special hypoallergenic compound that actually kills the bacteria instead of collecting them! Now, that's certainly a break trough we could all benefit from.
So, what do you think about these deals? Do you already use some of these products and is there an offer on this list that's so good you just can't say no?
---
Popular
Related
Recent