If you're updating your wardrobe **with the season's **hottest trends in clothes, you should definitely have the **accessories **to match. How about a funky pair of earrings for that tie-dyed top that you have? Or an intricate necklace for the Rihanna-esque bandage dress that you've spent a fortune on?
We may already be halfway through 2008, but there's still plenty of fun to be had for the remaining months when it comes to accessories. For jewelry **items which can complement or highlight your outfits, look for extra-large **gemstones, chunky bracelets, glittery and oversized gems and lacquered bangles.
The words to describe your **accessories **should be **oversized, metallic, colorful, bold and fun! **
Check out** All Women Stalk's Top 30 Accessories** which you can mix and match with the old-and-new dresses, skirts and tops that you have in your closet.
**30. Dior Fine Jewelry Boulder Opal Necklace **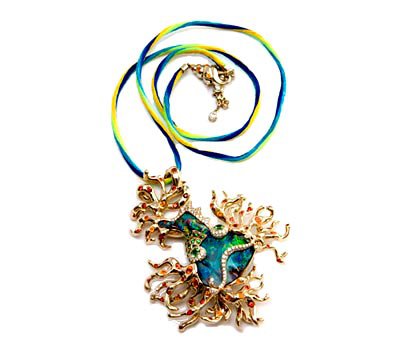 This Dior necklace has a boulder opal pendant with diamonds, sapphires **and **garnets. You can wear it to match a dress with a blue hue, or to add some color to a plain white top. The opal stone of the **jewelry **also makes a great gift item for those who are born in October.
**29. Roger Vivier Tektronic Bangle **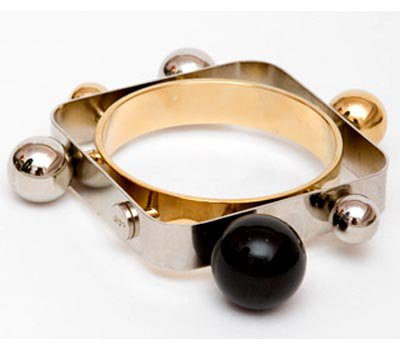 When looking for bracelets, cuffs or bangles to adorn your wrist, the rule of thumb this season is the chunkier, the better. This Tektronic bangle from French designer **Roger Vivier **is big enough to make that bold fashion statement.
**28. Chloé Wood, Leather & Crystal Necklace **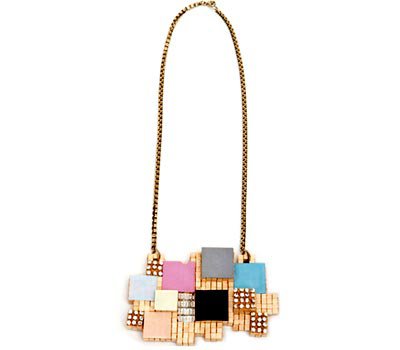 The colors on this wood, leather and crystal necklace by **Chloé **are an ideal match for either the most casual or the dressiest ensemble that you have.
**27. Anna Sui Bangles **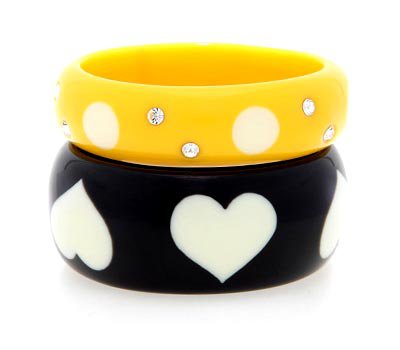 Look like an adorably chic fashionista with this pair of Anna Sui bangles. The portion in yellow is decorated with rhinestones, while the heart accents on the black part make for an interesting contrast.
**26. Repossi Ring **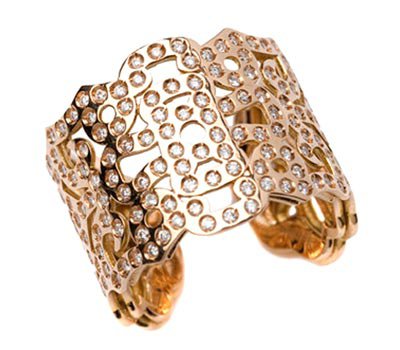 Take pink to the next level with this pink gold Czarina ring with diamonds! It is the ultimate statement of understated elegance and sophistication.
**25. Bottega Veneta Tiara **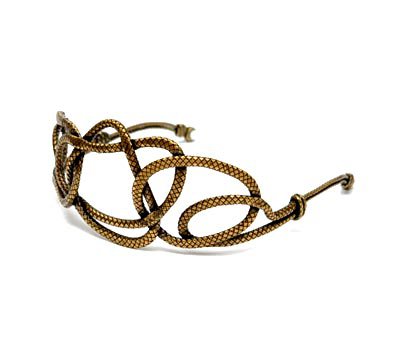 This dramatic antique brass tiara from Bottega Veneta will make you steal the scene at any event that you will be attending.
**24. Pellini Resin Bracelet **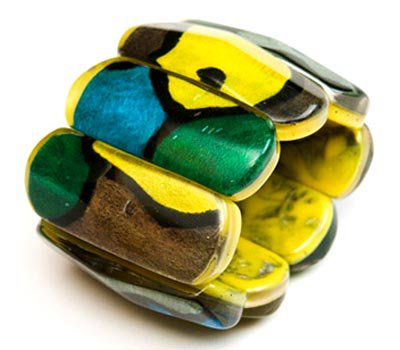 This resin bracelet from **Pellini **can be worn as a chic and funky accessory to match your street clothes, any casual summer outfit or sundresses in a similar color.
**23. Marc Jacobs Mouse Ring **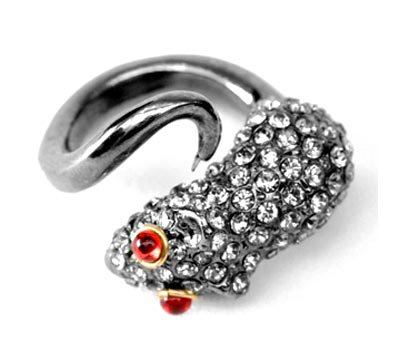 Remember the animated movie "Ratatouille"? This Marc Jacobs ring takes the word **'mouse' **to the next level.
**22. Michael Kors Chain-Link Necklace **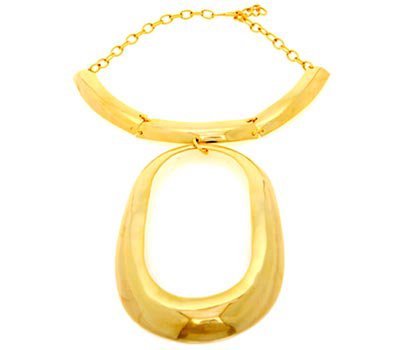 Classic, chic and luxurious are the designs that Michael Kors has long been known for -and this designer chain-link necklace is a perfect reflection of that.
**21. Missoni Brass Bracelet **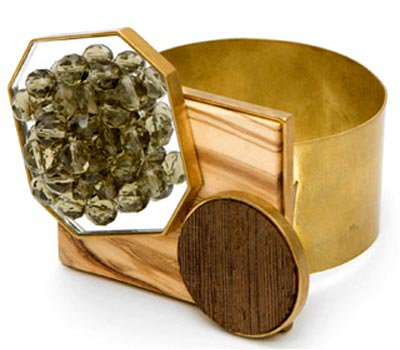 A truly stunning piece of jewelry, this brass bracelet from **Missoni **simply takes your breath away. From the wood and bead detail, to the unique shape and design -this is one piece of **accessory **which is worth every cent.
20. Prada Leather Bracelet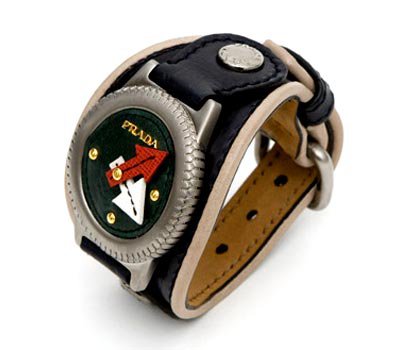 Feel like a Sporty Spice girl all over again in this Pr**ada leather bracelet with watch detail. **
**
---
19

Tom Binns Hand-Painted Cuff **

**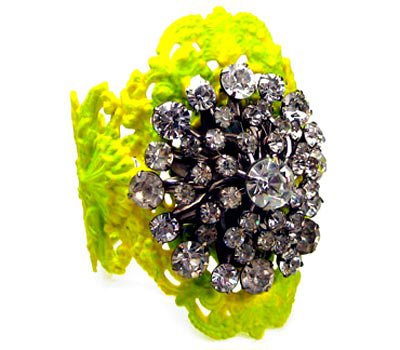 This is called the New Now Cuff** hand-painted cuff with vintage crystals. Wear this around your wrist and look striking with the combination of that bright color on the background and the antique-looking crystals which highlight the piece.
**18. Nina Ricci's Silver Metallic Bauble Ring **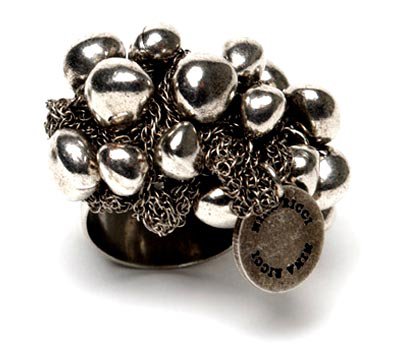 A woman's delicate hands deserve nothing less than the ultimate statement of elegance and **sophistication. Wear this metallic bauble ring from Nina Ricci **and feel like you're a diva worth a million dollars.
**
---
17

Eternamé Emerald Cuff **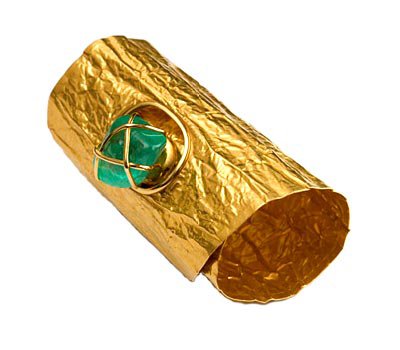 This Eternamé **emerald cuff reminds me of Bindi's and the **golden accessories that Indians wear on their arms. Look and feel **exotic **by cuffing this elegant piece of jewelry on your wrist.
**
16

Ana Lucia De Teresa Gold Ring with Diamonds**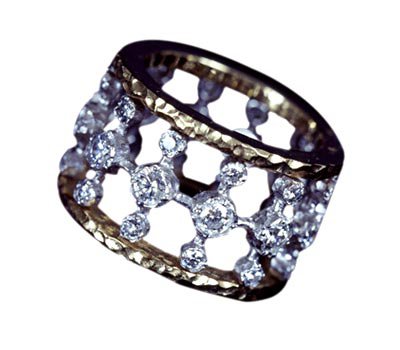 Dazzle your date with the sight of you in the Ana Lucia de Teresa gold ring with diamonds. It works well with your shortest, slinkiest red dress or your long and dark evening gown.
**15. Burberry Lacquered Cuff with Stud Detail **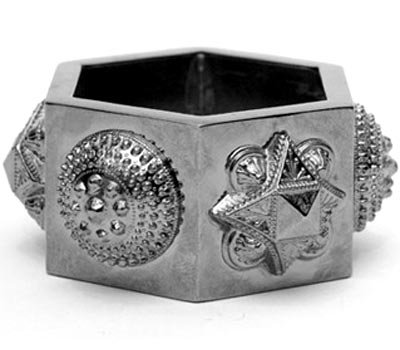 You can clearly see the fine craftsmanship which went into the design of this Burberry lacquered cuff with stud detail. It will go well with a dressy top and a pair of jeans, or to add a metallic touch to your casual evening dress.
**14. Carlos de Souza Sapphire Pendant Necklace **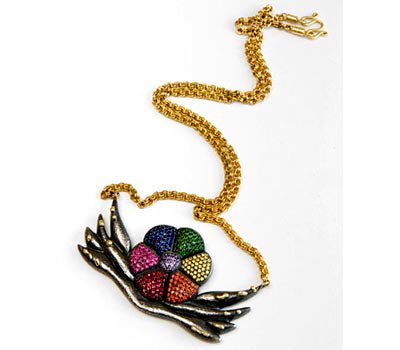 You will never feel like a wallflower with this uniquely-designed sapphire pendant necklace by Carlso de Souza.
**13. Lanvin Strass Necklace with Metal Rings **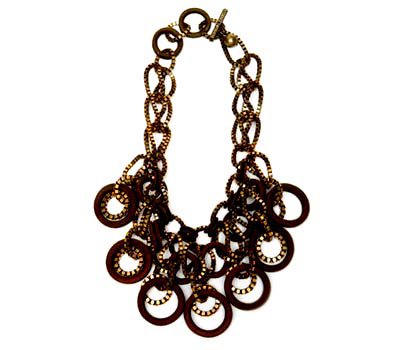 Talk about a scene-stealer. This Lanvin strass necklace with metal rings provides just the right touch of edginess to your most sophisticated ensemble.
**12. Marni Resin and Wood Cuff **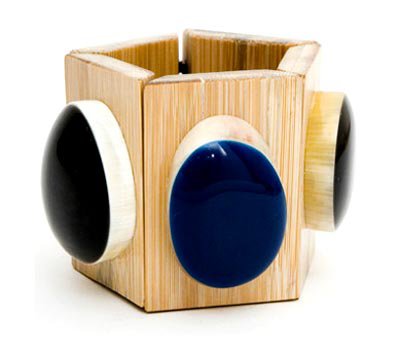 If you're feeling a little dowdy in your getup, this resin and wood cuff from Marni will give your look just the right 'oomph'.
**11. Luigi Scialanga Double Strand Turquoise Drop Necklace **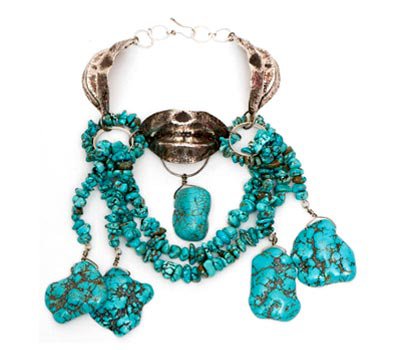 Whether you are wearing a little black dress **or an otherwise drab business suit, this double strand **turquoise drop necklace will lend an air of 'high fashion factor' to your outfit.
**10. John Galliano Knotted Pearl Choker with Jewel Detail **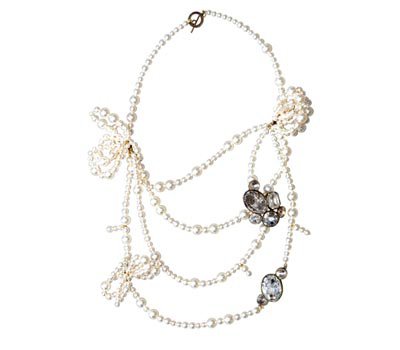 No matter what the season is, chokers are always a hit accessory. This John Galliano knotted pearl choker with jewel detail is fun, elegant and stylish.
**9. Louis Vuitton Flower Necklace with Owl **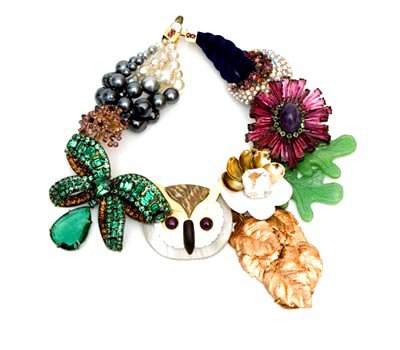 This Louis Vuitton flower necklace with an **owl **for an accent is already a fashion statement by itself, so wear it with your most subtle and understated outfit.
**8. Gripoix Nuit Cuff **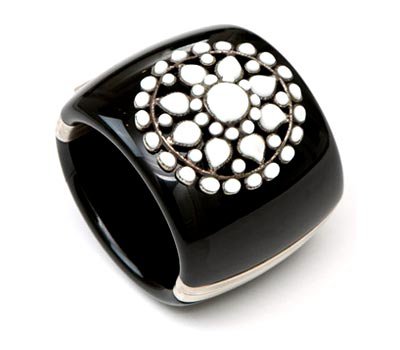 Just look at that glass snowflake motif in this Nuit cuff by Gripoix. The black-and-white color is so trendy, and it would look great on almost any outfit that you decide to wear.
**7. Hervé van der Straeten Wave Earrings **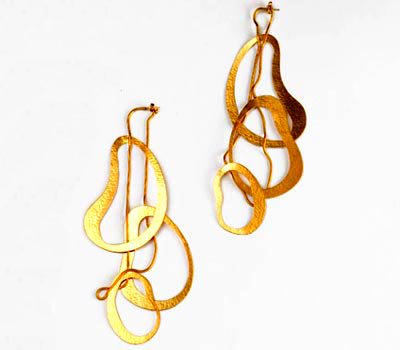 If there is one piece of jewelry that I absolutely cannot do without, it's earrings. I'm absolutely drooling over this pair of Hervé van der Straeten Wave Earrings. The design and the craftsmanship of the jewel makes it on top of your accessory must-have list!
** 6. Yves Saint Laurent Multicolor Star Necklace **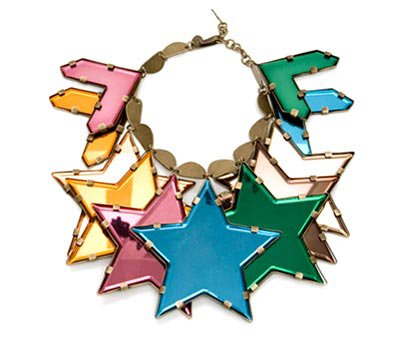 It may look like there's too much going on with this multicolor star necklace from Yves Saint Laurent -but that's the trend for this season. Fun, funky, chunky and multicolored -it's what summer fashion accessories is all about!
**5. Adelline Roussel Gold Cuff Bracelet **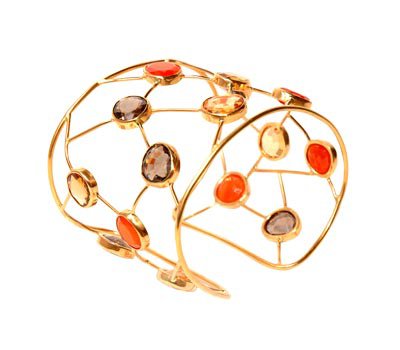 This is another personal favorite. It's a gold cuff bracelet from Adelline Roussel, which is adorned with smoky topaz, golden topaz and carnelian. The gold-and-red colors are a delight to look at, and the bracelet is worth drool over!
**4. Taher Chemirik Gold Choker **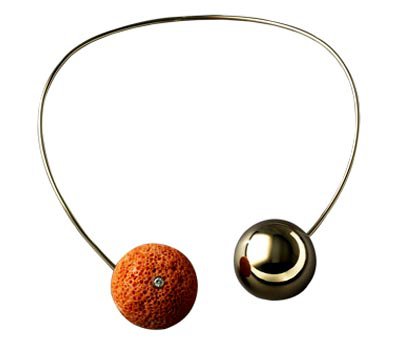 This gold choker from Taher Chemirik is a truly unique piece of accessory. The gold and coral spheres, along with the diamond detail are all part of the one-of-a-kind design.
**3. Villa Ruby and Diamond Ring **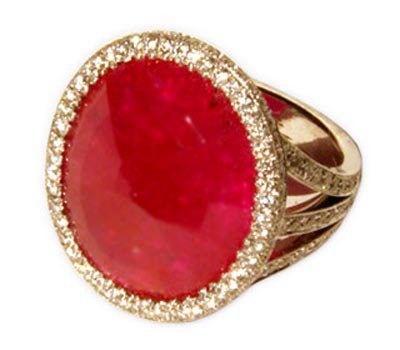 Will you take a look at that exquisite color? This Villa ruby and diamond ring lands on the top three of our list because: it's simply gorgeous.
**2. Yohji Yamamoto for Mikimoto White Gold Drop Earrings **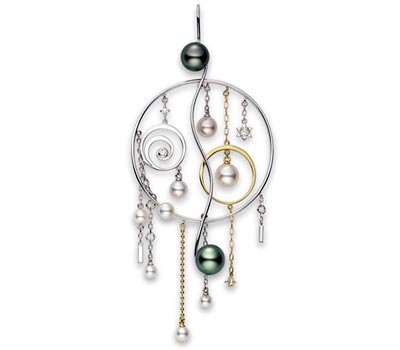 These white gold drop earrings with black and white pearls from Japanese designer Yohji Yamamoto is an alluring pair of earrings. Wear it with your black maxi dress and little other jewelry to highlight the details of the dazzling design.
**
---
1

Versace Blue Cocktail Ring with Green Stone Detail**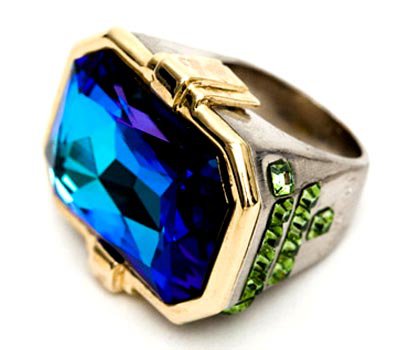 This season, huge precious and semi-precious stones are definitely in. This Versace blue cocktail ring with green stone detail is truly dramatic and awe-inspiring. Wear it on your ring finger and the words style, sophistication and elegance will ooze out of you!
Whether it's** earrings, necklaces, pendants, bracelets, cuffs or rings that you are looking for -the beginning of summer is always the best excuse to go all out in **accessorizing.
With such**** bold and unique designs to look forward to in the accessories department this season, shopping has never been more fun and exciting!
Related Posts:
•


Summer Fashion Trends - The Shoe Fetish - Top 30
•


Accessories Alert: The 30 Hottest Designer Handbags for this Season
•


Let's Talk Fashion Obsessions
•


Spring-Summer Fashion Alert - 55 Most Fabulous Trends
More
---
Comments
Popular
Recent