High heels may look like modern and expensive torture devices for the **feet **-but finding the perfect pair makes women utter the words "Hello, lover!".
Now that summer **is officially here -it is a good a time as any to bring out the **fashionista **in you and indulge in divine **classic pumps or a pair of fabulously trendy gladiator sandals.
When shoe shopping, look for the season's hottest shoe trends: bold, flirty, fun -even futuristic -and they should come complete with accessories!
Take a look at our comprehensive list of to-die-for shoes which are your summer ****must-have's:
30. Patent Leather Nico Pumps from Brian Atwood

Brian Atwood is known for his brazenly sexy footwear design, and this pair of patent leather green Nico pumps is a reflection of that. Wear this as a bright contrast to your office suit, or as a complement to a flirty sundress.
As the designer himself said, a sexy pair of shoes will never let a woman down.
29. Satin & Elastic Sandals by John Galliano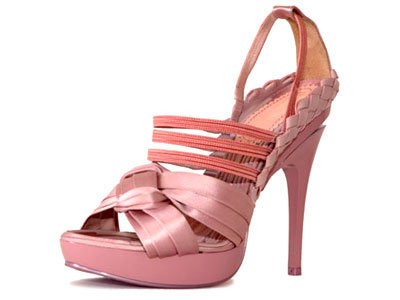 Feel like a Hollywood celebrity with this fabulous pair of pink high-heeled sandals by John Galliano. In keeping with the summer trend, the design is cool, comfy and the materials used are a combination of luxurious satin and functional elastics.
28. Psycho Peep-Toe Pumps by Alexandra Neel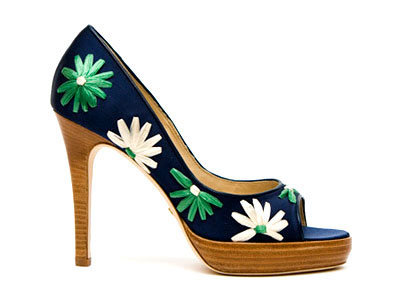 Alexandra Neel first launched her own line of shoes way back in 2001 and she has definitely come a long way since then. The green-and-white floral detail in this pair of psycho peep-toe pumps is the ultimate fashion statement for summer.
**27. Strappy Lace-up Stilettos by Alessandro Dell'Acqua **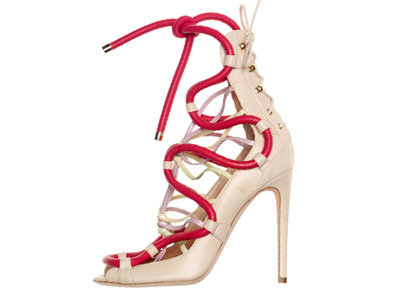 For me, 'futuristic' is the best way to describe this pair of strappy lace-up stilettos. Feel like a vamp with a mission of heating up those summer nights in this delightful pair of by Italian designer Alessandro Dell'Acqua!
26. Leather Sandals with Striped Bow by Bruno Frisoni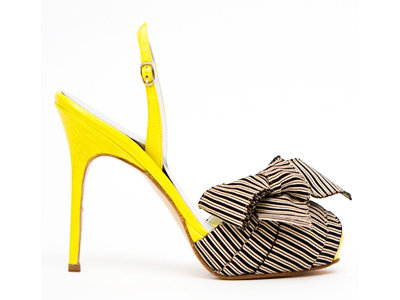 If you would like to have that straight-off-the-runway look, check out this pair of leather sandals with an exquisitely striped bow. It's something straight out of Bruno Frisoni's spring-summer '08 collection.
25. Molded Lace-up Sandals from the Calvin Klein Collection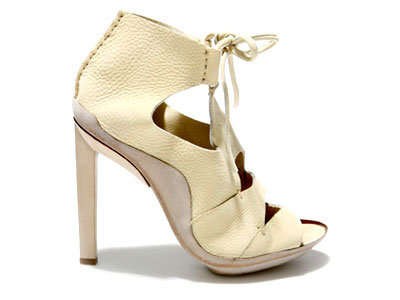 No trendy** shoe collection** for any season will ever be complete without a classic pair of Calvin Klein shoes. This delicate pair of molded lace-up sandals is the perfect complement to any chic outfit for the summer.
24. Patent Leather Peep-Toe Pumps by Versace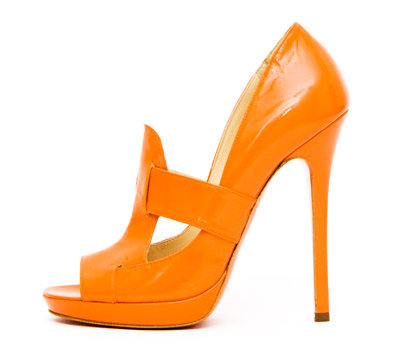 These orange peep-toe patent leather pumps by Versace **are a perfect reflection of the designer's sense of style. Fun, bright, flirty and classy -what more can you ask for from the perfect pair of **summer shoes?
23. Patent Leather Wedge Ski Boots by Chloé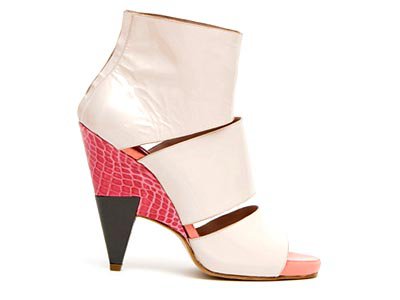 If you are an avid collector, you would agree that each tiny detail incorporated in the design of the shoes that you will buy just makes you fall in love with it even more. Notice the red snakeskin detail above the heels of this patent leather wedge skis boots by Chloé. They're simply fabulous!
22. Braided Satin Wedge Shoes by Bottega Veneta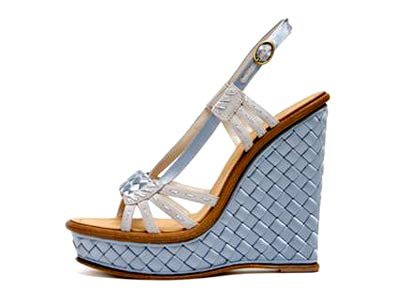 All of us here at AllWomen'sTalk agree that these braided satin wedge shoes from Bottega Veneta are worth drooling over! Whether you are wearing a pair of jeans, a conservative skirt or a flirty summer dress with spaghetti straps, these babies are the perfect footwear.
21. Open-toe Pumps with Stone Detail by Marc Jacobs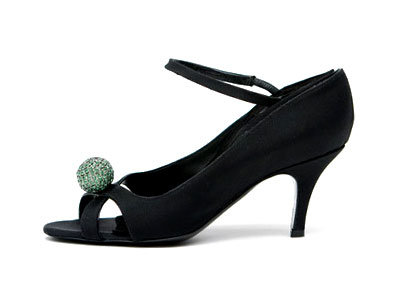 If you are looking for a trendy pair of shoes to complement your evening gown or a formal dress for those hot evenings out, these open-toe pumps by Marc Jacobs are perfect. The bold stone detail and the ankle straps make them both elegant and extremely easy-to-wear.
20. High-heeled "Running Shoes" by Pierre Hardy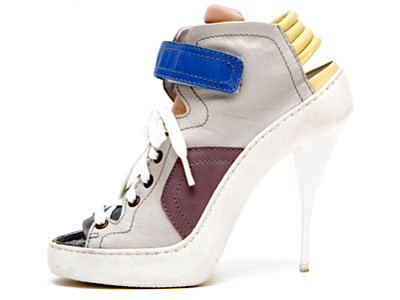 Whoever said that running shoes should be drab, plain white and made of rubber? Patterned after the classic "running shoes", this high-heeled designer footwear from Pierre Hardy is fun, funky, unique and elegant all at the same time.
19.Satin Mules with Swarovski Crystal Bow by Giambattista Valli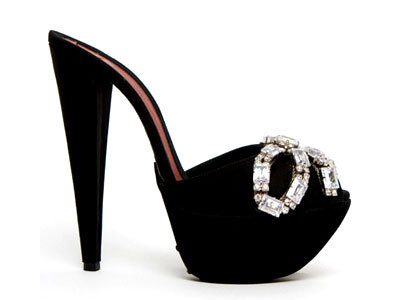 Giambattista Valli shoes are a signature Victoria Beckham look. This pair of satin mules with a Swarovski crystals-studded bow will definitely make you feel Posh-ly fabulous!
18. Metallic Leather Lace-up Oxford Shoes by Narciso Rodriguez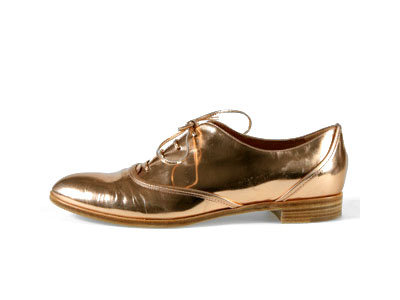 Bright colors are in this summer, but so are metallics. This metallic lace-up shoe by Narciso Rodriguez provides a modern twist to the boring, black number that kids wore in high school with their uniforms.
17. Satin d'Orsay Pumps with Spool Detail by Christian Louboutin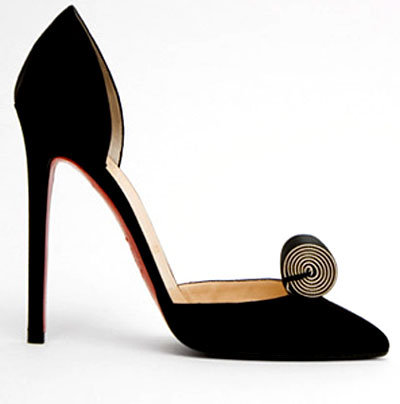 Shoe trends may come and go, but classic elegance always remains a hit no matter what the season is. This summer, invest in a pair of satin d'Orsay pumps with spool detail from Christian Louboutin -and you can't miss those signature and luxurious red soles!
16. Patchwork Kristen Booties by Dolce & Gabbana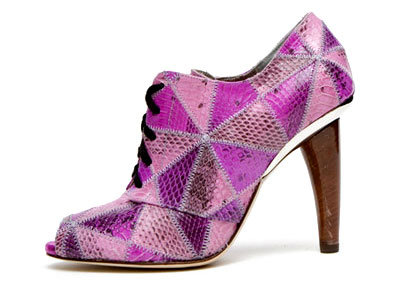 Madonna, Kylie Minogue and Christina Aguilera all wear Dolce & Gabbana. How can you get your share of elegance from these fashion-forward divas? By wearing these patchwork Kristen Booties from D & G! The color is fun and the design is absolutely funky -perfect for the summer.
15. Pony-Hair Strappy Stiletto Boots by Givenchy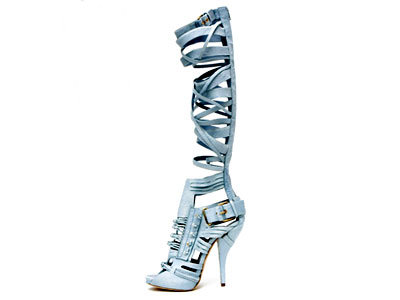 Another pair of shoes with a 'futuristic' design is this pair of pony-hair strappy stiletto boots by Givenchy. Your legs will definitely look a mile-long when encased in the sexy straps of this exquisite footwear.
14. Ankle-strap Sandals with Cutout Leather Detail by Manolo Blahnik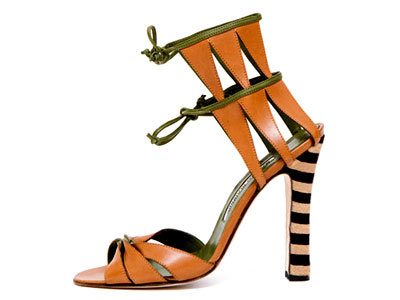 For me, ankle-strap sandals are the ultimate definition of sexy. And what better way is there to find your inner sexiness than by wearing a pair of ankle-strap sandals with cutout leather detail? And the designer -none other than** Manolo Blahnik**! Every woman should have a pair of 'him' in her shoe closet.
13. Satin Mules with Crocodile Detail by Donna Karan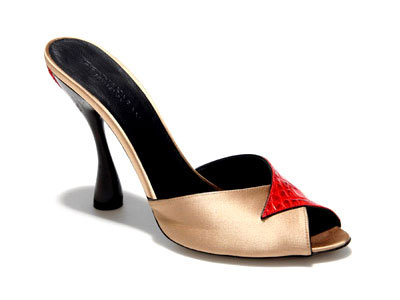 Give your feet a break from ultra-high-heeled footwear with this back-to-basics pair of satin mules from Donna Karan. It has a red crocodile detail, combined with a base of elegant, gold color.
12. Patent Leather Open-toe Pumps by Lanvin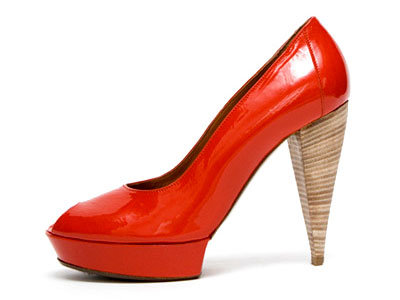 Check out the fancy heels on this patent leather open-toe pumps by Lanvin. The patent leather material, the bright red color and the cool open-toe design all perfectly complement the heat of the summer season .
11. Leather Pumps with Crystal Detail and Patent Leather bow by Louis Vuitton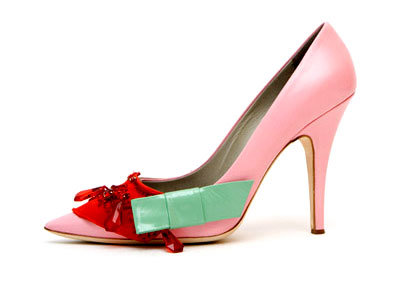 No woman can resist the charm of these leather pink pumps from Louis Vuitton. Designed by the man whose bags we absolutely cannot live without, this pair of shoes has a delicate crystal detail and a charming patent leather bow in a contrasting color.
10. Black Pearl Wedge Sandals by Michael Kors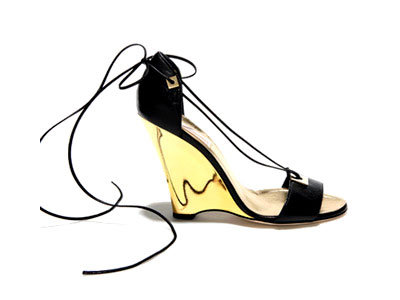 Another summer must-have is a pair of black pearl wedge sandals by Michael Kors. Instead of going for the funky look which is often associated with wedge sandals, the American designer gave it a classy twist with gold heels and its sheer black elegance.
9. Leather T-strap Sandals with Bead Detail by Nina Ricci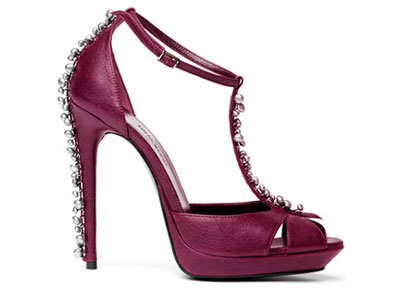 Who doesn't love beads? Get a dose of the fine bead detailing on this pair of Nina Ricci leather t-strap sandals. Designed for the woman of today, this pair of shoes is the ultimate statement of elegance and sophistication.
8. Leather Ankle-Strap Pumps by Missoni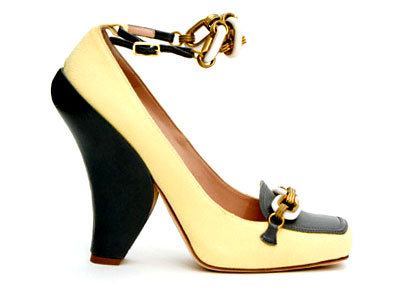 Again, details and accessories are the keywords which aptly describe the trendy shoes for the spring-summer collection of 2008. The leather ankle-strap pumps by **Missoni **are a perfect reflection of that -from the chunky heels to the exquisite gold-toned chains adorning the front and the ankle straps.
7. Lace-up Clogs with Bead Detail by Stella McCartney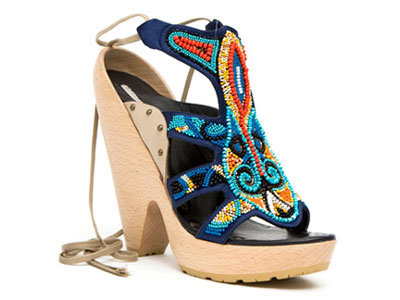 Whether you are wearing a pair of skin-tight jeans or a funky shirtwaist dress, chunky clogs are always a great way to add inches to your height. This pair of lace-up clogs with super-detailed beading from Stella McCartney looks really comfortable, trendy and summer-ready.
6. Leather Boots with Ruffle Detail by Prada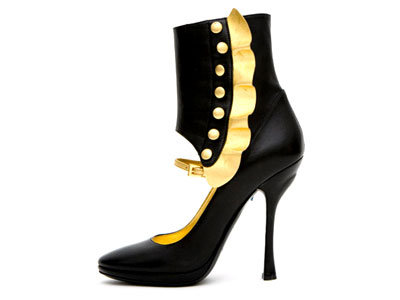 Black leather boots always made me feel 6-foot tall and ultra-sexy. Up the ante and knock the socks off of everyone by wearing this pair of **Prada **leather boots with ruffle detailing.
5. Polka-dot Pols Platform Sandals by Valentino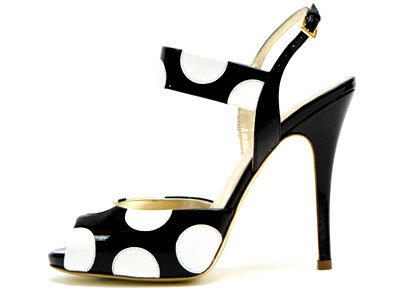 **Valentino **has always been known for his classic and romantic designs, whether it is for his line of apparel or footwear. These polka-dot Pols platform sandals mirror the elegance, romance and femininity of the Valentino-loving female population.
4. Python Ankle-strap Sandals with Jewel Detail by Christian Lacroix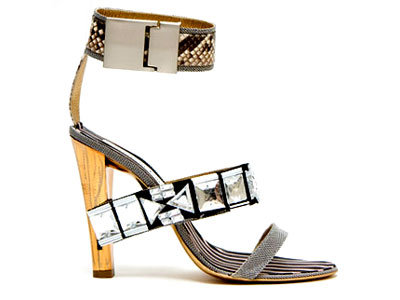 No matter how drab you think your outfit is, an elegant pair of strappy, high-heeled shoes will more than make up for it. Feel like a million dollar-diva in these python ankle-strap sandals by Christian Lacroix. I absolutely am drooling over those jewel details -and the python ankle strap is simply fab!
3. Linen T-strap Sandals with Jet Embroidery by Oscar de la Renta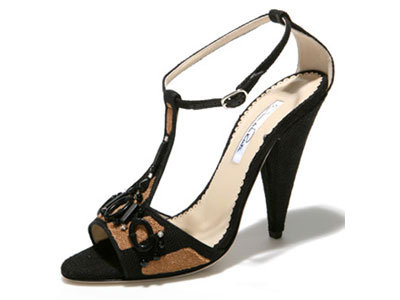 Aside from gladiator shoes, T-strap sandals seem to dominate this year's summer-spring collection. This linen T-strap sandal with jet embroidery is designed by Oscar dela Renta. It's something that you should seriously consider adding to your always-growing shoe collection.
2. Satin Mary Janes with Candlestick Heels and Metallic Flame Detail by Miu Miu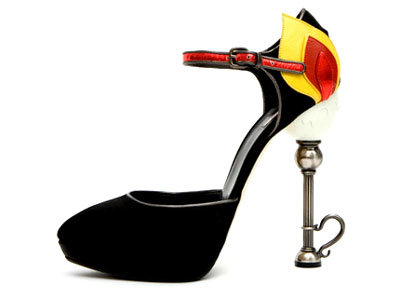 When I first saw this odd-looking contraption from Miu Miu, I almost laughed out loud at the oddity of the design. But looking closely, you can see the exquisite work put in the designing of the shoes, from the candlestick heels to the metallic flame detailing at the back. These satin Mary Janes are a must-have if you would like to stand out from the crowd.
1. Satin Folies Diamanté Heels by Christian Dior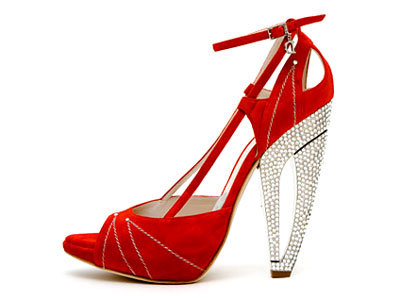 And, at last, our #1 - a splash of bright color is exactly what you need to spice up your wardrobe for this season. These satin folies diamante high-heeled shoes by Christian Dior are a great combination of designer elegance and summer fun.
There you have it - our complete selection of the trendy, funky, elegant and classics-with-a-twist shoe selection for summer. **Happy shoe shopping! **
Related Posts:
•


Summer Fashion Trends -Accessorize All Over
•


Accessories Alert: The 30 Hottest Designer Handbags for this Season
•


Let's Talk Fashion Obsessions
•


Spring-Summer Fashion Alert - 55 Most Fabulous Trends