Father's Day is next Sunday, June 19th, and you really would like to get dad something cool this year. He takes care of his children, loves them, and spends every minute he can with them. Whether he is a new daddy, stepdad, dad-like or grandpa, it's always nice to get him something to show how much we appreciate everything he's done. Instead of getting dad another coffee mug why not get him a **personalized gift **he'll be proud to show off...
---
6

Just like Dad...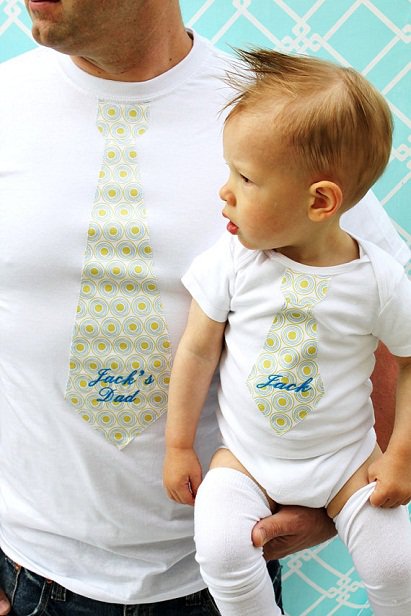 Price: $49.00 @ Etsy.com/shop/ChicCoutureBoutique
If you have a **new dad **in your life this adorable little onesie and t-shirt are the cutest set to surprise him with on Father's Day! I would love to buy this for my husband if we had a little boy, but some how I don't see my college student step-son wearing this! Choose from different tie designs and customize them with your baby's name. This is a great outfit for family photos to send everyone for the holidays!
---
5

Sweet & Personal...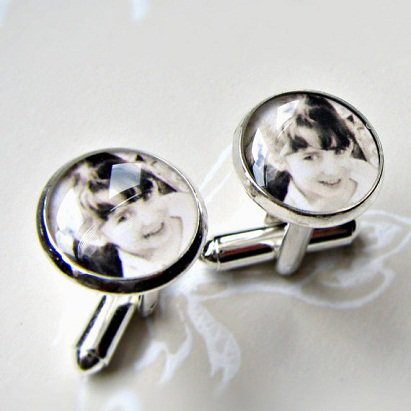 Price: $32.00 @ Etsy.com/shop/KMurphyDesigns
One day dad will be walking his little girl down the aisle and it may not be on your mind now, but these** photo cufflinks **would be the sweetest gift for him to wear as he walks with thebride-to-be. On that big day she will no longer be daddy's little girl, but he will have a lovely reminder right with him of how adorable she once was!
---
4

Daddy's Little Chef...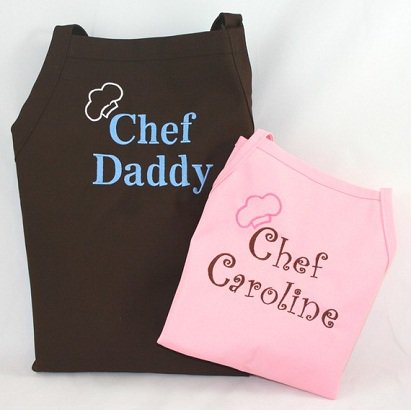 Price: $43.00 @ Etsy.com/shop/Memento
My husband loves to **cook **and my stepdaughters are starting to learn how to bake, they even made him a cake for his birthday! These **personalized chef aprons **would be the perfect gift for him on **Father's Day **so they can cook together; maybe the girls will make me dinner or cupcakes one day! If dad loves to cookor bake and wants to start teaching the kids this would be a great way to get them started!
---
3

Rock Star Dad...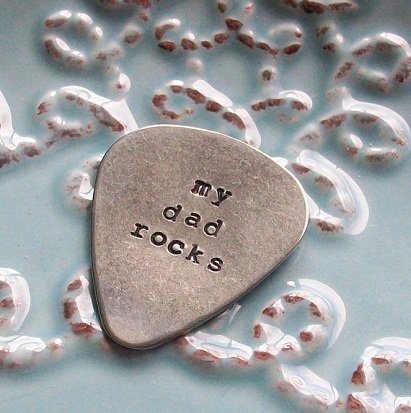 Price: $24.00 @ Etsy.com/shop/PoppyChicJewelry
Okay, so dad isn't the cooking type or the cute matching shirt type, but you still need to find him somethingthat he'll enjoy. For the cool daddio who picks up the **guitar **every once in a while, a **personalized pick **like this one would be an awesome gift to add to his rock n' roll collection. I know a few guys in my life who would love this, including my dad!
---
2

Daddy's Kids...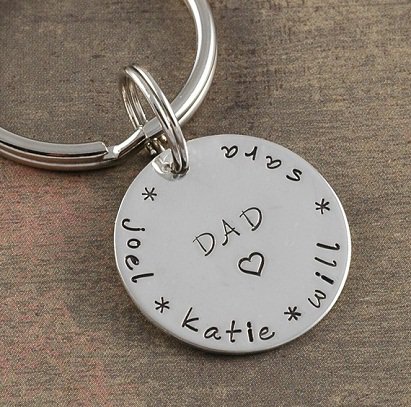 Price: $26.00 @ Etsy.com/shop/DivineStampings
What do you get him if he doesn't rock, cook, or want a t-shirt? Well most dad's love to driveand they always have their keys by their side. What better way for him to carry around his love for his children than a** personalized keychain**! It's a simple gift, but still very thoughtful. When dad picks up his keys to go to work he'll see his kids' names and just smile, and won't mind going to work any more!
---
1

Wear It Proud...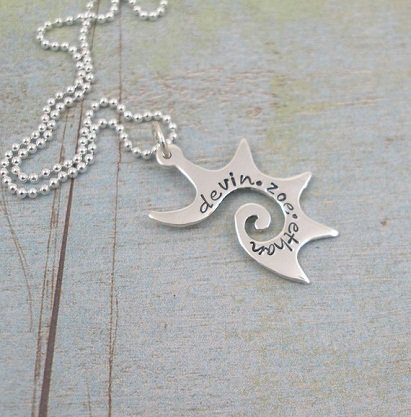 Price: $33.00 @ Etsy.com/shop/TinyTokensDesigns
Many guys don't like to wear jewelry, especially necklaces. But when a **charm **is as amazing and cool as this one, dad might not mind wearing it and showing off how proud he is of his children. I could see a cool surfer dad wearing a **personalized chain **like this one.
What are you getting your dad for Father's Day?
More
---
Comments
Popular
Recent