COMMENT
The new trend in home décor is vintage old world style. If you check out the latest home design magazines, you will see how people are incorporating antiques, heirlooms, and flea market treasures into their spaces. These items have a sentimental appeal for many people and they have a look that is timeless. You won't have to change up your house every time a new trend comes and goes when you choose a vintage theme. To get started, search for any existing pieces that you could use in your décor. Then start shopping for other unique items to finish your space. Here are 9 vintage Etsy treasures to add to your home.
1. Wooden Owl Ash Tray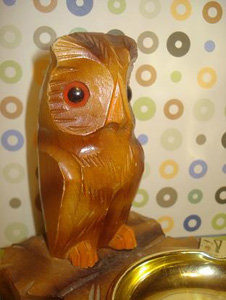 One of my earliest memories is of watching a carved wooden owl sit on the mantle in my grandfather's study. I never could understand as a small child why the owl was just sitting there every time I walked by! You can buy an identical wooden owl ash tray on Etsy to recreate that classic accessory in your home.
Wooden Yellow Pepsi Crate
Explore more ...