I've got the kind of shape that would have been considered perfect in the 1920s – straight up and down, with very little waist definition. We have much more choice in clothing now than just the dropped waists of the Jazz Age, but there are still several points to bear in mind when choosing clothes to flatter this type of figure. Here are 8 tips on dressing for a boyish figure...
---
1

Empire Line

I've become very fond of this style since realising how much it suits me. The empire line gathers just under the bust, thus making the most of what you do have, while skimming over the lack of shape at the waist.
---
2

Avoid Strapless

Speaking from experience here – don't bother. Strapless dresses and tops need something to hold them up – if it isn't there, it won't look good and you'll worry about the top slipping.
3

Fitted

Don't wear clothes that are too loose. I spent years wearing larger sizes in an attempt to look bigger. It's the skinny equivalent of thinking that wearing a size too small will make you look thinner. All you will achieve is to look like you are auditioning for a role as a Charlie Chaplin impersonator.
---
4

Corsets

Only wear corsets if you have something to put in it! Otherwise it will just gape and look sad and empty. I wasn't blessed in that department, so proper corsets don't work on me, but I have found a corset style top that works because it has a built-in padded bra.
---
5

Padded Bras

Small chests are the hallmark of the boyish figure. I'm definitely not drawn by the idea of having implants, as they would look utterly ridiculous on my boyish frame! However, a bra with some padding does add a little shape and make tops look better. No socks down bras though, please (if anyone still does that).
---
6

Skinny Jeans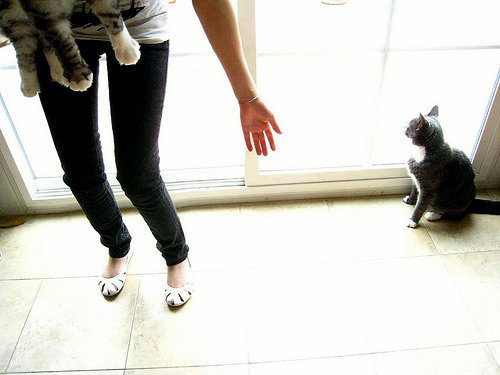 Photo Credit: Amanda?
It took me a long time to work out that skinny jeans suit me (I thought that they would make my legs look equally skinny). However, they do look good, especially with a low waist. I can also wear bootleg jeans, providing they fit the rest of the leg well.
---
7

Defined Waist

Jackets and tops that are shaped at the waist give the impression of a curved-in waist. Belts are also useful to achieve this, either separately or as part of the garment. A wide belt over a plain dress will make it look as though you have a more curvy shape.
---
8

Ruffles and Details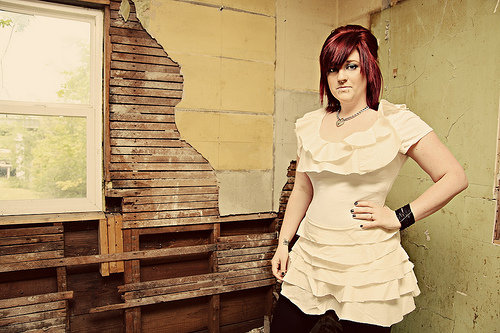 Photo Credit: RebeccasArtCloset
Ruffles, trims and other detailing will add the illusion of more shape. Don't overdo the ruffles, unless you want to look like a wannabe flamenco dancer, but it would look fine around a neckline, for example.
I hope there are some useful tips here for my fellow straight-up-and-downers! Do you have a similar figure? What have you found that works for you?
Top Photo Credit: NicoleL.
More
---
Comments
Popular
Recent