If you're anything like me, you're hooked on décor, especially new bedding sets, for your little girl's room. Changing a few bits of bedding and a piece of wall art or two can make a huge difference, and it's an inexpensive way to update! Not sure where to start? I can help! Here's a list of ten pretty new bedding sets for your little girl!
---
1

Pottery Barn Kid Brooke Quilted Bedding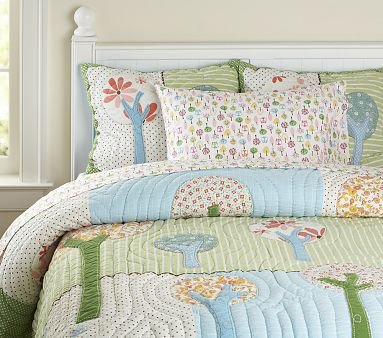 Price: $24 - $189 at potterybarnkids.com
Woo's that cute little owl perched on that twig? It's Pottery Barn Kids' Brooke bedding, featuring a sweet pair of owls, Penny and Joy. Because it's by PBK, you know it's top quality, and made to lasty and be in style for years to come! The line includes a quilt, shams, sheeting, and of course, Penn and Joy plushy pillows!
2

Pottery Barn Kids Malibu Quilted Bedding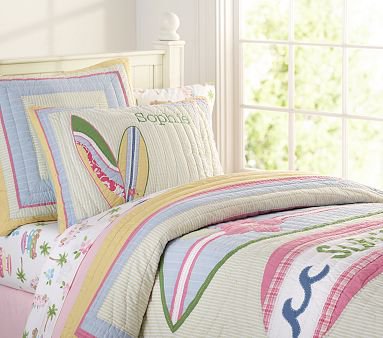 Price: $26 - $159 at potterybarnkids.com
Is your little girl something of a surfer sweetie? Then this is the perfect bedding set for her! It features four stand-up surfboards in a collage of cottons and chambray. The quilt set has a matching set of sheeting, but it also matches so many other of the PBK sheet sets, too!
---
3

Pottery Barn Teen Graphic Pop Quilt Set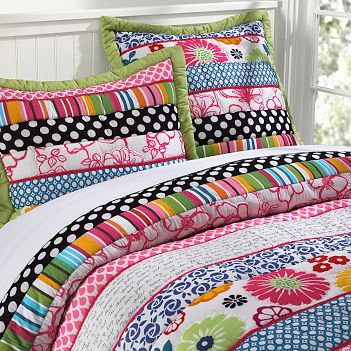 Price: $32 - $179 at pbteen.com
If your little girl has a flair for the bright and poppy, then see if she likes this set! It's a bright and airy mix of eight different patterns dots, flowers, and stripes, but it's not as busy as you might think. The set matches beautifully with the Dottie sheeting set, and there's also a matching flower pillow cover… I love it!
---
4

Land of Nod Bedding of Roses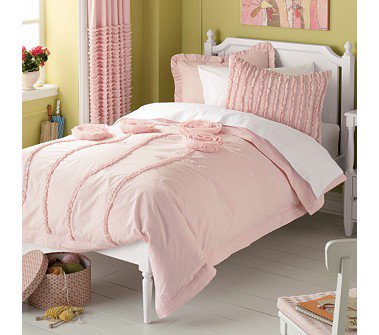 Price: $79 - $99 at landofnod.com
Perfect for a pretty princess who loves anything frilly and pink! This sweet quilt features four stand-out rose appliqués and loads of ruffles. It's ultra-soft cotton, made to be super-plush and comfy. Does your pretty princess prefer daisies to roses? No worries! The set comes in a soft yellow, too.
---
5

Land of Nod Best in Show Bedding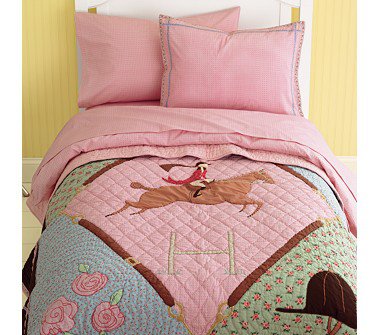 Price: $159 - $189 at landofnod.com
My niece is pony-crazy lately, always begging very hard for a horse of her own, or at least more riding lessons at a local stable. But now she can always have the prettiest pony in the show, right there in her room! The quilt is mostly pink, with a sweet pony in the center. She'll love it!
6

Dwell Studio Paper Dolls Duvet Set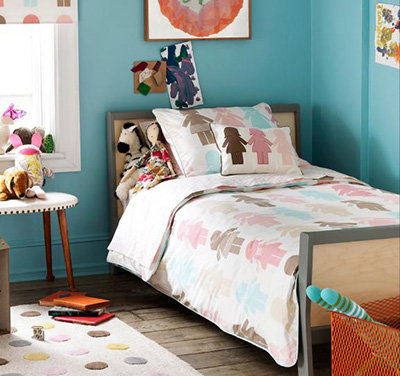 Price: $166 at dwellstudio.com
Dwell is famous for their artistic, unique prints, and this sweet duvet is no exception! I love the bold little paper dolls, stark and simple but oh-so-cute! Make it retro and vintage with shabby-chic furniture or keep it modern with a plain metal bed. Either way, it's adorable!
---
7

Dwell Studio Gio Lemon Duvet Set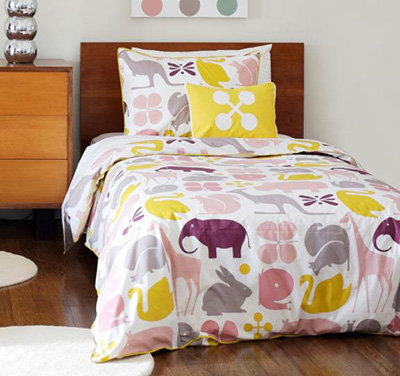 Price: $166 at dwellstudio.com
Oh, look at all of the sweet little animals, cut out like crackers, but in a soft palette of grey, purple, and pinks with a little lemon yellow. Snails, swans, elephants, and the rest of the menagerie. It's so whimsical and clever, and made of soft, durable cotton. Stylish, isn't it?
---
8

Company Kids Modern Bloom Quilt Set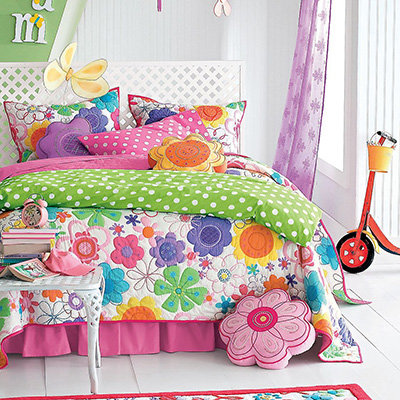 Price: $32 - $129 at thecompanystore.com
So bright, so cheerful, so perfect for any little girl's room! It just screams spring and summer fun. And there are all kinds of matching bedroom accessories, from curtains, to a rug, to a set of flower-shaped pillows, and more! Pair with bright dots for a fun look!
---
9

Company Kids Sarah Stripe Quilt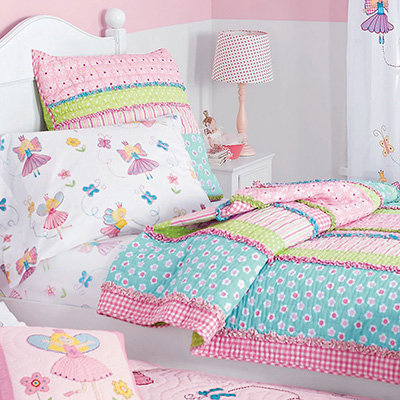 Price: $37 - $169 at thecompanystore.com
So pretty, so delicate! I love the detailing on this quilt, from the coordinating fabrics to the ruffles and ric-rac. It matches so nicely with the Fairy sheeting, or really, almost any of the Company Kids sheeting sets. I love that it's got blue in it — who says little girls have to go with pink all the time?
---
10

Charlie and Lola Duvet Set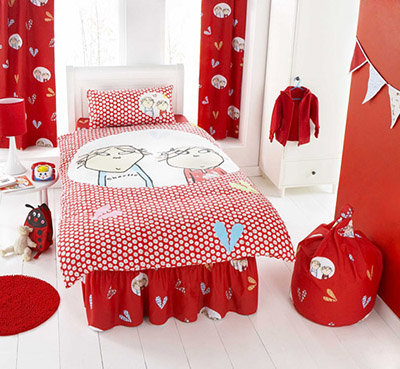 Price: £24.99 at pinkmilk.co.uk
If your little girl is a fan of Charlie and his little sister, Lola, then this is the bedding set for her! It's bright, with a red background, Charlie and Lola in the middle, and tiny white flowers all over. There are also matching curtains and other bedroom necessities available. I love it more than pink milk!
My only problem is choosing only one or two of these! I adore the Charlie and Lola duvet set, but that Gio Lemon set form Dwell Studio is amazing, too! Which of these do you like best? Or is there another set of bedding for your little girl that you've found? Please share!
---
Comments
Popular
Related
Recent