Little boys get kind of a poor deal, if you ask me. They don't get frills, and most stores don't carry as many cute things for them as they do for little girls. So it can be hard to shop for a new bedding set for a little boy, but no worries! I have done some digging for you, and can offer this snappy list of the eight best bedding sets for your little man!
---
1

Dwell Studio Multi-Transportation Duvet Set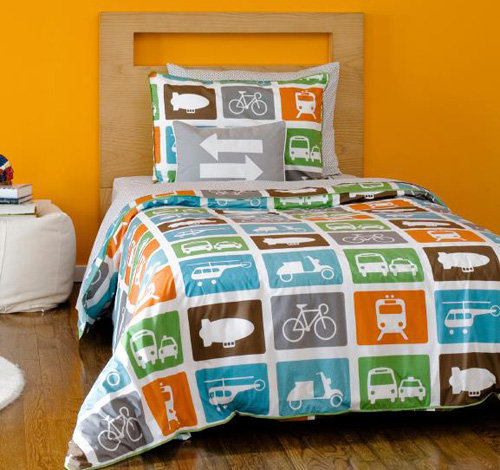 Price: $166 at dwellstudio.com
This brightly colored duvet set would be perfect for any boy fascinated with things that go, on the ground or in the air! The design is marvelous, with a look and feel of international signage. Pair with a metal bed frame and bookcases, and your little boy's room is done!
---
2

Pottery Barn Kids Dustin Quilted Bedding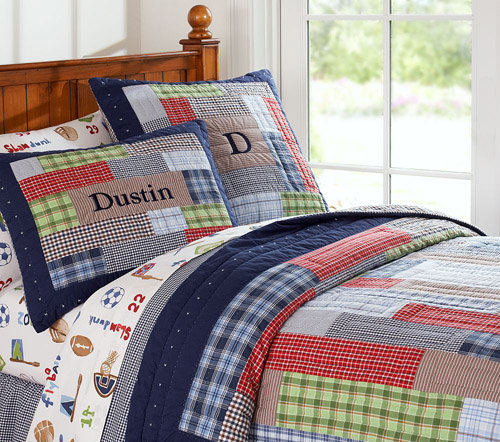 Price: $26 - $159 at potterybarnkids.com
This quilt set is ideal for any little boy's room that needs a little color. Perfect for any little guy aged 4 to 14, or older! The quilt is hand-stitched with dozens of rectangles of soft cotton plaid, and reverses to plan blue denim chambray. Pair with a wood bed in any color, but I think it looks best with lighter oak or honey oak.
3

Pottery Barn Kids Key West Quilted Bedding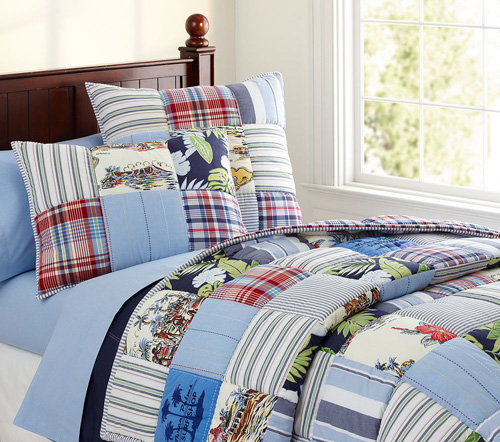 Price: $32 - $189 at potterybarnkids.com
Summer fun indoors! This quirky quilt is all whimsy, bright colors and patterns combined on one soft bedspread. The quilt is mostly blue, with a few bits of red and green. Finish the room with lightweight cotton roman shades and a few vintage tin signs… perfect!
---
4

Land of Nod Robo-Bedding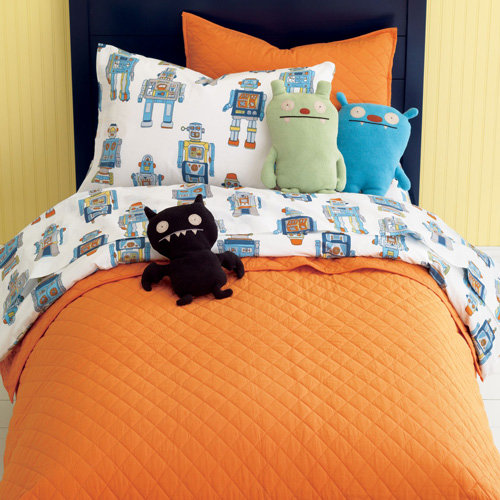 Price: $49 - $69 at landofnod.com
This design, made by artist Julia Rothman, features a bright orange blanket, a trio of mumbly monsters, and a duvet and sheeting replete with rows of colorful robots. Choose from a queen duvet and sheeting or a twin, but either way, your little guy is sure to love this set!
---
5

Land of Nod the Wide Stripes Bedding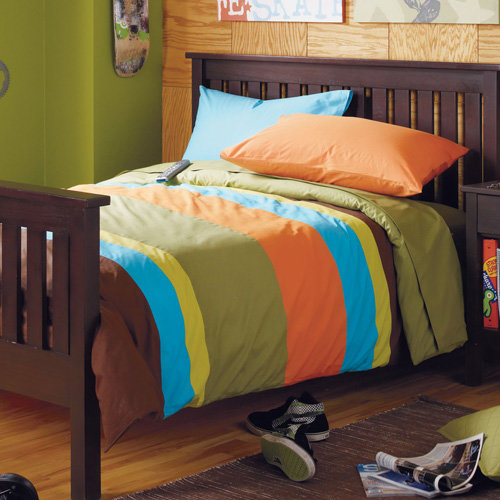 Price: $69 - $99 at landofnod.com
Simplicity at its best, anything but bland. This bedding features bold strips of brown, blue, yellow, green, and olive fabric in varying widths. It's contemporary and warm, but still so very cool! I love this set because it would coordinate so easily with just about any décor.
---
6

Company Kids Sports Extreme Quilted Bedding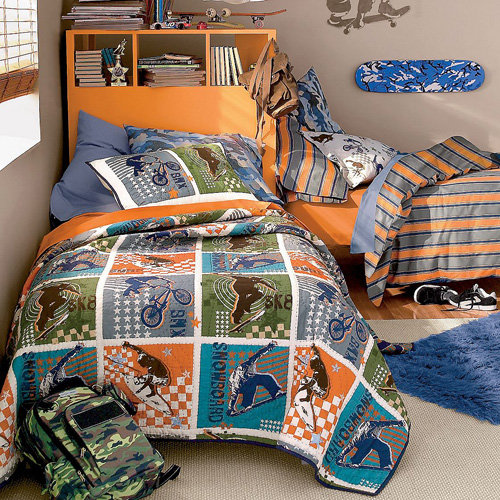 Price: $29 - $159 at thecompanystore.com
Is your little boy into extreme sports, always bumped and bruised from his injury-defying skateboard or bike jumps and tricks? Then this is the bedding set for him! It features a small army of bold skateboarders, BMX bikers, snowboarders, and surfers in bright hues.
---
7

Pottery Barn Teen Vintage Camp Quit Set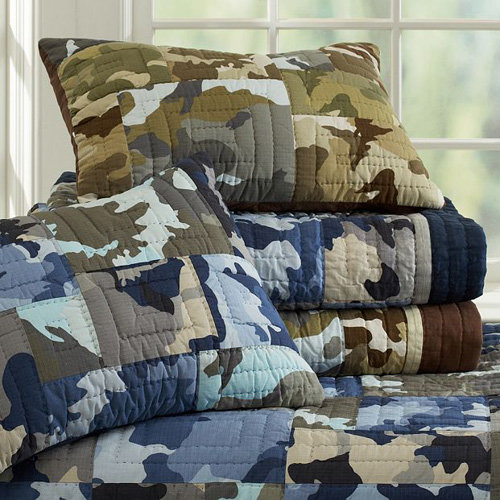 Price: $35 - $199 at pbteen.com
I usually disagree with outfitting anyone aside from hunters and soldiers in camouflage, but in this case, I'll make an exception. This camo bedding set has a very vintage feel, and is available in navy or brown with a solid on the back. Pottery Barn Teen also sells coordinating storage bins and other room accessories, so you can get the total look.
---
8

Pottery Barn Teen Steps Beach Quilt Set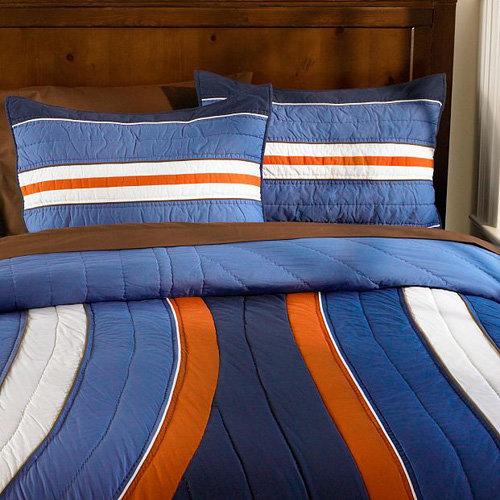 Price: $35 - $189 at pbteen.com
This quilt set is all done in summer surf hues, orange and blue, clearly inspired by the ocean waves and bright board shorts. It reverses to solid, and is ideal for any little surfer dude. Pair with navy room accessories, like a round chair, and the room is done!
Don't you just love that Robo-Bedding set from Item #4? If I had a little guy, that's the bedding set I'd choose for him! Do you have a little boy? Which of these cool bedding sets do you like best? Or have you found another one you (and he) like better? Please share!
---
Comments
Popular
Related
Recent