As the big election **draws near **celebrities are becoming more vocal in their endorsements **for their selected **candidate. Celebrities are showing up at local rallies, singing at fund raisers, and hosting their own support parties in their homes and in their hometowns.
But how much do these endorsements matter to those outside of Hollywood, and what effect does their opinion have on the candidates? A local Philadelphia man** **feels that if a celebrity is educated about politics then he might give a minute to listen,
Someone like Chuck Norris who has been involved in politics would be a more credible source to use his celebrity status for a candidate versus a young celebrity who might use their status to gain popularity."
In October of 2007 Forbes.com posted their results from a political poll they took when they paired up with** E-Poll Market Research. They asked a group made up of **2,213 men and women which celebrities **would be a **better endorser for a candidate as a list of names were read to them. Among the names that were more favorable were:
• Oprah Winfrey
• Tom Hanks
• George Clooney
• Jon Stewart
• Angelina Jolie
• Tiger Woods
According to E-Poll Market Research, the young voters were those among the group who seemed more impressed by celebrity endorsements. Oprah was given a 26% positive mark from the younger voters while the older voters of 45 and older gave her an 11% positive mark. On the other side of the results were the less favorable celebrities whose names included:
• Rosie O' Donnell
• Tom Cruise
• Madonna
• Jane Fonda
• Donald Trump
• Susan Sarandon
There seems to be a direct correlation**** **between more controversial celebrities given a negative outlook versus a benign celebrity who has a positive outlook among voters. Although **Rosie O' Donnell **was given the **highest negative mark of 46% from voters 65 and older, she only received a 27% negative mark from voters 18 to 34 years old.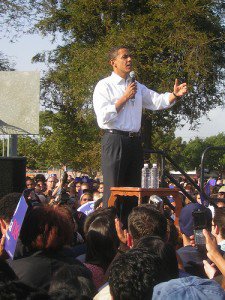 According to mylifetime.com based on the Forbes poll **Barack Obama **has favorable and unfavorable celebrity endorsements. As it is very well known, Oprah Winfrey is an Obama supporter and has shown up at local rallies for him. Although Brad Pitt has shown his Obama stickers, it is still unknown as to whom Angelina Jolie is voting for.
However, George Clooney and Tom Hanks have voiced their vote for Obama as well. During her tour Madonna posted pictures of Obama next to pictures of Gandhi and also had pictures of McCain posted next to Hitler. Jane Fonda and Susan Sarandon have also stated their vote for Obama.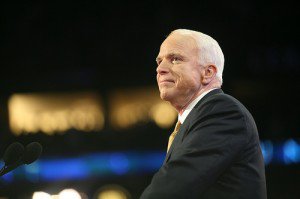 On "Larry King Live" Donald Trump **announced that he is among the **John McCain endorsers.
He's a smart guy and I think he's going to be a great president," Trump said.
Mylifetime.comalso stated a few other celebrities who are endorsing McCain, but none of them were among the names listed on the Forbes.compoll. However, there are some big celebrity names among them:
• Arnold Schwarzenegger
• Patricia Heaton
• James Woods
• Jon Voight
• Robert Duvall
• Clint Eastwood
• Elisabeth Hasselbeck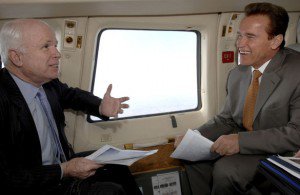 So whether your vote is persuaded by celebrities or not, the polls show that celebrities are certainly a powerful part of the political process.
Sources:
forbes.com, mylifetime.com, politicalticker.blogs.cnn.com
photos by flickr users: Calijbrown, Tom LeGro at NewsHour