Well, I'm not talking about seeing double because you knocked a few cans of beer or you hit your head on the doorframe or this little post will turn into an optical illusion. I am talking about celebrity couples or pairs. Some pairs hold news that will make you swoon, others have more tragic fate. One pair, however, is simply for eye candy. Enjoy these great celebrity blog posts!
1

Avril Says See Ya L8r Boi to Husband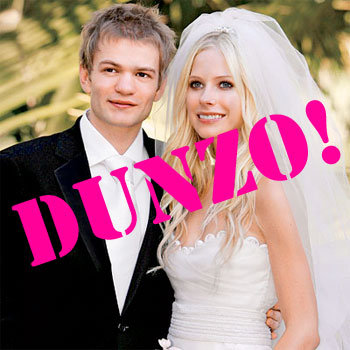 Avril has reportedly dumped husband of 3 years, Deryck Whibley. According to Us Weekly, Avril wants nothing but to move on at this point. I guess the partying sans the husband is a clear indication of that. While it's sad to see a marriage end, let's hope that they really do move on. And let this be a lesson to those celebrities out there who thinks marrying young is cool.
2

Kirsten and Robert Lost in Their Own World

And ignoring poor Taylor. These are photos of Kirsten and Robert at the VMAs. I know I can't call myself an expert on human behavior even though I have a degree in Psychology because I practically threw that degree out of the window by choosing the fabulous world of writing (Sorry, Mom!), but I am very sure that there is something going on between these young stars. Now we can try to be realistic and say that a few photos say nothing about the whole picture. However, let's all indulge ourselves and just swoon over the possibilities that they could be together. *sigh*
3

Jessica Still Looking for Miss Daisy (and Calls Us a Nice Name)

Poor poor Jessica. Daisy has been the constant in her life through the years. In fact, I think Daisy was her True North. It is very sweet of Jessica to still feel hopefulabout getting her beloved pet back but Daisy is most likely in doggie heaven now. Tsk tsk.
4

Madden Twins Hit the Streets

Now this is the eye candy part. The postsays nothing except that Benji and Joel got together and photos were taken. Now why would I mention that here? Well, because I have a soft spot for these twins. All right, I have a crush on them. I love the sleeve tattoos and the fact that they are sweet to their significant others. Come on, admit it, you find them cute, too.
Top image by **MiriamBJDolls**