I'm a morning person, but even I loathe waking to a harsh, abrupt buzzer every morning. So I did a little digging and bought a new alarm clock, one that looks cool and sounds even better! Here's my list of the eight coolest alarm clocks...
---
1

Nanda Home "Clocky" Alarm Clock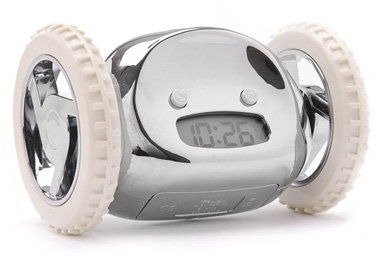 Price: $44.00 at shop.nordstrom.com
Choose from chrome, almond, or aqua, and let the chase begin! When this high-tech alarm clock goes off, it rolls away, preventing you from hitting snooze and over-sleeping! clever! It uses four AAA batteries, and is about 5" wide by 3.5" tall.
---
2

Pottery Barn Vintage Bedside Clock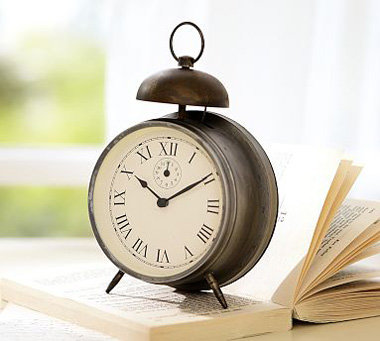 Price: $39.00 at potterybarn.com
I love this clock! It looks like something my grandfather would have used. The finish is hand-alyered for a true antique look, and it only uses one AA battery. It measures about 4" wide by 7" tall, and features a tiny inset that tells you what time the alarm will sound.
---
3

Bonox Clock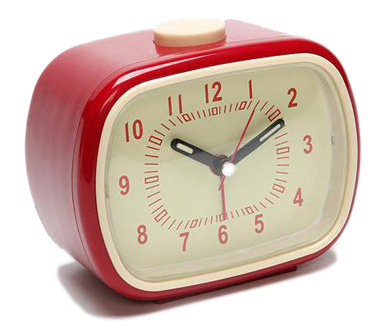 Price: $18.00 at urbanoutfitters.com
Now this one looks like the alarm clock my mother used to have on her bedside table when I was a child! It's a warm red clolor with a white face and glow-ni-the-dark minute and hour hands. It used one C battery, is made of sturdy plastic, and measures 4" wide by 3.5" tall.
---
4

Lego Stereo Alarm Clock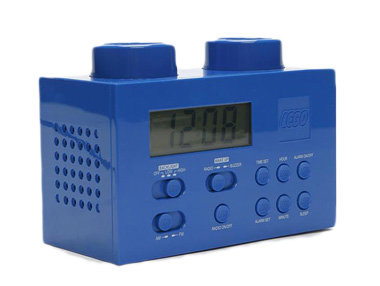 Price: $38.00 at urbanoutfitters.com
Was there ever a child who didn't love playing with Legos building blocks? And why should you ever stop? Bring a little Lego into your life with this super-cool alarm clock! It's shaped like a giant Lego, with a digitral time display, small alarm setting buttons on the front, and volume and tuning dials for the AM/FM radio on top. Choose from blue or green.
---
5

Crosley Alarm Clock Radio Speaker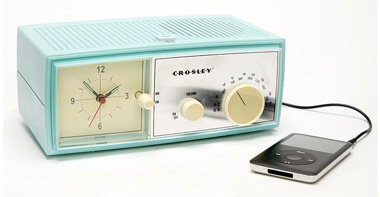 Price: $39.99 at urbanoutfitters.com
I love the idea of waking up to my iPod music, or the radio, or a buzzer, depending on what mood I'm in. This alarm clock make it all possible, with an MP3 attachment at the back. It's a pretty light blue, vintage-inspired with an analog display.
---
6

The Civilized Butler Awakening Device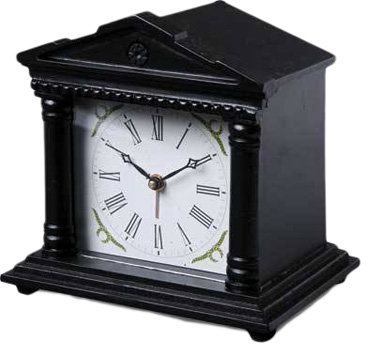 Price: $99.95 at signals.com
So civilized and upper-crust, it's not just a lowly alarm clock, it's MORE. It wakes you with a discreet cough and "Good morning, ma'am" then a humourous message. So many messages, in fact, that it can wake you every morning for six months before it repeats! It's made of shiny black laquer and takes three AA batteries. So refined and elegant, and no annoying, lower-class buzzer.
7

Tank Robot Clock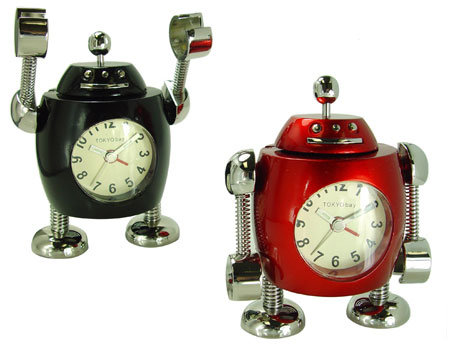 Price: $44.99 at perpetualkid.com
What's made of metal, loves cupcakes and demolition derbies, and used to be a football mascot? This tank robot clock! He stands a handsome 4" tall, and functions as a handy alarm clock. Choose from sleek black or racy red. He even comes with the batteries, and has poseable arms.
---
8

Early Bird Alarm Clock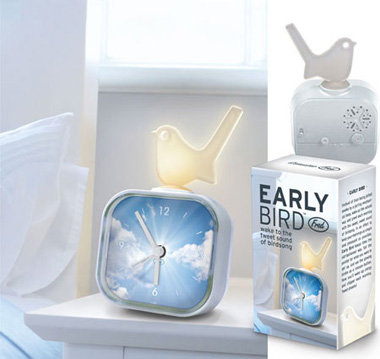 Price: $23.99 at perpetualkid.com
I hate waking up to a harsh, annoying buzzer... bird song sounds so much lovlier, doesn't it? This clock features a sweet chirpy bird perched atop the clock that will glow and pulse when the alarm goes off, and instead of a buzzer, she chirps... so nice!
I suppose if you have to wake to an alarm each morning, one of these clocks will do nicely! I love the little chirpy bird clock... which of these do yo ulike best? Or do you have the perfect alarm clock already (if so, which one is it?)... please share!
---
Popular
Related
Recent