Lately I've started using wall hooks to decorate… not only are they a great way to add color to a room, and same visual interest to a wall, they're also convenient, because they can actually be used for storage, even in tiny spaces. If this is a trend you'd like to try, keep reading! Here are 9 beautiful wall hooks.
---
1

Letter Hooks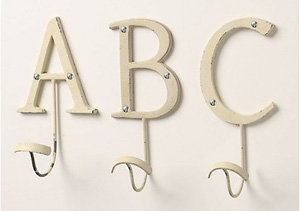 Price: $16.00 at anthropologie.com
Spell out a child's name, or hang one initial for every family member in these creamy white hooks, one for every letter of the alphabet in a classic serif font. They're made of sturdy iron, and measure 8½ inches tall, ideal for décor and utility.
---
2

Creature Kingdom Hook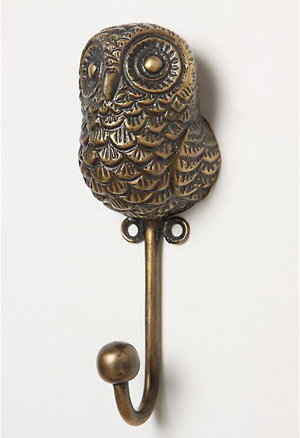 Price: $20.00 at anthropologie.com
This substantial brass hook closely resembles your favorite woodland creature, a wise old owl. From his clever eyes to his carefully-preened feathers, he'd make an ideal addition to an entry-way or den. There's an entire menagerie of his friends available, too, including a deer and a partridge, too.
3

Eight Arms Hook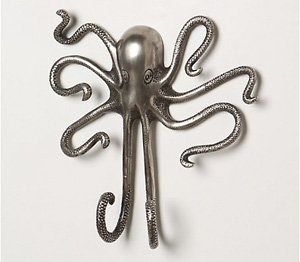 Price: $48.00 at anthropologie.com
I'd love to do my bathroom in an under-the-sea theme, and if I did, I would certainly give this brushed aluminum octopus a home, so he could hold my robe or towel. I love his curling, graceful arms, complete with detailed little suction cups.
---
4

Place Setting Hook Rack
Price: $18.00 at anthropologie.com
A set of heavy brass hooks, fashioned from four pieces of vintage-inspired flatware, with filigree in between, ready to hold all of your light jackets, tote bags and perhaps an umbrella in an entryway. What more could a girl ask for in a wall hook?
---
5

Petal Hook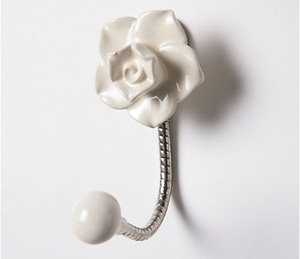 Price: $10.00 at anthropologie.com
This large rosette is an exact match to the ones on my daughter's birthday cake, realistically sculpted in creamy white, only this one's made of soft ceramic. It's sturdy enough for even the heaviest of coats and handbags. I'd hang this in a little girl's room or nursery, or in a sun-room or spa. So pretty!
---
6

Lava Flower Hook Rack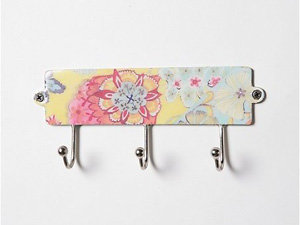 Price: $24.00 at anthropologie.com
Ideal for hanging anywhere you need a little extra storage space and a little luau-hued love, this panel of wall hooks is made of decoupage and powder-coated brass. It features three shiny hooks and would be great in a mudroom or bathroom.
---
7

Key Hook Rack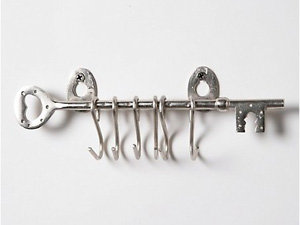 Price: $24.00 at anthropologie.com
Six metal hooks slide back and forth on this vintage-inspired key-shaped bar, ideal for mounting in your foyer to hold your keys, your totes, and an umbrella or two. It measures more than eight inches long, and requires two screw to mount it to the wall.
---
8

B&W Wall Hook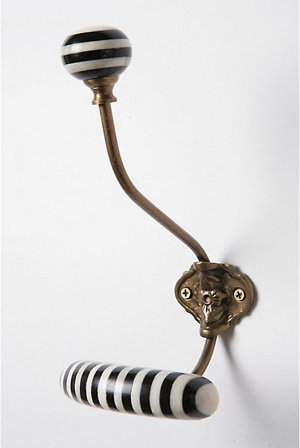 Price: $18.00 at anthropologie.com
Though now two of these bone and brass hooks are identical, they're all equally deco-inspired and gorgeous, all black and white stripes, ideal for a men's closet or bath. It's almost 4 inches tall with a 4-inch projection.
I love using hooks to decorate, and now you know why! I especially adore the rosette hook and the one with the octopus… which of these wall hooks do you like best, and where would you hang it?
---
Comments
Popular
Related
Recent