Are you worried about your tattoos and whether they will look right with your beautiful wedding dress? I was a tattooed bride who was worried too. Before I tried on gowns I wondered what my tattoos would look like with my wedding dress or what guests would think of them. There are ways you can cover them up, but after seeing how beautiful I looked in my gown with my tattoos my advice is to embrace them and show off your creative, funky side while being the amazingly stunning bride that you are. Here are 7 other reasons why you should love being a tattooed bride...
---
7

Tattoos Are Badass...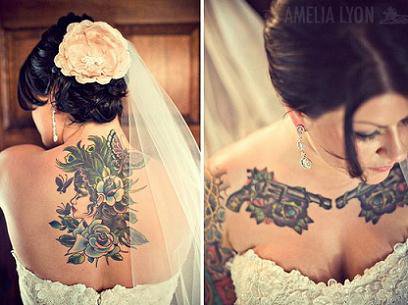 Photo: GreenWeddingShoes.com
She's a beautiful, sexy, badass bride who isn't afraid to show off her amazing tattoos. To me in these two photos Melissa's photographer Amelia Lyon captured her personality perfectly. You can feel her soft, romantic side when you see her beautiful Twigs & Honey hair flower and the detailed lace of her Priscilla of Boston gown, yet you know she is cool and maybe could even kick some ass when you see her impressive gun tattoos. I love a bride who knows how to flaunt her tattoos! Are you a badass tattooed bride like Melissa?
---
6

Tattoos Are Personal...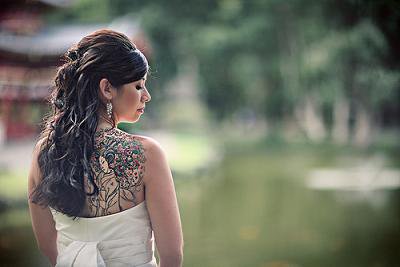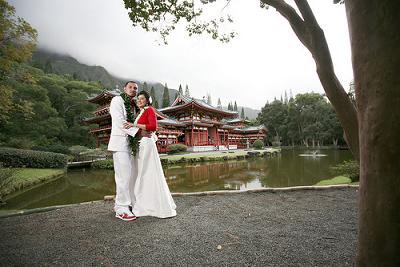 Photos:WeddingBee.com
Some brides and grooms tattoo each other's names on their bodies when they get married, but this creative bride tattooed her breathtaking wedding venue, the Byodo-In Templelocated in Kaneohe Hawaii, on her back to have a piece of her wedding daywith her forever. I love how her Geisha Girl tattoo matched so well with the Temple, check out Mrs. Sushi's blog on Weddingbeeto see the stunning update of the art work **on her back. My husband and I got a horseshoe and feather tattoo to represent our last names together as one, will you get a **tattoo to symbolize your wedding or marriage?
5

Tattoos Are OffBeat...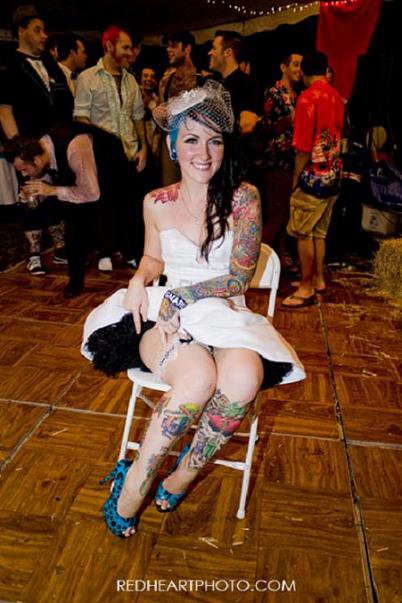 Photo:RedHeartPhoto.com/blog/
Who wants to look like every other bride? Be offbeat with your crazy,** fun tattoos** and blue hair that matches your something blue shoes like this sexy bride. Why cover up the fun person that you are on one of the most important days of your life? Amy is a bride who puts the funk in funky with an awesome bridal party and groom who danced down the aisle and featured carnival snacks, balloons, a big top tent, and a ringmaster father of the bride to pay homage to her grandfather who is Frosty the clown. And she isn't just a tattooed bride, she's a tattoo artist **who was on A&E's Tattoo Highway! Will you use your fun offbeat **style to create an offbeat wedding?
---
4

Tattoos Speak for You...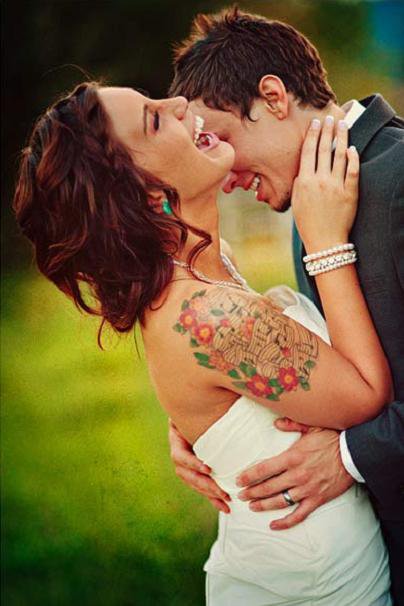 Photo:DognBird.com
Not every bride has a tattoo and that's okay, but for those of us who do we feel like it's a part of who we are and that it speaks for us. Tattoos tell a story of where we've been, what we like, who we miss, and maybe where we're going. Brittany's **musical tattoo doesn't just tell you that she likes music, it shows you how much she loves **music because she permanently inked her arm for that love. This photo from Brittany and Bryces' pre-wedding photo shoot could tell you a thousand stories of who they are or might be, but one thing you know for certain is that the** bride loves music** or loves the song within her tattoo. Do you have a tattoo that tells a story?
---
3

Tattoos Are Retro...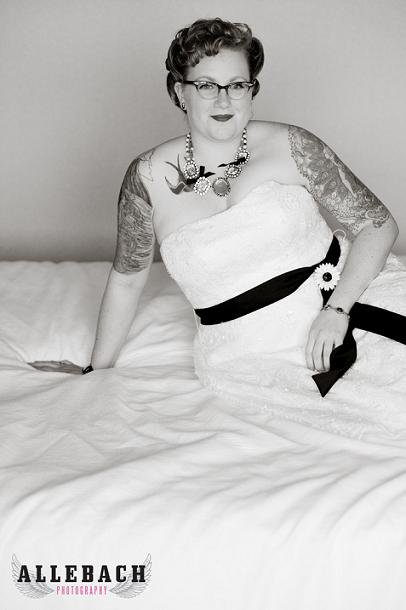 Photo:Philadelphia-WeddingPhotography.com
Everything about Jeanette speaks retro right down to her beautiful name! The rocking tattoo on her left arm reminds me of the classic pin up girl tattoos you would see on sailors in the 50's but looks even better on her! This bride is proud of her retro bridal style with her adorable horn rimmed glasses, a rockabilly hairdo, and a stunning, lace retro short wedding gown. I love her tattoos and her style, I only wish that I could pull off the retro look as well as she does! Do you have a retro style that you'll walk down the aisle in?
---
2

Tattoos Can Be a Theme...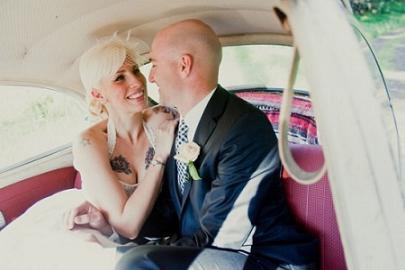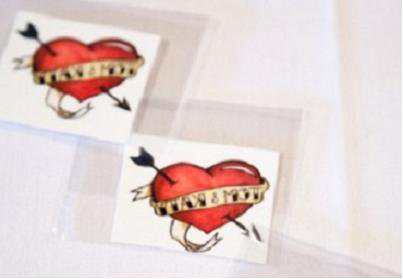 Photos:OffBeatBride.com
This wasn't just a wedding with a tattooed bride, this was an awesome wedding with a tattoo and VW bug**theme**! For their wedding favors Katy and Tom had custom temporary tattoos made with their names on them, now that is a favor no one would want to throw away! As for the VW bug part, the groom actually sold his first classic VW bug that he remodeled himself to buy his tattooed bride's wedding ring and he plans to remodel the beat up beetle seen in their wedding photos that he bought along with her ring...what a sweet guy! Do you have a wedding theme that captures the things you love?
---
1

Tattoos Are Romantic...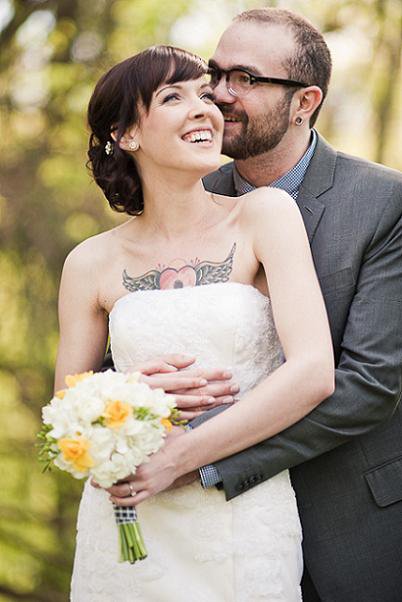 Photo:RocknRollBride.com
We used to think of tattoos as gang, prison, and war marks or something bikers and tough guys would have. As you can see on this beautiful **tattooed bride tattoos are no longer harsh to the eye, they are **romantic, sweet, and can be girly! Amanda and Byron are a romantic couple who tied the knot at the Lake House Innin Pennsylvania, which seemed fitting since Byron proposed by a lake when they were having a sweet little picnic after trying to hike up a steep hill that left them exhausted! Do you have a romantic tattoo to go along with your romantic wedding?
Share your tattoo stories with us and tell the world how proud you are of being a tattooed bride!
Top Photo: blog.onelove-photo.com
---
Comments
Popular
Related
Recent