Can't possibly get any clearer than the blog title. Just like All Women Stalk this site has very helpful posts on dating and relationship advice. And if too much love and dating talk can get too boring for you, The Dating Blog also has the latest on celebrity engagements, celebrity divorces, and other love situations in Hollywoodland. Informative with a touch of my obsession (celebrities, in case you don't know). I like it.
---
This blog is written by Sara. She is in her early 20's. She is incredibly funny. Just like most of us, she has a guy whom she calls "the love of her life." Unfortunately,they're not together. Not yet. While I wait for some news about that aspect of her love life, she regales us with her latest dating adventures. She has fun polls, too.
---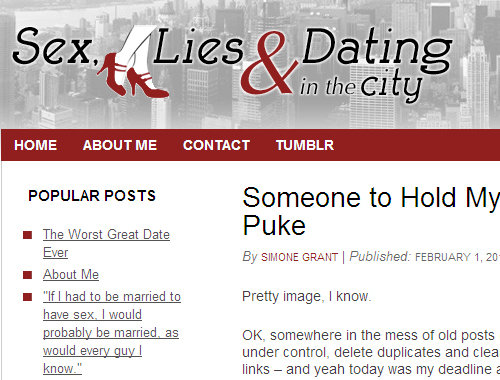 Ha! Love the title of this blog. Written by Simone, this blog is insightful and well-written. It's only natural of course because Simone is a writer. From this little gem on the world wide web, you will get Simone's dating stories and polls. I love how she keeps it real.
---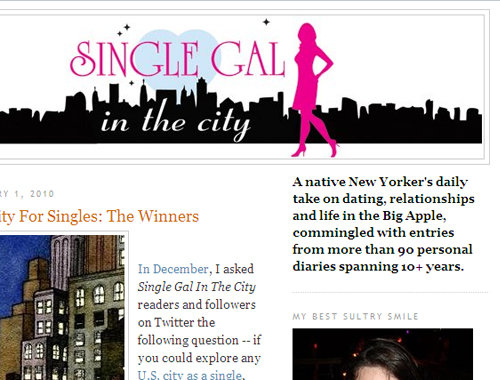 The single gal is Melissa and the city is New York. Sounds familiar? Right, if you have no idea, she has met Sarah Jessica Parker and Chris Noth. Celebrity connections aside, Melissa tells us what it's like to try to find love in the Big Apple. And opening more of herself to her readers, she sometimes posts some pages from her real diary. She has been published several times, too! If you are single and you are headed or you live in New York, contact Melissa for some ideas.
---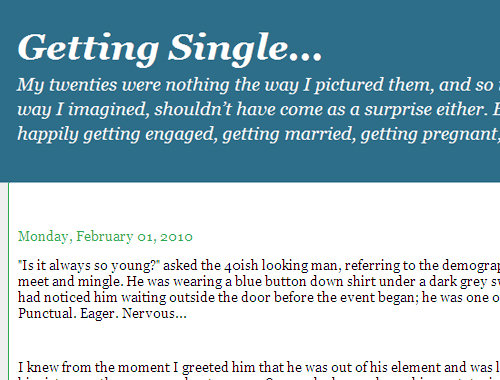 Christine used to be married. She got divorced and is now slowly working on getting single. She spent some time doing the online dating circuit but she has recently taken down her online dating profile. Why? Because she wants to be ready for a relationship the next time it comes knocking. Very brave, right? Right now, she works on helping others find hope on finding their true love. Warning: reading her archives is a good way to lose several hours of your life. You wouldn't want to stop, though. Her adventures are that fun.
---
This brilliant female blogger calls herself Rapunzel. She lives in a tower. Her short "About Me" blurb is enough to keep you wanting to read more. Rapunzel blogs about her dates and her dating habits or rituals. Recently, she went on a date with another dating blogger, Fishy (or Jimmy). They agreed to go out on a date and blog about it. You gotta read her accounts (here and here). Makes you giddy, right ?
---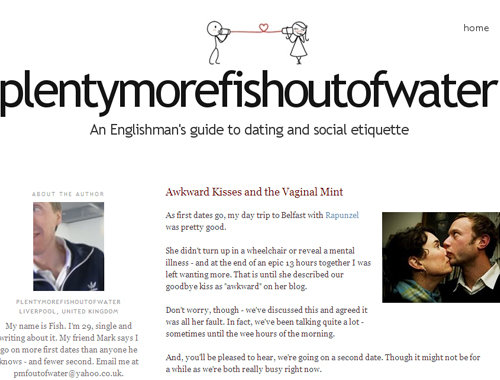 Fishy (or Jimmy) is the dating blogger Rapunzel went out on a date with. He claims to go out on more first dates than anyone he knows. But it seems that he may be breaking that pattern now since he will be going out on a second date with Rapunzel. Reading his account of the date, you can tell that he's smitten. Oh yeah, did I mention that he's hilarious? It's strange that he's not taken, really.For more love/dating/relationship blogs, check out this list:
More
---
Comments
Popular
Recent