I've recently become hopelessly addicted to golf, though I'm not very good at it… YET! I've invested in a good set of clubs, and even the right golf balls. The next step is to buy a good pair of golf shoes, so I've been doing some research, and here are 7 great pairs of golf shoes for women!
---
1

Callaway Half Lace Golf Shoes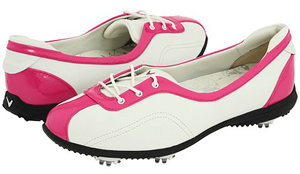 Price: $154.00 at zappos.com
These look less like the comfortable, top of the line golf shoes they are, and more like cute summer skimmers! I love the half-lace styling and the bright pink accents. And since they're Callaway, I know they're the best!
---
2

Adidas Driver Lucy Golf Shoes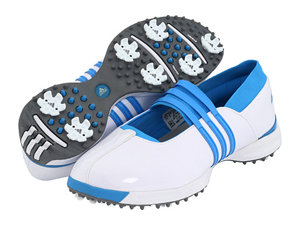 Price: $67.50 at zappos.com
These are so cute, I'd want to wear them even when I wasn't playing golf! I love the bright blue details and the adorable Mary Jane style. The uppers are all leather, and the cleans are clog-resistant.
---
3

FootJoy Lady MyJoys Golf Shoes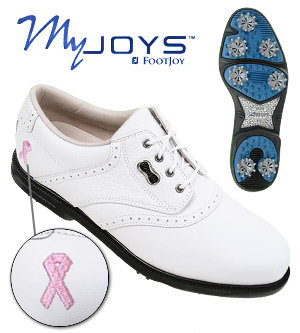 Price: $139.95 at 3balls.com
If you or someone you know is battling breast cancer, or if you just want to raise awareness of this devastating disease, wear these FootJoy golf shoes. They're mostly white and feature that all-too-familir pink ribbon.
---
4

Nike Women's Delight Golf Shoes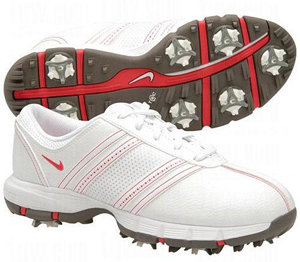 Price: $39.95 at teegolfclub.com
The name really says it all, doesn't it? Delight? These are the most comfortable women's golf shoes ever, and they look good, too! They're also water-proof, and I love the red accents.
---
5

Adidas CC Slingback 2.0 Women's Golf Shoes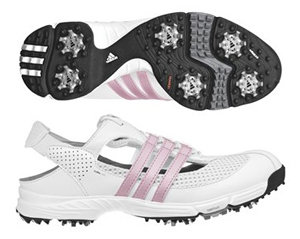 Price: $64.95 at sportsunlimitedinc.com
Golf shoes meets sandals! I love these golf shoes! They're perfect for a hot summer day when you know you won't be confronting wet grass or water hazards. They look so cool and comfortable, and are also very stylish!
---
6

PUMA Loop Golf Shoes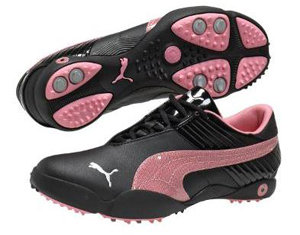 Price: $59.99 at bhmgolf.com
If you didn't know these were golf shoes, would you have guessed before you turned them over and saw the spikes? I love the black and pink color combination, and that they're super- lightweight. I'd love wearing these with this cute pink plaid golf skirt I found last week…
7

FootJoy LoPro Sport Women's Golf Shoes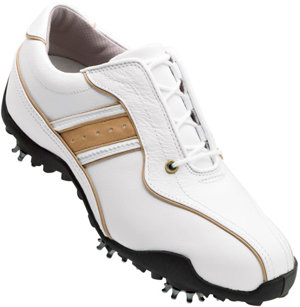 Price: $99.95 at golflocker.com
I love FootJoy golf shoes because they're so comfortable, but these look pretty stylish, too! They're made of leather, and come with a one-year warranty. I think these will look great with my khaki capris and any of my golf shirts…
Now I just have to figure out which of these women's golf shoes to buy! Which do you like best, and why? Please let me know… I need some help here!
Top Photo Credit: twg1942
---
Popular
Related
Recent